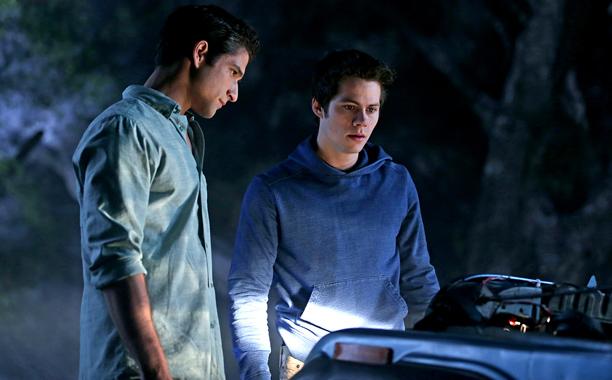 By: Lexie Gerson—July 1, 2015
Last night, Teen Wolf returned with season 5 episode 2 entitled, "Parasomnia."
The episode begins with a new character named Tracy (Kelsey Asbille) meeting with Mrs. Martin (Susan Walters) in the guidance counselor's office. Tracy has been experiencing night terrors and begins to tell the story of what happened to her the night before. A bird appeared to be tapping on her skylight when one of the Dread Doctors appears. As she rushes to shut her window, something grabs her. The next morning, her father finds her.
Mrs. Martin tells Tracy that she has anxiety, which is common for teenagers especially as they begin their senior year. As she goes to leave she begins to cough until black feathers and black blood comes pouring out of her mouth and onto Mrs. Martin's desk. Talk about a first day of school!
At the vet's office, Dr. Deaton (Seth Gilliam) oversees Scott (Tyler Posey) as he give a dog an injection. After the dog leaves with its owner, Deaton examines the claws Scott retrieved from the previous episode when he was attacked. They are harpy eagle talons that can absorb powers. Typically, powers can only be when a bitten werewolf does it to their Alpha, but Deaton thinks the rules are changing.
At school the next day, Stiles (Dylan O'Brien) tells Malia (Shelley Hennig) that Theo got a speeding ticket eight years ago which was signed by his father, and that he is suspicious of him. Malia agrees that Stiles should feel threatened but doesn't understand why he is obsessed with proving his guilt. Stiles tells her that he knew Theo in fourth grade and "that's not Theo."
Mason (Khylin Rhambo) is busy trying to figure out what the Berserkers are while Liam tries to play it cool. Meanwhile, Liam (Dylan Sprayberry) sees an old friend at school but she is vengeful over what happened in sixth grade. Meanwhile, Lydia (Holland Roden) and Kira (Arden Cho) are surprised to find Scott in AP Biology. Thinking he must be confused, they ask and are pleasantly surprised to see that he has already read through his textbook and highlighted notes. Although, the teacher is tough, Scott is determined to stay in the class.
Tracy is at her locker when things take a turn for the worst. Black blood seeps out of the locker and one of the Doctor Dreads begins to crawl out of it. Luckily, Lydia notices her state and takes her outside. We then see that there are claw marks on her locker door.
In the locker room, Theo (Cody Christian) fills Scott and Stiles in on how he was bitten. When asked where his Alpha is, Theo informs them that by the time the first full moon rolled around, his Alpha had been killed by two of his betas, the twins, leaving him to fend for himself. Stiles is still bitter and hesitant to believe him.
Lydia enlists the help of Parrish (Ryan Kelley) to check in on Tracy. They go to Tracy's home and check the roof. As Parrish inspects the roof, he discovers dead birds but keeps this information from Tracy. At school, Malia is learning to drive but unfortunately its not going too well. Meanwhile, Stiles continues to investigate Theo. This time he examines two different documents signed by Theo's father, but they do not match.
Parrish decides to keep an eye on Tracy's house for the night and Lydia offers to bring him coffee. While he's on duty, Liam and Stiles go out into the woods to spy on Theo. Liam falls in a hole and finds a necklace but before he can grab it, they spot Theo leaving flowers for his sister who died due to exposure. The two try to sneak away but end up getting caught by Theo. Theo tells Stiles that although he came back for Scott, he also came back for him and wants to be friends. However, Stiles is still suspicious and believes Theo's dad to be an imposter.
Tracy's dad boards up her skylight but that doesn't stop anything. Scott and Stiles get into a fight over how Scott trusts everyone and how Stiles trusts no one. Stiles grows so mad that he punches his car, injuring his hand. Luckily, Scott heals him in a tender bromance scene. We then see Tracy exiting her house in a trance, going unnoticed by Parrish.
Liam returns to the school to talk to Mason but before he can a wolf chases them through the halls of Beacon Hills High causing Liam to use his powers to get rid of it. Liam uses his powers to send the animal running, revealing his true identity to Mason who is pretty excited about the news.
But who was this mystery wolf? None other than Theo. How is this even possible?
Tracy wakes up in the Doctor's lab and gets injected by the Dread Doctors. They appear to be turning her into a werewolf. We then learn that each time she has been hallucinating, she's also been struggling with the change.
Back at home; Sheriff Stilinski (Linden Ashby) thinks that Stiles is jumping to conclusions with Theo and that if he is truly guilty he'll eventually make a mistake—"they always make a mistake." Stiles also notices that the Sheriff is no longer wearing his wedding ring but the two do not talk about it.
But a mistake has already been made. The signatures on Theo's paperwork are not identical and for that reason his father must be punished. Theo breaks his father's hand with a hammer—"a cast would explain the difference, right?"
Tune into Teen Wolf Mondays 10/9C on MTV for more!