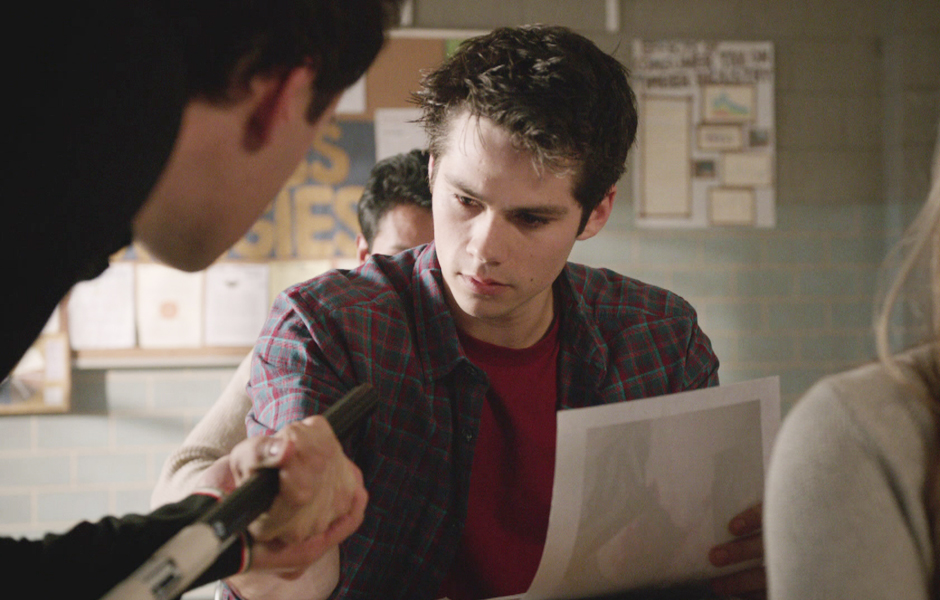 By: Lexie Gerson —July 22, 2014
Last night, Teen Wolf returned with season 4 episode 5 entitled, "I.E.D."
The episode begins with an unknown female werewolf being chased by Violet (Samantha Logan) through the high school parking lot. With her necklace in hand Violet attempts to decapitate the werewolf. The young girl hides on a school bus but is quickly found. She manages to get away but not before jumping in the car with Garrett (Mason Dye) to seek refuge. Unfortunately, Garrett is not there to help her, instead he stabs her in the chest.
Stiles (Dylan O'Brien) and Scott (Tyler Posey) fill in Sheriff Stilinski (Linden Ashby) on what they've uncovered, including the dead-pool. Lydia (Holland Roden) is still attempting to uncover the other two cipher keys to unlock the two remaining lists of names. They boys believe that the numbers beside each of the name will add up to 117 million, the exact amount of money that was stolen from the Hale vault.
At school, Violet talks to Garrett about their next payment, murder. He tells her that it will be happening that day.
After class, Mr. Yukimura (Tom Choi) confronts Yira (Arden Cho) on the secret she has been keeping. Although he is referring to her joining the lacrosse team she mistakenly thinks he is talking about the dead-pool. With the cat out of the bag she quickly walks away.
Liam (Dylan Sprayberry) and Mason (Khylin Rhambo) are in the weight room talking about Garrett and his sketchy ways. While Liam lifts some pretty hefty weights Mason warns Liam that the scrimmage tonight is against his old school and team from Devenford Prep.
Liam heads to the locker room to discover that his lacrosse stick is missing. He soon hears a stick being slid across the side of the lockers and comes to find Derek holding it. Derek then breaks the stick, infuriating Liam who goes after him. Derek quickly holds the young wolf by his neck and we soon learn that it was a test. Scott appears and manages to calm Liam, telling him that it wasn't his stick.
Lydia and Malia (Shelley Hennig) continue to try and figure out the cipher codes but is not having any luck. Meanwhile, in class Stiles looks over the forensic photographs from the recent murder. With a hint from the Coach Stiles comes to discover that the killer is a lacrosse player.
In an empty chemistry classroom, Violet and Garrett concoct a wolfsbane substance to place on the end of Garrett's lacrosse stick. Violet wants to earn the big dollars by killing "the alpha" but Garrett seems to be hesitant and wants to go for "the beta."
Devenford Prep arrives at Beacon Hill High and their captain appears to be a bit of a jerk. Liam attempts to make peace but is soon pushed to his limits. Scott and Stiles step in and take him into the showers to get him to calm down.
After he manages to calm down, Liam tells Scott and Stiles about his last school and how he smashed his coach's car because he was benched. He proceeds to tell them how he has been clinically classified with intermittent explosive disorder. They fill him in on the killer and Liam tells them that he doesn't know who ordered the keg at the lake house but he knows who paid for it
Its game time but before the game starts Liam and Mason talk about the Devenford Prep's captain, Brett (Cody Saintgnue). Liam is prepared to take him down on the field but all Mason wants is to take him home. Looks like someone has a crush.
At the police station, Deputy Parrish (Ryan Kelley) tells the Sheriff that he found someone wandering the streets asking for Lydia. It turns out to be Meredith (Maya Eshet). Lydia arrives at the station with Malia. Parrish believes that Lydia is psychic but the Sheriff calls her intuitive. Lydia coerces Meredith to give up some numbers in order to find the cipher key. But she only gives her five numbers, not enough for a phone number. Frustrated, Lydia snaps at Meredith but Malia tells Lydia to use the numbers like letters, like algebra. Lydia cracks the code, it's A-I-D-E-N. And Parrish's name is on the list!
The lacrosse game begins and it's certainly intense. Beacon Hills is down by two and Kira makes a great goal but is quickly benched for not passing.
While the game goes on, Papa Argent (JR Bourne) and Derek (Tyler Hoechlin) go to the vault. There Argent tells Derek that he had a feeling that Kate was alive and that he has somewhere he can take her once they find her. Derek says that he prefer he didn't because she took something from his past and he is now starting to lose his powers and senses.
Liam and Brett charge each other on the field. Scott immediately runs over to see if Liam was hit with Garrett's stick but he wasn't, only his arm is broken. Scott puts it back in place.
Next we see Brett crawling in the locker room with golden eyes, he's a werewolf! But he's not alone. Violet goes for to kills him but doesn't succeed. Instead, Scott walks in and fights off Violet as she attempts to decapitate him with her necklace. He knocks her out and then Stiles arrive. He tells Stiles to call his dad.
The episode ends with Argent receiving a surprise visit from Araya Calavera (Ivonne Coll) and one of her men, Severo (Ivo Nandi). She reminds Argent of the code—"We hunt those who hunt us." In the last scene, we see Argent repeating the code.
Tune in to season 4 of Teen Wolf Monday's 10/9c on MTV