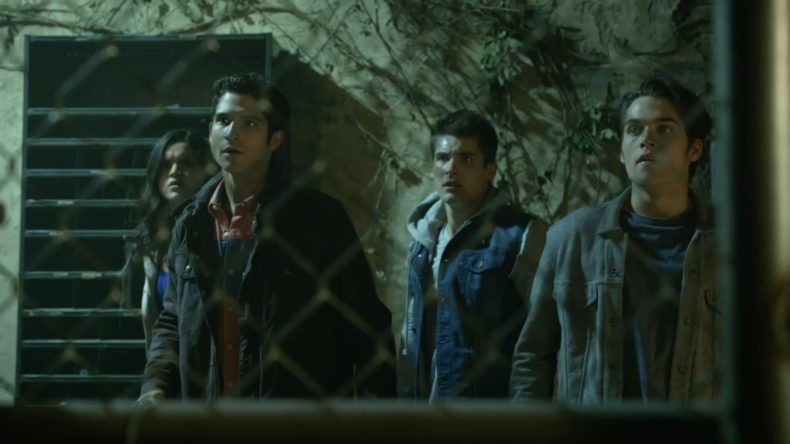 Previously on Teen Wolf, Theo was brought back from hell so that the pack could use him to catch a Ghost Rider. "Heartless" picks up from that episode as Scott and the 2.0 pack take action on this plan to save Stiles. Not everyone is okay with or involved with this plan, though. Malia, refusing to trust Theo, turns to someone just as awful. Meanwhile, Lydia sets out to get Sheriff Stilinski to believe that he has a son. As we near the end of the first half of season six, it's that time when things start becoming clearer and mysteries start getting solved… only to be met with new ones. "Heartless" does just those things.
Here's what went down…
The opening of this episode sticks to its title. Theo, clearly in a nightmare of sorts, crawls out of the morgue and starts to hear his name being called. Like everyone seems to do in horror shows, he goes following after it. Haven't these supernatural teens learned anything? So he follows after it only to be met with his dead sister coming after him and ripping his heart out of his chest… literally. This happens repeatedly with Theo begging her to stop until the last sequence. He finally tells her to go ahead because he knows he deserves it. As creepy as this whole opening was, I actually loved it because in that last part we saw a different side of Theo. We saw a side of him that actually proves redeemable, which is something I hope Theo finds this season.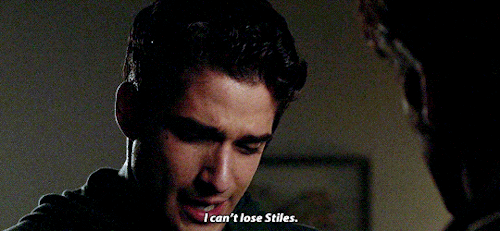 Back to reality, we pick up pretty much right where we left of in the previous episode with Malia ready to rip Theo's head off. She has him pinned on the McCall kitchen floor and she's out for blood, ready to rip him to pieces. It's here that we see a bit more of a change with Theo as he lets Malia beat the crap out of him and even tells her that she doesn't have to stop. However, Scott manages to get Malia off him. He also reminds Liam of everything that Theo put all of them through and how bad of an idea Liam's plan is. He reiterates to Liam that he can't lose Stiles (way to tug at the heartstrings). Liam manages to convince Scott that it's a good idea though because they should be exhausting every option they have at saving Stiles, and since Theo actually remembers Stiles… he's there best bet. Malia refuses to even consider the idea of using Theo, though. She argues with Scott and everyone else that he's not their only option and sets off on her own plan.
Remember how the last episode ended with Sheriff Stilinski ripping the wallpaper and plaster down in the hallway of his house? Well by now he has a wide gaping hole in his wall as he's discovered a room that he had no idea about, aka: Stiles' room. It's completely empty and deserted and Stilinski is flabbergasted. This of course only gets him thinking that maybe, just maybe, Lydia and Scott are right about him having a son named Stiles. Of course, the party pooper that she is, Claudia shows up and shuts him down like it's her job. Seriously getting tired of this lady. Thankfully, we get answers about her a little bit later.

Meanwhile, the teenage lovebirds that are Liam and Hayden are taking their new pet, Theo, for a walk on a chain leash. Actually, they're just walking him to some giant transformer thing (?) that's supposed to lure a Ghost Rider so they can capture it. Theo thinks it's a stupid idea, but no one is going to listen to him, of course. Why would they? They meet up with Scott, Mason, and Corey at this abandoned shack like place where everything is all set and ready to go. Surprisingly, the plan works. Too bad no one can actually communicate with the Rider and he's clearly not happy with the current entrapment. So much so that he starts calling upon all of his Ghost Rider buddies. Come on, did they really not see this coming?
Back to Malia's plan to use anyone but Theo to try and save Stiles. Guess who her brilliant plan involved? Yup. Her oh so loving dad-of-the-year, Peter Hale. She pays him a visit in the hospital where he's scorched from head to toe and gets Melissa involved in healing him. Melissa is reluctant, as she should be. She makes a point to tell Malia that it's a bad idea by reminding her of all the horrible thing Peter has done. Malia stands firm, though, and Melissa reluctantly helps her out by using the herbs that Argent told her about. This, of course, doesn't stop Peter from being Peter in the elevator by reminding Melissa that they never went on their second date, to which Melissa and Malia promptly let him fall to the floor.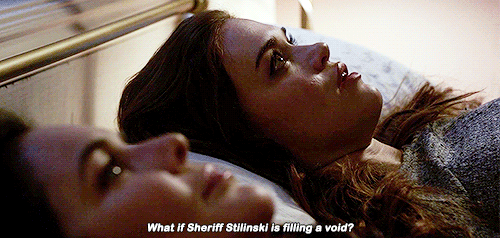 If you're wondering where Lydia is, she's lying in bed staring at her ceiling when her mom walks in and asks if she's thinking about some fancy math theorem. Lydia answers honestly by saying that she was thinking about a dead child she met in Canaan. Seems normal. Then she goes on to tell her mom about her new theory about Claudia Stilinski. Remember how in Canaan the woman was given her ghost son back to fill the void of losing everyone else in Canaan? Well, Lydia believes that to be what happened with the Sheriff and Claudia. When Lydia suggests that she wants to talk to the Sheriff about it Mrs. Martin warns her that it could really mess with his emotions. I can totally understand that, if someone were to tell me that my significant other was actually a conjured up ghost to fill the void of our erased son, I'd freak out a bit too.
Lydia believes that him remembering Stiles is more important though (I tend to agree), so she goes to pay him a visit. She finds him in the abandoned mystery room that he found. Even though the room is completely empty, Lydia starts to see all of Stiles' stuff. His mystery board. His desk. Everything. The Sheriff doesn't see all of this though. However, he's finally starting to realize that something is amiss in his life. He tells Lydia that if she would like to talk to him about the possibility of him having a son, he's ready to listen. Ugh! This whole interaction hits me right in the feels… especially a little bit later.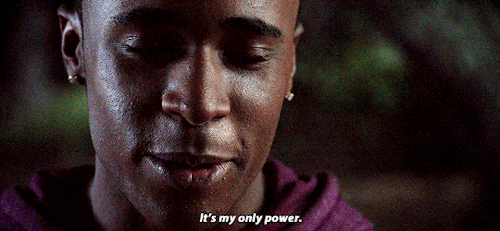 Back in the woods with the captured Ghost Rider, things aren't really going as planned. The Rider stopped communicating and stopped trying to escape. Clearly screams that he's up to no good. Outside of the shed, Mason walks up and immediately points out Corey who had gone invisible against the tree. Corey asks Mason how he spotted him, and in a sweet moment, Mason simply says that he can always find him. So cute! Mason then realizes that there is one person who can communicate with the Riders somehow, Parrish. At the party a few episodes back, he clearly had some sort of connection with one and enticed it to leave the party somehow. So, Mason calls Parrish, and Hellhound Parrish pulls through! He's actually able to understand the Ghost Rider. But just remember that saying, one step forward, two steps back for the McCall pack.
Get ready, Stydia fans because you're about to get super emotional. Lydia has the daunting task of trying to convince Stilinski that his wife isn't real, but his son is. She's trying so hard. She finds Stiles' lacrosse jersey and breathes in his scent. She turns around, holding it up, but Stilinski can't see it. Lydia: "You don't see anything?" Stilinski: "I see a deeply disturbed young woman." Lydia: "You're afraid to remember him because you're afraid of what it means." Stilinski: "Why do you care so much that I remember him?" Lydia: "Because you loved him." She tosses the jersey his way, and he catches it! Ugh! My Stydia heart!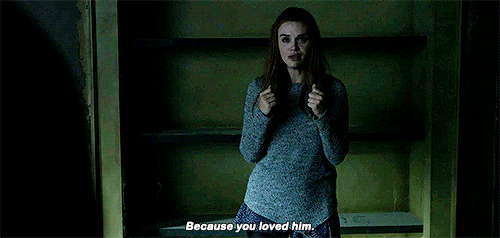 Back to Malia's plan with Peter, she takes them to the woods where he was found after escaping the Ghost Rider realm. Now Malia is bound and determined to somehow get into that realm and save Stiles. Peter questions why she's so invested and tells her she needs to let go, but she tells him she can't because Stiles is her anchor. When she started to remember Stiles, I have no idea, but I'm not mad about everyone finally remembering him.
Remember how I said one step forward, two steps back? Here come those two steps back. The Ghost Rider tells the gang that no one escapes the Wild Hunt (what a party pooper). Scott is not here for that. He goes straight up Alpha on the Rider and states firmly that he's going to save everyone, and he's not going to stop until he does. You tell him, Scott!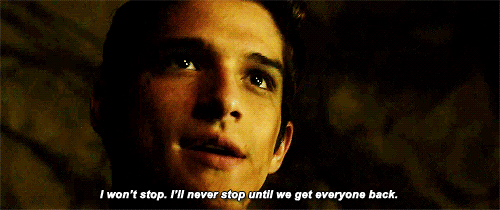 But then things go terribly wrong as the Rider starts controlling Hellhound Parrish somehow and gets him to break the Ghost Rider out! WHAT THE HECK, PARRISH?! Scott and Liam finally manage to get a hold on Parrish and drag him outside. And if you thought that was bad, get this… while everyone else was outside the shed, shady Mr. Douglas pops in on Theo and goes all crazy, evil Nazi Alpha. He forces Theo to break the mountain ash barrier so that he can get in the cage with the Rider. Next thing you know, he's KILLING THE GHOST RIDER AND EATING THAT PINEAL SOUL GLAND THING IN HIS BRAIN!
And just when you think things couldn't possibly get crazier or worse, it does. Mr. Douglas killing one Ghost Rider sent the others running, leaving Peter and Malia in the clear. Parrish runs away telling Scott and Liam not to follow him… how many times has he tried to do this now? Everyone returns to the shed to see a dead Ghost Rider and Theo, and in a surprising turn of events, Hayden and Liam blame him while Scott and Mason know it couldn't have been Theo's fault. Meanwhile, Mr. Douglas is slumming in the woods carrying around the Ghost Rider's whip when he runs into Corey. He grins evilly and glows green eyes before saying something along the lines of "you have no idea how long I've been waiting to do this." Then he whips Corey into disappearance! WHAT??? I have questions, Mr. Douglas!
Once again, Teen Wolf has managed to send me on an emotional roller coaster that I wasn't at all prepared for. It left me with so many questions, and I can't believe there's only three episodes left of the first part of the final season! Ugh! I'm not ready for this show to be over. 🙁
Teen Wolf airs Tuesdays at 9/8c on MTV!
Featured Image: Teen Wolf HQ
GIFs: stephen-amell, jason-todds, obriens, fytwolf, stydixa