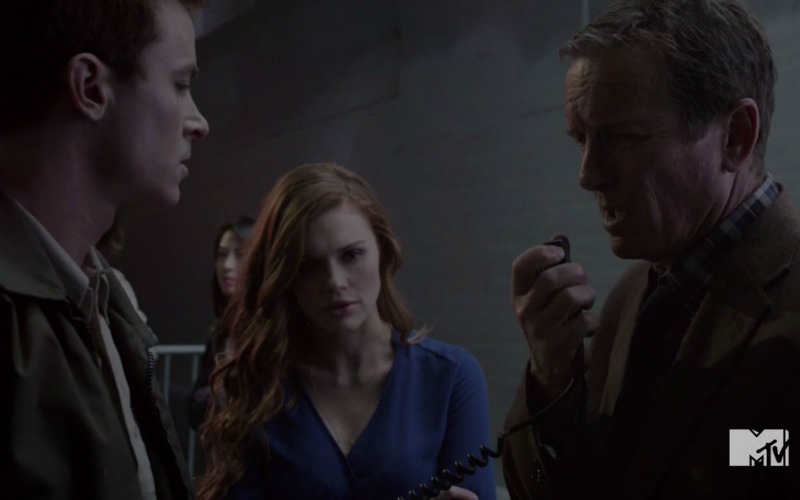 By: Lexie Gerson—July 6, 2015
Last night, Teen Wolf returned with season 5 episode 3 entitled, "Dreamcatchers."
The episode begins with Donovan (Ashton Moio) in handcuffs while Sheriff Stilinski (Linden Ashby) adjusts his tie in preparation for date. Stiles (Dylan O'Brien) pries for information on his father's mystery girl while Scott (Tyler Posey) compliments him.
Donovan meets with his lawyer, Tracy's dad, but its clear that he will be getting some serious time for his offenses. For that, Donovan goes off the rails, threatening Stilinski once again. Before he is taken away, Stilinski and Stiles tear into Donovan.
Donovan is being escorted in a van. We quickly see that the driver is starting to lose feelings in his hands and feet due to the Kanima venom dripping from the roof. Tracy (Kelsey Asbille) attacks the vehicle. Donovan manages to escape but Tracy attacks her father and the two police officers, killing them all.
A Doctor shows up for Donovan, drilling something into his ear and into his brain, causing his eyes to turn silver.
Stiles has his first clue about the Desert Wolf but is clearly upset about the news. Meanwhile, his Jeep continues to have severe engine problems leading Scott and Liam (Dylan Sprayberry) to become slightly worried.
Kira (Arden Cho) and Lydia (Holland Roden) attempt to teach Malia (Shelley Hennig) how to drive but its not going so well. During their unsuccessful lesson, Lydia's banshee instincts kick in and she directs Malia downtown. They soon arrive at the site of the van only to discover that Tracy's dad and the two cops are dead while Donovan is missing. They assume that Donovan must have been responsible.
Back at the Jeep, Stiles has a mini meltdown, flipping out on Scott. He soon cools off and they make their way to the site of the attack. Scott searched for Donovan by scent. He soon finds him, lying on the ground, repeating Tracy's name. Lydia puts the pieces together and comes to the realization that Tracy is the one responsible for the attacks.
Mason (Khylin Rhambo) finally gets the load down on everyone and their abilities but Stiles isn't so sure about him being apart of the gang yet.
Meanwhile, Donovan wants a new lawyer and Tracy continues to go on a killing spree, attacking her psychiatrist. Stiles shows Malia what he has found on the Desert Wolf—a photograph of the people she's killed.
Scott struggles to pay attention in AP Biology and is soon alerted by Liam that Tracy is in Mr. Yukimura's (Tom Choi) class. Class comes to an end and the only two left in the room are Tracy and Hayden. Hayden attempts to check on Tracy who lashes out, digging her claws into her arm. Scott and Liam arrive to provide assistance but Tracy tells them "They're coming—they're coming for all of us." She then passes out, with mercury spilling from her mouth. Scott, Mr. Yukimura and Liam take her out of the school.
Hayden goes to wash the blood off her arm but finds that it has completely healed.
The gang tries to find out who's controlling Tracy by asking Brett (Cody Saintgnue) about Satomi and if she knows of any new Alphas in town. At the clinic, Deaton (Seth Gilliam) takes a look at Tracy and notices a skin graft on her shoulder and the mercury in her mouth. They put up a mountain ash barrier and try to figure out what she is since nothing can pierce her skin.
Liam recognizes the necklace in Tracy's photo but after being told Satomi isn't recruiting, he heads back into the wood with Brett and Mason to do some further investigating.
Lydia and Kira take a look around Tracy's room to see if there is any clues that can help them learn more. They soon find a dreamcatcher given to Tracy by her father and Lydia realizes that she suffers from homicidal somnambulism. Therefore, Tracy is experiencing night terrors and killing people in her sleep.
Back at the clinic, Deaton finds something on Tracy's neck. They flip her over and watch as her back splits open, her spine morphs and her tail lashed out. Tracy is a Kanima. She paralyzes them all and manages to escape through the mountain ash barrier.
Out in the woods, Masons falls into a hole and the guys soon realize that someone was buried there. But it's not the same hole that Liam previously fell into. So if Tracy wasn't buried there, who was?
Deaton, Stiles, Malia and Scott are paralyzed, struggling to gain control of their bodies. Luckily, Malia manages to break free from the venom and reluctantly leaves them to go and save Tracy.
Meanwhile, Lydia realizes that Tracy's next victim is her mother, who just happens to be Sheriff Stilinski's date. Lydia and Kira arrive at the station just in time. Kira fights Tracy but Lydia receives a severe wound to her side. Kira, glowing in flames, manages to cut off Tracy's tail.
Theo (Cody Christian) expresses his desire to be help but everyone is still very hesitant. He tells them that he doesn't just want to be apart of the pack he simply wants to help.
Tracy drags Mrs. Martin (Susan Walters) to the basement but Malia soon arrives. They fight again but Malia overpowers her. Luckily for Tracy, Malia decides to take Scott's advice and not harm her. Unfortunately, the Doctors arrive and kill Tracy, leaving Malia alive and in shock.
Tune into Teen Wolf Mondays 10/9C on MTV for more!