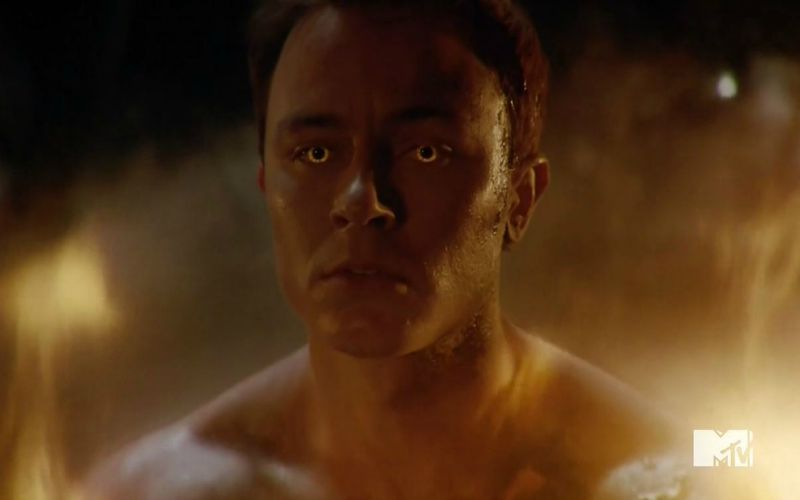 By: Lexie Gerson—July 13, 2015
Last night, Teen Wolf returned with season 5 episode 4 entitled, "Condition Terminal."
The episode begins with Parrish (Ryan Kelley) lying on the couch, flipping through cards. Specifically, the Queen of Diamonds, which oddly enough resembles Lydia.
Lydia (Holland Roden) and Parrish test his abilities by touching a lighter to the palm of his hand. After his first attempt, Lydia tells him not to think about the pain. On his next try, Parrish zones out, feeling no pain. He then wipes the flame's residue off his palm, revealing no damage.
Parrish tells Lydia about his reoccurring dream where he's carrying a body toward a large tree stump, which Lydia recognizes as the Nemeton. Lydia asks Parrish how the dream ends, he hesitates and simply tells her that he puts the body on the rings of tree and that's it.
Parrish is back on his couch, still flipping through the cards. This time there are two cards, one with Lydia's face burned off. We then see the rest of his dream where numerous bodies are surrounding the Nemeton, immersed in flames, radiating from Parrish.
At the police station, Donovan (Ashton Moio) is going mad in his holding cell. The Dread Doctors, one, which has a walking cane, enters Donovan's cell.
Scott (Tyler Posey), Stiles (Dylan O'Brien) and Theo (Cody Christian) the police station in shambles. Theo creates a tourniquet for Lydia so she doesn't bleed out. Stiles is hesitant to leave Lydia with Theo but she tells him its okay. Stiles and Scott make their way to the basement where they find Malia (Shelley Hennig) and Tracy's (Kelsey Asbille) dead body. Malia struggles to describe the Dread Doctors but tells them that she didn't hurt Tracy.
Donovan is strapped to a table in the Dread Doctors' lair. One doctor says "his condition looks promising" and proceeds to remove each one of his teeth, causing his to shift into an unknown creature.
In surgery, Lydia counts down from 10 and begins to hear the Dread Doctors' clicking. She then sees one of the surgeons transform into a Dread Doctor and is told to keep counting.
Stiles scribbles new information onto his board as Malia wipes away "who is the desert wolf." Scott and Kira (Arden Cho) share a sweet moment before Deaton interrupts with jars of the creature samples. Deaton studies the samples and comes up with a theory—someone is trying to make supernatural creates by non-supernatural means.
Lydia wakes up from surgery and finds Parrish by her bedside. He reveals that he knows a little jiu jitsu and agrees to teach Lydia how to fight.
In AP Biology class, Scott becomes interested when the teacher begins to talk about beings with two sets of DNA—they are called a chimera. At the end of class, the teacher hands out drop forms to those she thinks are incapable of being in the class. She then implies that Scott should take one, but is disappointed when he does.
Over at the Doctors' lair, we see Theo talking to Donovan about his psych evaluation and how he has the power to make Sheriff Stilinski (Linden Ashby) suffer by going after someone he loves.
Meanwhile, Mason brings Liam as a wingman to a club called Sinema.
Over at the library, Malia recalls her experience with the Dread Doctors and leaves a sleeping Stiles alone, promising to meet him back at his place later on.
Mama McCall (Melissa Ponzio) calls Scott and Kira to help a screaming teen. Scott heals the boy with his healing power but cringes as black runs through his veins. Melissa then tells them that the boy should've been dead hours ago and with the amount of scorpion venom in his system, should've been ten feet tall. The boy tells them that his attacker was Lucas.
Over at the club, Mason (Khylin Rhambo) catches a glimpse of a guy eyeing him, its Lucas (Eddie Ramos). Across the room, Liam (Dylan Sprayberry) tells Brett (Cody Saintgnue) dithat he has a bad feeling; he can sense another supernatural creature.
Mason leads Lucas into the cavern and the two begin to kiss. As the two kiss, spikes emerge from Lucas' neck. Brett arrives just in time and throws Lucas across the room, telling Mason to run.
Outside Sinema, Kira trips an alarm but silences it quickly. Scott responds by saying "God, I love you." Kira is shocked but Scott doesn't even notice what he said.
Back inside, Lucas injures Brett but Liam tackles him before he can do any further harm. Scott and Kira join in the fight.
Sitting in Tracy's room, Malia notices a book called The Dread Doctors on the nightstand.
Back at Sinema, Liam knockes Lucas out. Kira is seemingly taken over by her kitsune spirit and almost kills Lucas, but Scott intervenes. Lucas looks like he's about to come too when he is pierced in the chest with a metal rod. The Dread Doctors tell Scott that Lucas' condition was terminal when Scott asks what that means, one doctor responds by saying "failure."
Mama McCall gives Scott a pep talk as they put Lucas' body away in the morgue. As the lights go out in the coroners' room, Parrish steals Lucas' body and carries it to the Nemeton to burn.
Stiles prepares to leave the school but once again experiences car trouble. As he makes some repairs using duct tape, Donovan appears from behind and slaps his lamprey-looking palm on Stiles' shoulder, causing his to scream in pain.
Tune into Teen Wolf Mondays 10/9C on MTV for more!