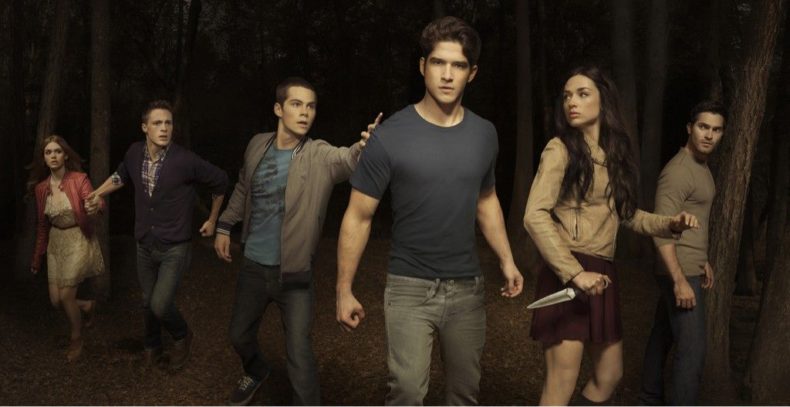 Teen Wolf is only a few months away from premiering its final season. As a way to ease my sadness over it ending, I'm continuing my rewatch and remembering some of the best moments of each season. Season 1 introduced us to the characters, relationships, and the supernatural world while giving us just the right amount of humor, horror, and romance. Season 2 delves further into those characters and their relationships while providing more humor and introducing more werewolves and a new supernatural threat. The premier season left off with quite a few unanswered questions, and season 2 was the start of answering some of those questions. Some of those answers made for the best moments, while other moments are simply the best for obvious reasons. Here's a look back at some of the best moments of Teen Wolf's second season.
2×01: Omega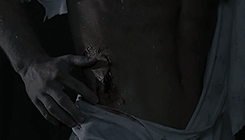 Jackson rising out of the water under a fool moon with a ripped shirt and Derek's wolf bite on his hip is one of my favorite openings of the show. It is beautiful directed, and really sets the tone for not just Jackson's story line, but the whole season as well. The only thing is, just because you get bit by a werewolf, doesn't necessarily mean you turn into one. Of course, no one really knows that until unexplained murders start happening, and no one knows who or what is committing them. Not even Jackson.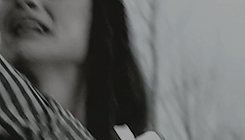 Before the opening credits we see a series of what looks like flashbacks of Allison and Scott sneaking around because they aren't supposed to be together. Her parents won't allow it since he's a werewolf. Her father finds them though, parked in a field making out in in the car. He pulls Scott out, throws him against the hood of the car, and points a gun at him. Allison cries and pleads with her dad, saying she'll do whatever it takes, even stop seeing Scott, as long as he doesn't kill him. He tells her "never again" and she agrees. Flashforward and Scott is hopping through Allison's window and their making out while her parents are away, continuing their modern-day Romeo & Juliet love story.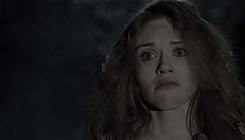 After Lydia got bitten by Peter at the end of season 1, everyone was wondering whether she was going to turn into a werewolf or not even though she didn't heal. She was still in the hospital at the beginning of the episode, but then she screamed and disappeared… completely naked. While she was missing, mysterious murders started happening, and most believed it was Lydia who was committing them. She finally walks out of the woods, still naked and her hair a mess full of leaves and twigs, at the scene of another murder. Stiles spots her while talking with his dad and he's instantly speechless, making for an adorable scene. Stiles: "Lydia? Lydia?? Lydia?!" Lydia: "Well, is anyone going to get me a coat?" Stiles is left speechless as he tries to get his dad's coat off of him, but he falls to the ground instead. Sheriff: "Jesus. Yup. Here ya go."
2×02: Shape Shifted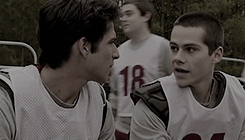 So we all know that Stiles is pretty much the brains of the supernatural pack. It's pretty much what he does as a pack member and as Scott's best friend. He researches. He comes up with ideas. He solves things. He generally knows more about the supernatural than Scott, at least in the early seasons. He does what he has to to help his best friend survive this supernatural world they've been thrust into. So, when Scott figures out that there's another werewolf on their lacrosse team, he enlists Stiles to help him figure it out. Stiles: "Told coach you're switching with Danny for the day." Scott: "But I hate playing goal." Stiles: "Remember when I said I had an idea?… this is the idea." Scott: "Ohhhh.." Stiles: "There we go." Scott: "What's the idea?" Stiles: "I seriously don't understand how you survive without me sometimes." Let's be honest, I love Scott to death, but if Scott didn't have Stiles there to help him in the beginning, he probably wouldn't have survived.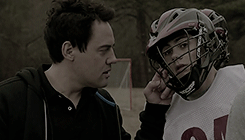 So Stiles' brilliant idea was for Scott to get up close and personal with his teammates during practice so that he could sniff them out to see who is a werewolf. Although, I'm pretty sure Stiles didn't mean for Scott to tackle each player as they try to make a goal, which is exactly what Scott does. This, of course, annoys coach, especially when Scott doesn't listen when he says to stay in the goal. He pulls Stiles by the helmet out of line and questions what's wrong with Scott. Coach: "Stilinski, what the hell is wrong with your friend?" Stiles: "Uh.. he's failing 2 classes. He's a little socially awkward, and if you look close enough, his jawline is kind of uneven." I love this scene because what Stiles replies with totally distracts coach and is a seemingly good enough answer for him, and it shows how well Stiles knows his best friend.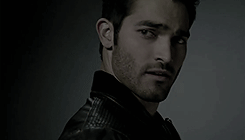 During lacrosse practice, Isaac gets arrested and put in a holding cell as a suspect of killing his father. There's two problems: 1) he didn't do it, and 2) he's put in a holding cell for 24 hours… during a full moon… when he doesn't have control of his his shape shifting yet (yeah, he's the new werewolf). So, while Scott and Allison are at the Lahey house trying to figure out why Isaac would have motive to kill his father and fighting off the kanima, Derek and Stiles hatch a plan to get Isaac out of the holding cell before he shifts. Well, things get a bit crazy. Isaac shifts and attacks a police officer and nearly attacks Stiles until Derek comes in and roars, causing Isaac to shift back to human and cower in the corner. Stiles: "How'd you do that?" Derek: "I'm the alpha." I loved this because it showed just how much power and control Derek has as an alpha over his betas. He says it in almost an arrogant and obvious way that could intimidate anyone, especially a human like Stiles.
2×03: Ice Pick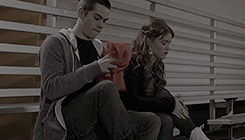 Ice Pick brought us a cute double date with Scott and Allison and Stiles and Lydia at the ice rink, although Lydia probably refused to call it date while Stiles was all for it. It was really just an excuse for Scott and Allison to secretly spend time together, but I'll take a Stydia date that isn't actually a date any day of the week, especially when it has Stiles adorably trying to impress Lydia and her effortlessly impressing him. Specifically, there's a cute scene (some Stydia fans may consider it iconic for the pair) while they're putting on their skates. Lydia: "Could it be any colder in here?" Stiles quickly grabs his jacket from his backpack and offers it to her, but she turns it down. Lydia: "I'm wearing blue… orange and blue, not a good combination." Stiles: "But it's the color of the Mets… fine." Then he pulls out a Reese's cup and offers it to her, which she takes and starts eating it. Stiles: "Okay.. umm.. maybe orange and blue isn't the best, but um… sometimes there's other things you wouldn't think would be a good combination, and then turn out to be like a perfect combination. You know? Like two people… together…who nobody would have thought would be together… ever." Lydia: "No, I can see that." Stiles: "you can?" Lydia: "Yeah… they're cute together." Stiles: "ah.. yeah, them." Lydia: "Cute." Stiles: "Cute… adorable." Aw… poor Stiles laying his heart out there and getting his hopes up only to get them crushed.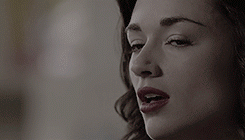 Remember how I said Scott and Allison had to sneak around and pretend they aren't together? Yeah, well, that also applies while they're in school because the Argents apparently have eyes and ears everywhere. They can't even eat lunch together. Poor star-crossed lovers. Anyways, since they're sneaking around and trying to figure out this whole kanima thing, they have to figure out sly ways to talk to one another during school. In this case, Allison sits at the table behind Scott during lunch, their backs to each other, and whisper about how she's not jealous of Erica, but rather worried about the war brewing between Derek and her family. Scott tells her that he can't pretend to be normal and Allison replies with, "I don't want you to be normal. I want you to be alive." I found this to be a good moment because it shows just how much they love each other. Allison doesn't care at all that he's a werewolf, she cares that he's alive. She'd rather him be a werewolf and alive than dead.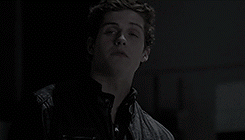 A little bit later in the episode, Scott finally finds Boyd, Derek's latest beta conquest, at the ice rink where he works. Scott tries to convince Boyd that taking the bite from Derek would be a bad idea and that being a werewolf isn't all that it's cracked up to be. Boyd tells him that Derek told him about the hunters, and that he just doesn't want to eat lunch alone everyday. Scott informs him that he can do better than Derek as a friend. Derek and his new betas, Isaac and Erica, walk in and Derek says that Scott should get a consensus for his review. He asks Isaac how his life has been since being turned, and I love what Isaac says: "Well, I'm a little bummed about being a fugitive, but other than that I'm great." Isaac's snarky comments always lighten up the mood of any situation.
2×04: Abomination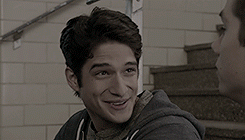 Since Scott and Allison have to sneak around, even in school, Stiles has to be their go-between, telling one what the other said… even when it includes apologies and I love yous. In this particular scene, after he finishes telling Scott what Allison said, they start talking about what Deaton told Scott regarding information on the kanima and we get another look at just how bad Scott benefits from having Stiles as a best friend. Stiles: "Now tell me about your boss." Scott: "He thinks Allison's family keeps some kind of records of all the things that they've hunted. Like a book." Stiles: "He probably means a Beastiary." Scott: "A what?" Stiles: "A Beastiary." Scott laughs, "I think you mean beastiality." Stiles being serious, "Nope. Pretty sure I don't. It's like an encyclopedia of mythical creatures." Scott: "… How am I the only one that doesn't seem to know anything about this stuff?" Stiles: "Look, you're my best friend, you're a creature of the night, it's kind of like a priority of mine."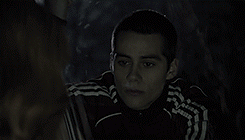 Stydia moments always qualify as a best moment, right? My Stydia shipper heart tells me yes. This particular scene will hit you right in the feels of sweetness. We get to see just how different Stiles is from Jackson towards Lydia and just how much he cares about her. On the way to steal the Beastiary from Gerard's office, he comes across Lydia crying in her car. He contemplates for a minute about what to do, but ultimately his love for her wins out. He asks her what's wrong, but she just rolls up her window, ignoring him, but Stiles insists that she open up to him. Stiles: "Lydia, come on." Lydia: "Just go away." Stiles: "What's wrong?" Lydia: "Look, I don't need anyone seeing me cry." Stiles: "Ah, come on, Lydia. Look, you shouldn't care if people see you cry, alright? Especially you." Lydia: "Why?" Stiles: "Because I think you look really beautiful when you cry." SWOON. Lydia rolls down her window, "You're going to think I'm crazy." Stiles: "Lydia, if you trust me on anything, you can trust me on this: there is nothing that you can say to me that will make you sound crazy. Literally nothing." Stiles hears the lacrosse game (that he's supposed to be in) getting rowdy and realizes that he needs to get that book. He begs her to stay there for just five minutes and then he'll come back and they can talk about anything she wants. He reluctantly leaves.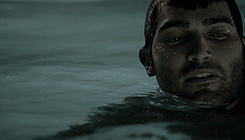 So Stiles never makes it back to talk to Lydia that night because he gets trapped in the pool with Derek while the kanima looms over them, waiting for them to come out. Of course, this wouldn't make the best moments list if it weren't for the fact that Derek was paralyzed from the neck down and Stiles was in charge of keeping him from drowning. Derek: "Will you get me out of here before I drown?" Stiles: "You're worried about drowning? Did you notice the thing out there out there with multiple rows of razor sharp teeth?" Derek: "Did you notice that I'm paralyzed from the neck down IN 8 FEET OF WATER?" Oh the banter between these two is just the best.
2×05: Venomous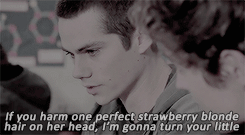 In this episode everyone is trying to figure out who the kanima is, and Derek's first suspect is Lydia because of how she's been acting lately and no one knows why she didn't turn into a werewolf after Peter bit her. So, he sends his minions betas to do his dirty work and test if it's her by somehow getting the kanima venom in her to see if it paralyzes her. What better way to do accomplish this than during a science lab project? Well, the pack is having none of that, especially Stiles, who isn't afraid to let Isaac know, which makes for an amusing conversation. Stiles: "If you harm on perfect strawberry blond hair on her head, I'm going to turn your little werewolf ass into a fur coat and give it to her as a birthday present." Isaac: "Really? I've never actually been to one of her big, invite only birthday parties. I did ask her out once though." Stiles: "Sounds like the beginning to a heartfelt story, I'm gonna pass, thanks." Isaac: "It's the first day of freshman year…" Stiles: "You thought everything was going to be different for you in high school, but she said no." Isaac: "and she even laughed. Told me to come back when the bike I rode to school had an engine, not a chain." Stiles: "Unrequited love's a bitch. You should write about it in English class. You know, channel all that negative energy…" Isaac: "Nah, I was thinking I'd channel it into killing her. I'm not very good at writing."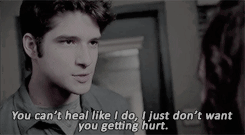 Scott's always been a very do-it-himself type of beta I think. He doesn't want anyone, especially his friends or family, getting hurt, so he'd rather try to handle the dangerous situations himself. He cares about people, which is ultimately how he became a "true alpha" in season 3. However, his friends are not defenseless and have even proven to be great benefit to him a lot of the time. In fact, Allison doesn't really like being told to stand behind so she doesn't get hurt. She makes that known in this episode when Scott tells her and Stiles to let him handle things so they won't get hurt. Allison proceeds to pull out her arrow and says that she can take care of herself. I like that they made Allison so adamant about not being helpless and wanting to feel strong. It's nice to have that on television. Not a lot of shows provide strong women characters, especially on teen dramas I think.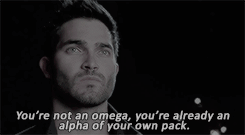 The end of this episode gave us a pretty defining moment for Scott and his friends, and it also did a bit of foreshadowing for future seasons. After Derek and his betas (Isaac, Erica, and Boyd) ambush the McCall house in order to get to Lydia, Scott and co. defeat them, and Scott literally throws them out to the curb where Derek is waiting. Stiles and Allison stand behind him and Derek looks at them with a bit of pride and arrogance mixed. Derek: "I think I know why you keep turning me down, Scott [to be in his pack]. You're not an omega. You're already an alpha of your own pack, but you know you can't beat me." This also shows us just how different the two characters are. Derek's arrogance is why he was never the alpha he liked to think he was, while Scott's kind heart and humility is why he eventually became a true alpha.
2×06: Frenemy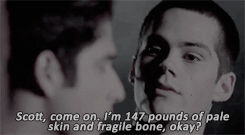 Alright, so it's no secret that part of Stiles charm is his wit and unfiltered sarcasm. He is essentially a majority of the humor of the show. He brings light to a show that is pretty dark and full of chaos, especially in the early seasons. On top of that, he's human (once Lydia becomes a banshee, he's the only human), so he's more relatable than most of the other characters. That's why this scene in Frenemy is one of my personal favorites. Stiles: "Alright, any idea where he's going?" (talking about Jackson as the kanima). Scott: "To kill someone." Stiles: "Oh… that explains the claws and the fangs and all that. Good. Makes perfect sense now." Scott glares at him. Stiles: "What? Scott, come on. I'm 147 pounds of pale skin and fragile bone, okay? Sarcasm is my only defense."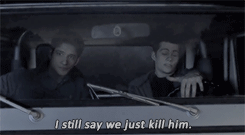 Stiles may claim that sarcasm is his only defense, but I, and I'm sure half of the fandom, would disagree with him. He's very good at research and solving things and coming up with plans… even if his plans are a bit unconventional or illegal. No matter what, though, most of the time his plans always work out… if not, then him and Scott always have a plan b. Either way, Scott relies on and trusts his best friend. Stiles talking about what to do with Jackson: "I still say we just kill him." Scott: "We're not killing him." Stiles: "Ah..ffff… okay, okay. I got an idea." Scott: "Does it involve breaking the law?" Stiles: "By now don't you think that's a given?" Scott: "I was just trying to be optimistic." Stiles: "Don't bother." Well, at least he's honest!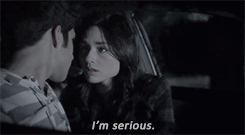 I've said it before, and I'll say it again, I love cute romantic scenes between couples. They really add more depth to a show that's primarily about the supernatural. It shows that these teenagers deal with real issues as well, like school and falling in love. Scott and Allison's relationship gives us all the good stuff and the bad. This specific scene shows us that they're still normal teenagers in love and going to high school, but also have the supernatural to deal with, and Scott being a werewolf is one of the primary obstacles in their relationship… at least for her parents.They're cuddled up in Allison's car, supposed to be keeping an eye on Jackson, talking about cute stuff like her falling asleep in his arms, Scott's miserable grades, the future, and a possible way for Scott to be cured so it'd be easier for them to be together. Allison: "I want anything that lets me be with you… Not just until the end of high school." Scott: "Well, you better not get in too good of a college. My grades suck." Allison: "Not just until college… I'm serious." Scott: "I know." Ugh… my Scallison shipping heart can think of nothing but what happens to Allison in season 3B. *sobs forever*
2×07: Restraint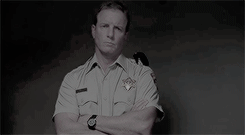 Remember how I mentioned Stiles isn't opposed to doing things that are illegal, and that Scott is used to it by now? Yeah, well, that illegal thing of them kidnapping Jackson got them into some trouble this time. So much trouble that they get a restraining order thrown on them from Jackson. Of course Stiles had some concerns about the requirements of the order, and his father was not too pleased. Stiles: "What about school?" Sheriff: "You can attend classes while attempting to maintain a 50ft distance." Stiles: "Okay, but what if we both have to use the bathroom at the same time, and there's only 2 stalls available and they're only right next to each other?" Sheriff: "…." Stiles: "I'll just hold it." *a little bit later* Sheriff: "Do I need to remind you how lucky we are that they're not pressing charges?" Stiles: "Oh come on it was just a joke." Sheriff: "It was a joke?" Stiles: "Yes, I didn't think it would be take that seriously. Dad, humor is very subjective, okay? I mean we're talking multiple levels of interpretation here." Sheriff: "Okay, well how exactly am I supposed to interpret the stolen prison transport van, huh?" Stiles: "We filled the tank!"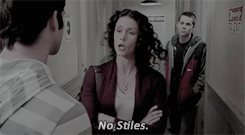 Two things I love: family moments and Scott and Stiles' friendship. Combine those two things and we get some of the best moments including this one where Melissa is trying to punish Scott for the whole ordeal with Jackson. She's trying to figure out what's been going on with him lately (reminder: she has no idea he's a werewolf). Melissa: "I have to ground you. I am grounding you. You are grounded." Scott: "Well what about work?" Melissa: "Fine. Other than work… and no tv." Scott: "My tv is broken." Melissa: "Then no computer." Scott: "I need the computer for school." Melissa: "Then no uh…." she turns around to see Stiles listening, "No Stiles." Stiles: "What? No Stiles?" Melissa: "No Stiles!" I love it because here she is trying to figure out what's going on with her son and punish him, almost like he's never been punished before, but nothing works and she has to resort to saying that he can't hang out with his best friend. It's like the worst thing you can do to these two haha!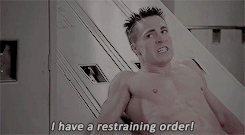 It doesn't take long for the restraining order to get broken. Once Scott hears Allison's racing heartbeat while he's making up his test and she's trying to talk to Jackson, it's on. He shows up to the locker room to see Jackson putting his shorts back on with Allison on the ground, and that's all it takes for an epic throw down between the two supernatural creatures in human form. Scott's first shove gives us one of the best angry one-liners of the show. Jackson: "I HAVE A RESTRAINING ORDER!" Scott: "Trust me, I restrained myself." And so their fight begins, causing so much in-explainable damage to the locker room that I hope the school has good insurance.
2×08: Raving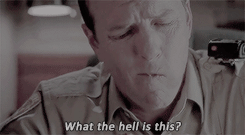 Oh how I love scenes with Stiles and his dad. This episode gives us a continuous scene where Stiles has brought the sheriff dinner and they get to talking about the murders that keep happening. I love the first part of this scene because Stiles is trying to get his dad to eat healthy, and the sheriff is just not for that. Sheriff: "Oh what the hell is this?" Stiles: "Veggie burger." Sheriff: "Stiles, I asked for a hamburger." Stiles: "Well, veggie is healthier. We're being healthy." Sheriff opens a box of carrots and celery: "Okay, why are you trying to ruin my life?" Stiles: "I'm trying to extend your life, okay? Could you just eat it please? And tell me what you found." Sheriff: "No. I'm not sharing confidential police work with a teenager." Stiles sees the board behind his desk: "Is that it on the board behind you?" Sheriff looks behind him then back and Stiles and Stiles tries to keep looking. "Don't look at that. Avert your eyes." Stiles keeps looking. "Hey. Avert." Stiles: "I see arrows pointing at pictures." Sheriff: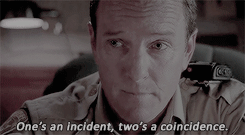 "Okay okay. Stop. Fine. I found something. The mechanic and the couple who were murdered, they all had something in common." Stiles: "All three?" Sheriff: "Yeah. You know what I always say; one's an incident, two's a coincidence…" Stiles: "Three's a pattern." I love the second part of this because Stiles is always trying to butt-in on the cases at the station, and his dad is always reluctant about it, but almost always gives in. These kind of scenes also show just how much Stiles is like his father, and possibly foreshaddowing what his future career may be in.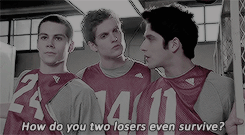 Isaac Lahey is an interesting character. He started off as this shy kid working in the graveyard and having an abusive father, but then Derek came along and turned him into a werewolf. It gave him a new confidence and bad boy attitude. I choose to believe that he was just trying to fit in as part of Derek's pack because after his dad was killed, he really had nowhere to go. So he plays the part of Derek's badass beta alongside Erica and Boyd. I love this scene because it perfectly depicts the difference between him and Scott and Stiles when they're trying to score tickets to a sold out rave that Jackson is attending. Isaac grabs Scott and Stiles by their jerseys: "How do you two losers even survive?" Scott: "What are we supposed to do? No one's even selling." They see a kid passing tickets to another kid. Isaac pats Stiles on the chest: "Wait here, boys." Scott and Stiles watch as noises are made as if Isaac beat the kid up/threatened him. Stiles: "Oh… yupp… that's excessive… that'll bruise. Wow. Okay." Isaac comes back with the tickets: "Enjoy the show."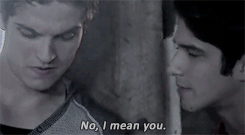 Speaking of Isaac and his bad boy image, I think this is the episode where we get a glimpse of him realizing that Derek's pack isn't his only option. He has somewhere else, someone else, he can go to. Someone else he can rely on. Someone else who cares about his well-being, and maybe that means he doesn't have to be a bad boy. In this scene at the rave, there's a plan to knock Jackson out with Ketamine. Isaac is the one in charge of sticking him with the needle and Scott's worried. Scott: "Be careful." Isaac: "I doubt I'll even slightly hurt him." Scott: "No, I mean you. I don't want you getting hurt." Isaac looks back at him as if he's never heard those words said to him before.
2×09: Party Guessed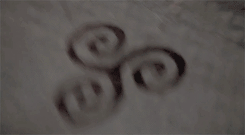 I always love getting backstory, history, or meaning behind certain symbols on the show. That's why I chose this scene between Derek and his pack as a best moment. In it, Derek teaches Erica, Boyd, and Isaac the meaning behind his triskelia tattoo on between his shoulder blades. Boyd is the first to speak up saying that it symbolizes alpha, betas, and omegas. Derek adds that it also means that they can all rise to one or fall to another. Meaning, Omegas can rise to betas, betas to alphas or vice versa, alphas can fall all the way down to omegas.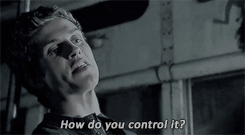 We get a lot of Derek teaching his pack in this episode, and I love it because it shows that he does actually care about them, and he's not using them just to gain power… although, that is a reason as well. In this particular episode, a full moon is coming and they haven't learned how to control their shift yet, so Derek has to chain them up. This also teaches them how to gain control. While he is chaining them up, Isaac wonders how Derek has so much control. Isaac: "How do you not feel this?" Derek: "I feel every second of it." Isaac: "Then how do you control it." Derek: "Find an anchor. Something meaningful to you. Bind yourself to it and keep the human side in control." Isaac: "What is it for you?" Derek: "Anger, but it doesn't have to be that for everybody." Isaac: "Like Scott?" Derek: "Yeah."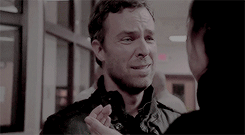 And the most heartbreaking moment of the season goes to… Allison sobbing over the death of her mother. Yes, it may be weird to include such a sad moment in the best moments of the season, but this scene gives me chills every time. Crystal Reed's acting is just so on point. It rips my heart to shreds, which I'm sure was the intention of the scene. She walks into the hospital and meets her dad. When he shakes his head with tears in his eyes, Allison breaks. She collapses into his arms, screaming: "No. No. No, dad. No, Dad. If this is some kind of sick training session… you better tell me. You better tell me." Chris: "No, I'm sorry. I'm sorry." Allison sobs: "What happened? What happened?" Ugh… I'm tearing up just writing this.
2×10: Fury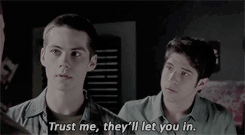 In this episode, Scott and Stiles try to convince the sheriff that Matt is the killer. Reminder: none of the parents know about werewolves and kanimas besides Allison's dad. Therefore, they have to do it without telling him how exactly they know. I love this scene because earlier I talked about how I love scenes with Stiles and his dad because of how much they rely on each other and whatnot, yet this scene shows just how much the sheriff questions his son's [most of the time] crazy theories. Sheriff: "What do you want me to do?" Stiles: "We need to look at the evidence." Sheriff: "Yeah, that would be at the station where I no longer work." Stiles: "Trust me, they'll let you in." Sheriff: "Trust you?" Stiles: "Trust… trust Scott?" Sheriff: "Scott I trust…"
Just going to leave this here because it's all just too good and doesn't need reason for being on the list…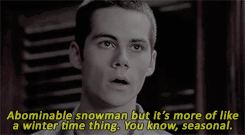 Derek paralyzed on the police station's floor: "This is the one controlling him? This kid?" Matt: "Well, Derek, not everyone's lucky enough to be a big bad werewolf. Oh yeah. That's right, I've learned a few things lately. Werewolves, hunters, kanimas… it's like a freaking Halloween party every full moon. Except for you stiles. What do you turn into?" Stiles: "Abominable snowman, but it's more of like a winter time thing.. you know, seasonal." Jackson paralyzes him, Scott tries to go after him for it but Jackson holds up his claw and shakes it in his face. Stiles falls on top of Derek: "Biiitch." Derek: "Get him off of me." Matt: "oh I don't know, Derek, I think you two make a pretty good pair. It must kind of suck though… to have all that power taken away from you with just a little cut to the back of the neck. I bet you're not used to feeling this helpless." Derek: "I still got some teeth. Why don't you get down here a little closer, huh? We'll see how helpless I am." Stiles: "yeah, bitch"
Who says you can't have comedy towards the end of the season when it's at the height of the drama?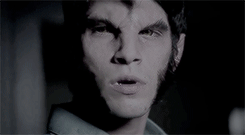 But it can't all be rainbows and sunshine and comedy. While those do make for some of the best moments, there are some dramatic scenes that you just can't ignore. Like when Melissa McCall learns that her son is a werewolf and hits you right in he feels of emotions. You see, Melissa and the sheriff are handcuffed in a cell in the station while Matt and everything is going crazy, the sheriff is knocked out though. When the kanima starts eyeing Melissa, Scott comes in and throws him off of the cell. He has his back turned to his mom because he's in werewolf form and he doesn't want her to see. Melissa: "Scott… Scott… Are you okay? Scott…" he slowly turns to face her. She sees him as a werewolf for the first time. "No…" she backs into the darkness, and Scott looks down as if he's ashamed of what he is.
2×11: Battlefield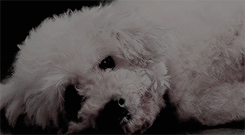 You know how I mentioned Isaac's bad boy-ness and how he has the potential to change because Derek's pack isn't his only option? Well, this episode gives us another glimpse of Isaac's good guy side. He visits the animal clinic to talk to Scott and Deaton. He shows up when they're treating a dog with cancer, and Isaac can smell the distinct smell of it and how the dog isn't getting any better. Deaton explains how Scott experienced the same thing, and then shows Isaac something with his abilities that's more than just super strength, speed and healing. It's a sweet moment for him. Deaton: "You ever wonder what it could do for others? Give me your hand." Deaton places Isaac's hand on the doog, and Isaac can feel/see something happening: "What'd I do?" Scott: "You took some of his pain away." Deaton: "Only a little bit, but sometimes a little can make quite a difference." Isaac starts to tear up. Scott: "It's okay. The first time he showed me, I cried too." Isaac laughs a little and smiles.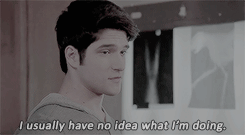 We also see Isaac trusting Scott again in this episode, showing again that he knows Derek's pack isn't the only option. He asks Scott for some advice. Scott: "From me? Why?" Isaac: "Because I trust you." Scott: "Why?" Isaac: "Because you always seem to want to do the right thing." Scott: "I usually have no idea what I'm doing. Actually, I always have no idea what I'm doing." Isaac: "Do you want to let me know what you're doing right now?" Scott: "I'm not going anywhere, if that's what you mean. I have too many people here who need me." Isaac: "Well, I guess that makes me lucky because I don't have anyone. So…"
I love everything about lacrosse scenes. They really bring me so much joy, so if you see a lot of them on this list, then don't be surprised.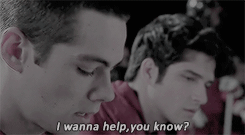 I love this specific scene between Scott and Stiles when they're talking on the bench before the game. Stiles is feeling down about how Matt knocked his dad out at the station and Stiles was helpless because the kanima paralyzed him. So he had to just lay in the floor and watch his dad get hurt. Stiles: "Scott, the other night seeing my dad get hit over the head by Matt while I'm just lying there and I can't even move… it just… I want to help, you know? But I can't do the things that you can do. I can't." Scott: "It's okay." It showed us a vulnerability to Stiles that we aren't really used to seeing compared to his quick wit and sarcasm.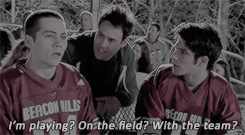 Then Coach comes in and lightens the mood by telling Stiles that he's actually playing in the game! This is a big deal because, while Stiles is on the team, he never actually gets to play. He just sits on the bench waiting to possibly be subbed in. Well, this is his time to shine! Stiles: "We're losing dude." Coach butts in: "What the hell are you talking about? The game hasn't even started. Now put on your helmet and get out there. You're in for Greenberg." Stiles is shocked: "What? What happened to Greenberg?" Coach: "What happened to Greenberg? He sucks, you suck… slightly less." Stiles: "… I'm playing? On the field?? With the Team???" Coach: "Yes, unless you'd rather… play with yourself…" Stiles: "I already did that today… twice." Coach: "GET THE HELL OUT THERE!" Stiles rushes to the field, and the camera pans to his dad and Melissa in the bleachers. Sheriff: "Oh no, why is my son on the field?" Melissa: "because he's on the team?" Sheriff: "…he is. He's on the team. He's on the field. MY SON IS ON THE FIELD!" Camera pans to Stiles standing on the field: "Oh dear God."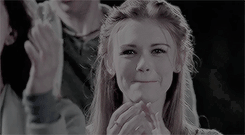 This game is pretty defining for Stiles, not just as a player on the team, but it also foreshaddows his relationship with Lydia a bit. When the ball lands in front of his feet, he isn't sure what to do at first, so he just grabs it and starts running and yelling as he sees everyone running after him. He stops just before the net and looks back at the other team running after him. Coach: "Stilinski! Shoot it! Shoot the ball! Shoot it you idiot!" Lydia: "Shoot it!" He finally shoots the ball and scores! Everyone cheers. Stiles: "I scored a goal? I scored a goal! I scored a goal!" He keeps getting the ball and he keeps scoring. Lydia and everyone keeps cheering for him as he easily becomes the MVP of the game. At the same time we get Peter's voiceover of his conversation with Derek about how Lydia can save Jackson. Peter: "even someone as burned and dead on the inside as me knows better than to underestimate the simple, yet undeniable power of human love." We get this as Stiles is being cheered on by his teammates. He looks out to the crowd with a smile on his face and sees Lydia smiling back at him as she's clapping, and his smile just grows wider.
2×12: Master Plan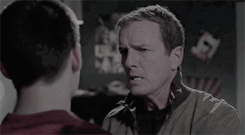 At the end of 2×11 Stiles went missing after the game, which left for a very worried Sheriff Stilinski. So, is it any surprise, considering my love for emotional family scenes, that their reunion made the list? This scene will hit you right in the Stilinski family feels. The sheriff is standing in Stiles' room feeling defeated after coming up empty for clues on where his son could be. Sheriff: "Ah come on, Stiles, where the hell are you?" Stiles enters the room: "right here." His dad immediately notices his beaten and bruised face. Stiles: "It's okay. Dad, it's okay." Sheriff: "Who did it?" Stiles: "It's okay. It was just a couple of kids from the other team. They were pissed about losing and I was mouthing off, you know? Next thing I know…" Sheriff: "Who was it?" Stiles: "Dad, I don't know. I didn't even see them really." Sheriff: "I want descriptions." Stiles: "Dad, come on, it's not even that bad." Sheriff: "I'm calling that school. I'm calling them, and I'm going to personally go down there and I'm going to pistol whip these little bastards!" Stiles: "Dad! I… I said it was okay." His dad pulls him in for a tight hug. SO. MANY. EMOTIONS.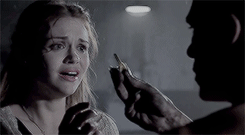 Normally I don't ship Jackson and Lydia because he was pretty emotionally abusive to her (and because my heart belongs to Stydia), but I couldn't deny this sweet scene. It showed that once upon a time they did have a healthy relationship and they did love each other. It was written all over their faces in this scene, and it's ultimately what brought Jackson back, like Peter said she would. Lydia to the kanima: "Jackson! Jackson!" Stiles tries to go after her: "Lydia!" Scott stops him. Lydia holds up Jackson's house key to the kanima and he stops. We get a flashback to when Jackson gave her the key, and when it comes back Jackson is mostly human again and he gets his key. Derek and Peter go in for the kill as he steps back, surrendering. Lydia grabs him as he falls to the ground. Jackson: "Do you… do you still…" Lydia: "Yeah, I do. I do still love you. I do, I do still love you." He collapses in her arms as the key falls to the ground. Everyone thinks he's dead, but then he rises with beta blue eyes and a roar as a werewolf. Once he's fully back to human, Lydia runs into his arms.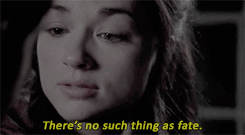 Breakups are hard on everyone, and when our beloved Scallison ends things, hearts break across the fandom. Allison: "I'm sorry." Scott: "You don't have to say you're sorry." Allison: "I do. For what I did and what I said. For everything. Especially for what I have to do now." Scott: "It's okay." Allison: "No, it's not." Scott: "Yeah, it is." Allison: "Scott, I'm trying to break up with you." Scott: "I know, and it's okay." Allison: "How is that okay?" Scott: "Because I can wait." Allison: "I can't make you wait for me. I'm not going to do that." Scott: "You don't have to because I know we're going to be together." Allison: "There's no such thing as fate." Scott: "There's no such thing as werewolves." Sadly, fate has different plans for them. *insert sobbing*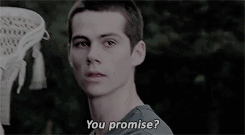 So, we're back to where we started in the very beginning of the pilot episode; with Scott and Stiles by each other's sides. Let's be honest, they are the core relationship/friendship of this show. The finale ends with them pulling up onto the lacrosse field. Stiles: "So you really think she's going to come back to you?" Scott: "Yeah, I know she is. What about you and Lydia?" Stiles: "Well, the 10 year plan of making Lydia fall in love with me may have to stretch to 15, but the plan is definitely still in motion." Scott: "Why don't you just ask her out?" Stiles laughs: "Yeah, okay. Why don't you just get in the goal and help me make team captain like you promised there, big guy." Scott: "Hey, you know what I just realized? I'm right back where I started." Stiles: "What do you mean?" Scott: "I mean no lacrosse, no popularity, no girlfriend… nothing." Stiles: "Dude, you still got me." Scott: "I had you before." Stiles: "Yeah, and you still got me, okay? So life fulfilled." Scott: "Very." Stiles: "Now, remember, no wolf powers." Scott: "Got it." Stiles: "I mean it. No super fast reflexes, no super powerful eyesight, no hearing, none of that crap, okay?" Scott: "Okay, come on." Stiles: "You promise?" Scott: "Would you just take the shot already?" Scott's eyes glow and Stiles throws the ball. "I said no wolf powers!"
That's it! That's my list for the best moments of season 2! I hope y'all agree with them. It was so hard having to narrow down these moments, because I have SO MANY favorites. So if there's any moments I left off that y'all feel should have been on here, feel free to let me know! I can't wait to share the next set with y'all!
Featured Image from teenwolfonline.net
GIF credit: dvlanobrein & immortalias