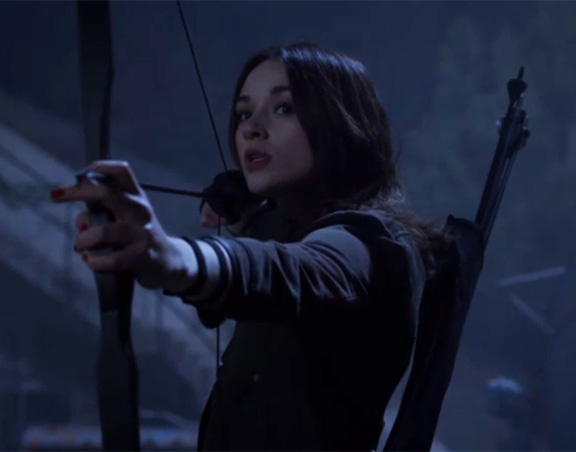 Teen Wolf 3B Episode 23 "Insatiable"
Lexie Gerson —March 17, 2014
Teen Wolf season 3, episode 23, "Insatiable," aired last night on MTV and it was by far the most amazing and tragic episode thus far.
Teen Wolf season 3, episode 23, titled "Insatiable," begins with Deaton (Seth Gilliam) de-bugging Isaac (Daniel Sharman), Ethan (Charlie Carver) and Aiden (Max Carver) as Mama McCall (Melissa Ponzio) tries to figure out which Stiles (Dylan O'Brien) is which. Stiles calls Mrs. Yukimura (Tamlyn Tomita) and she arrives at Scott's (Tyler Posey) house with the Oni. And it's the Oni that reveal that Stiles is in fact the real one.
Lydia (Holland Roden) is down in the tunnels with other Stiles. She hears the voices of all of those who had been there in the past.
At the Yukimura residence, Mrs. Yukimura teaches Kira (Arden Cho) how to play Go, the game that Lydia and Scott found Stiles playing with the bandaged man in the last episode. She tells Kira that by learning how to play she may be able to defeat the Nogitsune.
At the station, Sheriff Stilinski (Linden Ashby) asks Deputy Parrish (Ryan Kelley) why he left his old post. Parrish tells him that he felt drawn to Beacon Hills. But why was he drawn there? As the Sheriff prepares to leave for the night, Scott and Stiles arrive and the father and son are finally reunited.
Meanwhile, Argent (JR Bourne) shows Derek (Tyler Hoechlin) to the elevator and the two exchange a few words. Derek asks Argent why he did not pull the trigger and Argent tells him that he doesn't consider him a threat anymore.
Stiles realizes that Meredith (Maya Eshet) from Eichen House might know more about what's going on, may be able to help. In fact, she may even be a Banshee. Sheriff Stilinski goes to Eichen House to talk to Meredith only to discover that she has escaped. As the Sheriff discovers Meredith's escape, Ethan and Aiden are being shot with wolfsbane bullets in the woods.
Isaac and Allison find Lydia's car. As they search for clues to her whereabouts the two discuss the night they spent together. Allison asks Isaac if he remembers that night, if he was himself. He validates her question and tells her that he remembers it very well and that he was happy to be with her. She concurs. After their moment in the car, Allison discovers a clue on the window, which says, "Don't find me."
Meredith shows up in Coach's class, saying that the voices in her head are screaming. As usual, the Coach (Orny Adams) makes some humorous remarks about her escaping the nut house. But this may be the least of their troubles, as Stiles is experiencing unbearable pain and cold. Could this have anything to do with Malia's previous statements about always being cold?
Surprisingly, Derek saves the twins and takes them to a coyote den for safety. He tells them to stay there and remain quiet.
Back at the school, Kira tells the Coach that he needs to stop the orderlies from taking Meredith or else people will be in danger. To which the Coach responds with a witty, "who are you?" The orderlies arrive at the school. The Coach appears to have a rough past with on of the orderlies. The orderly degrades him and when he does to open his office door where Meredith was kept, she's gone and the orderlies must search for her.
At the Argent residence, Papa Argent graduates Allison by allowing her to make a silver bullet. Allison decides that it is more fitting for her to make a silver arrowhead and the bow is her weapon. Argent agrees. The two exchange a loving father-daughter moment in which Allison tells her father that if anything should happen she wants him to know that she is proud of them both and that she loves him.
Meanwhile, Lydia is still running from the other Stiles. He talks about other trickster stories, and says he's insatiable. Just when you think he couldn't get any creepier.
At the school, Meredith is listening to the piano strings in the music room. She tries to understand what the voices coming from the piano is saying but the orderly who comes barring a Taser interrupts her. She asks him to give her another moment to figure out what the voices are saying but he isn't having it. Just as he goes to tase Meredith, Coach comes to the rescue. He saves her and uses this opportunity to get a little revenge on the orderly from his past as he tases him.
Scott and Stiles take Meredith back to his house. As they arrive, they find Agent McCall and Isaac waiting for them. Agent McCall is persistent and tells Scott that they need to talk. Stiles and Isaac take Meredith upstairs and the father and son have a conversation where we finally learn the Agent's secret.
One night when the Agent (Matthew Del Negro) was drinking and arguing with Melissa, he grabbed Scott's arm causing him to fall down the stairs. Scott hit his head and blacked out for a few seconds. That night, Melissa asked him to leave. That's why he left, and that's why he no longer drinks. The Agent is clearly remorseful for this accident but Scott doesn't care. He tells him that the house is full of accidents. It's too little, too late.
Mr. Yukimura (Tom Choi) discusses the board game of Go and tells Kira that the stones that her mother placed to represent the Nogitsune are places in her mother's style, aggressively.
At the loft, Derek shows Argent the casings her found from the bullets used to shoot the twins. Argent immediately recognizes them and says "how's that possible?" Just then he receives a call from Allison. She tells him that they found Lydia and they're on their way to save her. Argent tries to get Allison to wait for him but she tells him there is no time.
The gang all band together and head to the tunnels. Scott gives one of his infamous speeches about how they were recently in a similar situation. They saved Malia, a stranger and now they are saving one of their own.
Mrs. Yukimura and the Oni are already there. Upon their arrival Kira tells her mom that when she looked at the game she realizes who she was really playing, her mother. As Scott and Stiles search for Lydia the gang faces off with Mrs. Yukimura and the Oni.
But before anything can happen, the other Stiles breaks the final knife, and the power of the Oni is transferred to him.
A fight breaks out, Oni verse the gang. Scott and Stiles quickly find Lydia but Lydia tells them that she didn't want to be found because she knew something bad was going to happen. As they try to escape the tunnels, Stiles collapses and Lydia stays behind with him.
The fight continues.
Allison steps in to save Isaac and is successful. Apparently, a silver arrow is just what you need to vanquish an Oni but that leaves Allison as a serious threat. The Oni go after Allison and as Scott emerges he sees Allison struck with the blade of an Oni's sword. At the same time, we see Lydia screams 'Allison!' in the tunnel. Allison quickly collapses to the ground as the Oni and the other Stiles disappear. Luckily, Scott catches her just in time.
Allison falls and lands in Scott's arms. Lydia is hysterical in the tunnel as Scott tries to take away Allison's pain. But he is unsuccessful; he cannot help her because she does not feel any pain. She tells him its okay as he begs her to hold on.
And just like that we get this "perfect" moment:
"I'm in the arms of the first person I ever loved. The first person I'll ever love. I love you, Scott McCall. You have to tell my dad! You have to tell him…"
Allison dies in Scott's arms, telling him he was her first love and the one she'll always love.
In the last scene, we see distraught Argent discover his daughter is dead as an emotional Scott holds Allison in his arms.
"Teen Wolf" ended its most devastating episode ever leaving us all to mourn the loss of one of our beloved Beacon Hills characters.
We are all sad to say goodbye to Allison Argent and the incredible Crystal Reed but we wish her all the best on her future endeavors.
Check out the Teen Wolf memorial page here #GoodbyeAllison
Catch the season finale next Monday at 10/9c on MTV.