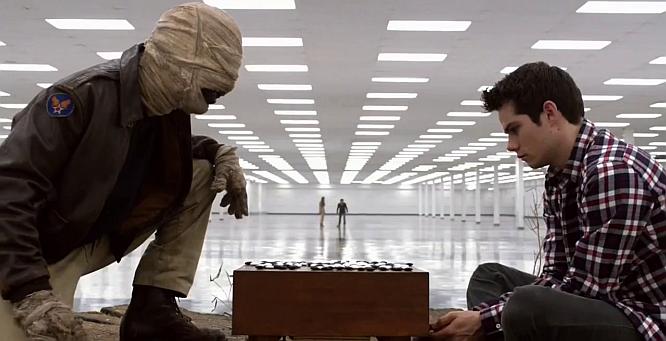 Teen Wolf 3B Episode 22 "De-Void"
Lexie Gerson —March 10, 2014
Teen Wolf season 3, episode 22, "De-Void," aired last night on MTV.
Last night's episode begins with Kira (Arden Cho) and Scott (Tyler Posey) racing toward Stiles (Dylan O'Brien), who remains at Derek's loft. Sheriff Stilinski (Linden Ashby), Allison (Crystal Reed), Derek (Tyler Hoechlin), and Papa Argent (JR Bourne) all try to take him down but they are unsuccessful. A standoff between Argent and the Sheriff takes place. But it ends when the Oni arrive leading everyone to help protect Stiles.
As Kira and Scott arrive, the Oni disappear with Stiles. Stiles is taken to the basement of Eichen House. Mrs. Yukimura (Tamlyn Tomita) is there looking at Rhys' body. She pulls out her last knives but Stiles manages to take it. He stabs himself in the stomach and says that chaos will come again.
As he says these words a swarm of flies disperse from his wound and he disappears. One of the flies makes its way to the hospital. It lands on Isaac (Daniel Sharman) and makes its way into his arm, causing him to wake up.
Kira and Scott spend the night at his house. While in bed we see them kiss for the first time. The two fail to notice the fly that attempts to get in through the window.
Allison admits to her father that she is the one who took the firing pin out of his gun so he couldn't hurt Stiles. Instead of being angry, Argent tells her "that's why the women in our family are leaders." Isaac sit alone in Allison's bedroom, in the dark. When she enters, she is quite happy to see him but she knows that something is not right with him.
At his loft, Derek tries to figure out what the Nogitsune was trying to say with the game of chess. Peter (Ian Bohen) walks over to Derek and points out that his wound is not healing because it was caused by an Oni's sword. Peter continues to tell Derek that chess isn't the game of a Nogitsune. As Peter leaves, a fly enter's Derek's wound.
Flies continue to enter our beloved Beacon Hills characters. In the locker room, a fly enters Ethan (Charlie Carver). Another fly enters Aiden (Max Carver) as he and Lydia (Holland Roden) arrive at a parking lot only to find Stiles' wounded body.
The next morning, Isaac looks at Allison's weapons. He wants to kill the twins but Allison tells him that they have to give them another chance. Isaac leaves the room. Allison tries to follow him but she soon learns that she is chained to the bed.
Stiles is brought to the McCall residence while Sheriff Stilinksii goes to his hearing, which will decide his fate as sheriff. In order to paralyze Stiles, Deaton gives him kanima venom. Meanwhile, Derek makes his way to the Argent residence prepared to seek revenge on Argent for what his sister, Kate, did to entire Hale family.
Time is quickly running out and no one knows what to do about Stiles. Lydia suggests that they call Peter. He tells them that turning Stiles isn't the answer, they have to get inside his head.
Back at the school, the twins fight under the influence of the Nogitsune. Before things get too out of hand, Isaac shows up and takes them both down. Before Isaac can finish off the twins Kira and Allison arrive and stop him. Unfortunately, they're not one-hundred percent successful. In order to protect themselves the girls lock themselves in a room and the influenced werewolves continue to fight again.
Lydia made a promise with Peter that she would tell him about his child if he helps her. Peter agrees, and tells Lydia and Scott that they must go inside Stiles' head in order to bring him back to the surface. They do exactly that, however, Lydia and Scott end up finding themselves tied down in Eichen house.
Back at the Argent residence, Derek continues threaten and ambush Papa Argent. He even douses him in lighter fluid while holding a lighter in front of his face.
At the sheriff's station, Agent McCall (Matthew Del Negro) saves Sheriff Stilinski's job. Take about a turn around! Turns out the accusation was merely an excuse for him to stick around longer. Sheriff Stilinski tells the Agent that he needs to let Scott in on his secret.
Back in Stiles' head, Scott and Lydia get separated. Lydia flashes back to the night she was bitten by Peter, just after homecoming. Scott on the other hand is making out with Allison in her closet. But its just a trick, Peter helps them realize this, and the two make their way to the white room where Stiles is playing Go on the Nemeton with the Nogitsune.
Allison and Kira team up against the werewolves and do a pretty good job.
In the white room, Scott has to howl to Stiles in order to get him to notice his presence.. Stiles destroys the game and Lydia and Scott wake up. Lydia keeps her word with Peter and whispers Malia's name. As she does so, Stiles wakes up.
Stiles pulls a long bandage out of his mouth. Once done the bandaged man becomes real. PLOT TWIST: The bandaged man is the real Stiles, and the Nogitsune, who also appears as Stiles, takes off with Lydia in tow.
Only two episodes left of this season so be sure to tune in to MTV's Teen Wolf Monday's at 10/9c