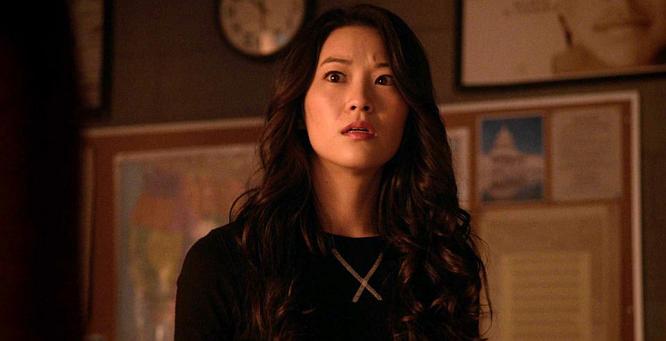 Teen Wolf 3B Episode 21 "The Fox and the Wolf"
Lexie Gerson —March 3, 2014
Teen Wolf season 3, episode 21, "The Fox and the Wolf," aired last night on MTV.
Last night's episode begins with a flashback to 1943. Two soldiers are dumping bodies in the middle of a field. As they prepare to burn them one soldier asks the other one a series of riddles. The soldier is uninterested. That's when the Nogitsune shows up and kills both of them.
Mr. Yukimura (Tom Choi) is in his classroom on a Saturday. He kills a fly and Stiles strolls into the room. Stiles (Dylan O'Brien) is searching for the blades used to create the Oni. Mr. Yukimura refuses to tell him where they are. So, Stiles resurrects the fly and it goes down the Mr. Yukimura's throat.
Kira (Arden Cho) and Scott (Tyler Posey) are looking at a picture from 1943. The woman in the photograph is a splitting image of Kira. The two are interrupted by the news of Kira's father. The two must now bring him a special mushroom in order to save him. Here we also learn that Mrs. Yukimura (Tamlyn Tomita) is actually 900 years old and knows more than she been letting on.
Kira hands her mother a sword in which blade was shattered the last time it was used on a Nogitsune. We also learn that Oak Creek was a real camp but none of its records ever survived. Additionally, we find out that the Nogitsune actually came from Mrs. Yukimura.
In another flashback, we see how Noshiko, Kira's mother, steals things from the soldiers in order to help her family and friends. The soldiers catch on to her sneaky ways but luckily she has an accomplice, one of the medics whom she has a relationship with.
Derek (Tyler Hoechlin) and Papa Argent (JR Bourne) are finally out