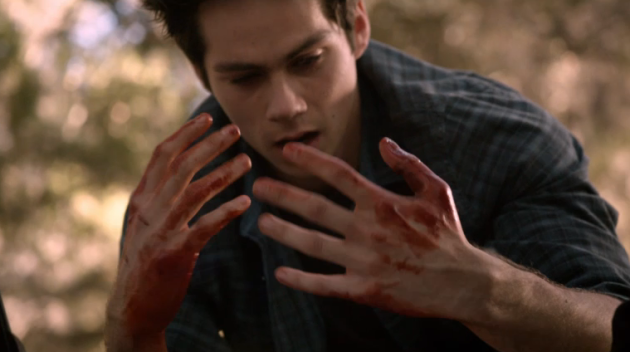 Teen Wolf 3B Episode 19 "Letharia Vulpina"
Lexie Gerson —February 17, 2014
Teen Wolf season 3, episode 19, "Letharia Vulpina," aired last night on MTV.
Last night's episode begins with Dr. Deaton (Seth Gilliam) showing up to help a wolf that is ill. In order to treat the wolf Deaton needs to know what the wolf consumed. He is led out into the garden and shown a species of moss that could be the cause of illness. Deaton explains that the moss is called letharia vulpina and that it is quite toxic to a wolf, especially if it is tainted with the blood of a Nogitsune. We soon find out that the man who has called Deaton to treat the wolf is the son of the Nogitsune. In a previous flashback episode we saw the Nogitsume in this very location. Nogitsune's son pulls a gun on Deaton who is already one step ahead of him; Deacon has already given him a paralytic toxin from the Kanima, which is also what he used to make the wolf sick. It turns out that Deaton planned the entire encounter in order to gain access to the moss, which he plans to use to poison the fox inside Stiles.
Back at Beacon Hills Memorial Hospital, we pick up where the last episode left off. The live wire has fallen from the roof and wreaks havoc. The street soon floods with water and is electrified causing several people to become injured. Isaac (Daniel Sharman) and Allison (Crystal Reed) arrive at the scene to find an ambulance driver on lying among the wet pavement. Allison attempts to go help him but is quickly pushed out of the way by Isaac in an attempt to save her from the electrocution. Isaac and many others are struck and wounded. Kira runs and flips off the top of a car as she goes to grab the wire. She holds the wire within her hands and we see her developing abilities take shape. Her eyes glow and she manages to stops the wire from harming anyone else. Scott (Tyler Posey) and Derek (Tyler Hoechlin) look on in disbelief.
Isaac is taken to the hospital for his injuries.
Fast forward a bit.
Stiles (Dylan O'Brien) has been missing for 48 hours and Isaac remains in the hospital. Sheriff Stilinski (Linden Ashby) receives a text from Stiles telling him he's okay and not to look for him. Meanwhile, Agent McCall (Matthew Del Negro) seems to know who Katashi is, the man Papa Argent met with in a previous episode.
Mama McCall (Melissa Ponzio) and Scott arrive at the hospital to check on Isaac. Upon their arrival they find Allison asleep in the hall. She has been at the hospital all night but is unable to see Isaac because she is not family. Mama McCall sneaks Allison and Scott into Isaac's room. Isaac is not healing and is in serve pain. Scott tries to heal him, but in unable.
Back at school, Scott talks to Kira (Arden Cho) talk in the halls. Kira tells Scott that the Nogitsune is a trickster and that it lashes out when it feels as though it has been offended. So, the Nogitsune is probably doing all of this because it was extremely offended. But by whom?
In the locker room, Coach (Orny Adams) makes his typical witty remarks and asks the boys to contact the nearest teacher if they see Stiles and to sign a card for Isaac. "Every one of you losers is not only going to sign it you're gonna write a message so profound and deep its gonna bring a tear to Coach's eye." Scott, Aidan (Max Carver), and Ethan (Charlie Carver) discuss the current Nogitsune situation but are interrupted when they hear one of Papa Argent's emitters.
Scott, Aidan and Ethan go down to the basement and find that Stiles has it. Stiles says he doesn't know what he's been up to for the past few days, and he tells them he has a bag of equipment and a bunch of maps. Apparently, he was planning something even bigger than what happened at the hospital, a plan that involves on cross-country trail. Ethan and Aidan charge Stiles and nearly choke him to death before Scott intervenes and stops them with his Alpha grawl. Scott believes that it is Stiles not the Nogitsune who is talking to them.
Back in the hallway, Lydia notices Peter (Ian Bohen) talking to her mother. He leaves and she makes her way over. Lydia finds out that he lied about his true identity and reason for being at the school. But a naïve Mrs. Martin (Susan Walters) believes he was simply flirting with her. Mrs. Martin: "He gave me his card." Lydia: "Mom, this is a piece of paper with a phone number written on it." Mrs. Martin: "I know, still go it."
Papa Argent (JR Borne) returns to his home after an endless search for Stiles. Upon his arrival he finds that someone has broken into his house.
The culprit, Derek.
Derek accuses Argent of leaving emitters in his loft. Argent denies it, and notices that someone has left the money from the transaction with Katashi in his office. Just then Agent McCall barges in with backup and evidence that suggests that Argent and Derek have killed Katashi. The two are taken to the police station.
Coach has his students running the cross-country trail. Stiles, Scott, and the twins arrive at the trail and try to stop everyone, keep them from getting hurt at the hands of the Nogitsune (Stiles). In an attempt to stop Danny, Ethan tackles his and the two share a passionate kiss. Scott catches Kira and tells her that they need to stop everyone. Everyone arrives and Stiles tells them all to stop. Beneath the leaves, Stiles discovers a chain but it is not connected to anything. Just then, the Coach steps forward and trips a wire. He is shot in the stomach with an arrow. Scott tries to heal him, but Coach passes out before anything can really happen.
Lydia and Allison head to Derek's loft to find Peter. Lydia wants to know how use her powers but Allison doesn't think Peter will help. "Peter doesn't offer help. He offers a chance for you to be manipulated into giving him what he wants." Peter tells Lydia that his bite brought her powers out, and that her scream only drowns everything else out so she can hear what's important. Peter agrees to help Lydia but only if she helps him uncover the memory his sister, Talia, took away from him. He gives her Talia's claws in hopes that she will be able to hear the memory.
Out in the woods, Stiles is reunited with his dad, who arrives to the scene to investigate the Coach's accident. In the back of Stiles' Jeep, Scott and the twins find wrapping paper and are led to believe that he has planted a bomb. The bomb is supposedly on a school bus, discovered by everyone's favorite student, Jared, the boy with the weak stomach.
Back at Derek's loft, Peter and Allison antagonize each other. Lydia tries to get them to stop but is unsuccessful. Instead, she throws the claws into the wall between them. The claws stick and she begins to hear voices. Peter asks her to tell him what she hears and she replies with: "You're not just an uncle." Peter demands to know more but is quickly julted by Allison and an electric rod. He falls to the ground and the girls leave the loft as he screams for Lydia.
In the school, Mr. (Tom Choi) and Mrs. Yukimura talk about the Oni and the Nogitsune as Kira eavesdrops from the hall. The two are worried about what they're going to do next. We then learn that Mrs. Yukimura (Tamlyn Tomita) is sacrificing each of her nine tails in turn in order to create the Oni and stop the Nogitsune. She says that she is willing to give up all nine of her tails and her life in order to do it.
Officer Parrish goes on to the school bus in order to figure out if the present Jared is holding in in fact a bomb. He clips the ribbon, and finds there's no explosive inside. However, Sheriff Stilinski's name plaque is, which causes the Sheriff to realize where the real bomb is, the station.
Panic washes over the police station as the officers discover the bomb is in Stilinski's office. Derek and Papa Argent are handcuffed outside the office. Upon seeing the chaos Derek takes listens closely and here's the bomb. He yells for everyone to get down and the bomb goes off, injuring many. Although there's bad blood between them, when the bomb goes off, Derek protects and saves Argent from the blast.
Scott shows up to the station with Stiles and tries to heal those who are injured. He tries to heal one officer but the man dies causing Scott and Stiles to go into shock. Sheriff Stilinski tells the boys to leave.
Kira arrives at the station and warns them that the Oni are coming. Scott tells them they have to get to the vet clinic in order to keep Stiles safe. Since it is protected by mountain ash it will help by them some time.
Allison and Lydia sit in the car and each pull up an image on their phone. One is of Peter and the other is of Malia Tate, the missing girl turned wolf in previous episodes. We learn that Malia is actually Peter's daughter. PLOT TWIST!!
At the clinic, the Oni arrive as Scott, Stiles and Kira try to make their way inside. As Stiles tries to unlock the door, Alpha Scott fights off the Oni. Kira pulls out her inner badass and helps him fight, but when Scott gets distracted, the Oni stabs him in the stomach with one of their swords.
Stiles ushers Kira and Scott inside the clinic. Kira goes to remove the sword from Scott's stomach, but before she can, Stiles smashes her head against the counter, knocking her out.
The jig is up, Stiles breaks from his ruse, and reveals that he is and has been the Nogitsune. Stiles twists the sword, causing Scott severe pain. He proceeds to tell Scott that by helping ease others suffering he took their "chaos, strife and pain." The Nogitsune wants all that pain and clenches Scott's head to make the pain transfer. After he takes the pain away from Scott he tells him that he needs to learn. "You really have to learn Scott, you really have to learn not to trust a fox….cause they're tricksters….they'll fool everyone."
Luckily for Scott, Deaton shows up and injects Stiles with letharia vulpina. He's poisoned, but he's not dead. "Not yet," Deaton adds.
Tune in to Teen Wolf Monday's 10/9c on MTV
*Image by MTV