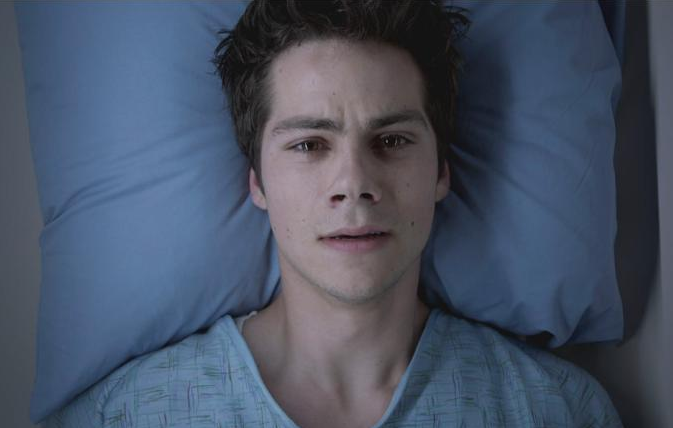 Teen Wolf 3B Episode 18 "Riddled"
Lexie Gerson —February 10, 2014
Teen Wolf season 3, episode 18, "Riddled," aired last night on MTV.
Last night's episode begins with Scott (Tyler Posey) receiving a phone call from Stiles (Dylan O'Brien). Stiles doesn't know where he is, he's injured, and he can't move. Stiles tells Scott to find him but he also requests that he leave his father out of it. After some unhelpful clues the phone call ends. It is now up to Scott and Isaac (Daniel Sharman) to rescue him.
It's late at night. At the high school we find Aidan (Max Carver) and Lydia (Holland Roden). Lydia is drawing Aidan for her art class. Aidan makes some comments regarding modeling nude but they are quickly disregarded when Lydia hears Stiles' voice coming out of the radio asking for help.
Kira (Arden Cho) is lying in bed doing homework. As she reaches over to turn on her lamp, the bulb blows out. However, when she goes to remove it, her hand sparks with electricity and the light bulb turns on before it proceeds to explode. Kira's mother enters the room to change the bulb. We see that the new light bulb lights up when Mrs. Yukimura (Tamlyn Tomita) touches. Perhaps, this reveals that the two are of the same supernatural being?
Scott, Isaac, Lydia, and Aidan meet in Stiles' bedroom to look for clues and get a better scent. There is a pair of scissors entrenched in the middle of the bed, with all the red yarn leading from the scissors up to his boards of unsolved cases. After much insistence from Lydia, Scott and Isaac head to the police station to tell Sheriff Stilinski (Linden Ashby) that Stiles is missing. Lydia and Aidan decide to stay behind to see if they can find any clues in Stiles' room.
We then get our first look at Stiles. He is lying on the ground in a basement with his foot in a bear trap. A bandaged man is sitting in the corner, and he draws the symbol for "self" on the wall with chalk. As soon as Stiles goes to says it out loud, the symbol disappears.
Sheriff Stilinski is panicky after hearing the news about his son. He quickly gets his officers in crisis mode. After a short amount of time they locate Stiles' jeep, which is at the hospital. The car is dead and Stiles is nowhere to be found. On the roof, Derek (Tyler Hoechlin) tells Scott that he can sense that Stiles was up on the roof and that he had an altercation with himself.
Back in Stiles' room, Lydia realizes that she can hear voices when she pulls on the red strings. She determines that Stiles is being held in the basement of the same mental asylum where William Barrow, the Shrapnel Bomber, was committed.
In the basement, the bandaged man returns and tells Stiles that he is trying to save his life. Lydia, Scott, Aidan, and Sheriff Stilinski arrive at the basement of the mental asylum, but Stiles is not there. As they leave we see scratches on the wall in the shape of the symbol for "self."
What is going on? I honestly have no idea.
Melissa (Melissa Ponzio) arrives at the Sheriff station in search of Agent McCall (Matthew Del Negro). She wants to help; the two team up to try to find Stiles. In the car, Agent McCall shares with Melissa his theory. He believes that Stiles is sleepwalking and that he only believes that he's in a basement. Agent McCall reminisces with Melissa about the time he slept walk and thought he was somewhere else. In this scene, we also get a feel for what their marriage was like and we learn that the Agent had a drinking problem.
Melissa and Agent McCall find Stiles in the coyote den. Melissa tries to comfort Stiles but he eventually wakes up screaming, not knowing where he is or what is going on. They proceed to take him to the hospital.
Isaac arrives at the Argent residence in search of Allison (Crystal Reed) who has not been answering her phone. She answers the door and tells him that she has been sleeping. She has not received any calls or messages. She goes to check her phone and discovers it turned off; she never turns her phone off. Allison finds a great deal of calls on her phone from an unknown number. She checks her voicemail and finds a message in Japanese.
At the hospital, Aidan tells Derek he thinks Stiles is the Nogitsune. At first Derek is hesitant and does not believe that "defenseless" Stiles could be the evil. But after a brief moment, he thinks it could be a possibility.
Stiles is doing fine and has fallen asleep at the hospital. After hearing the news, Scott and Lydia head home because they have school the next day. Sheriff Stilinski thanks Agent McCall for finding his son and for a moment we see the two finally getting along. On her way out, Lydia hears banging but no one else hears it. Scott asks her if she hears anything but she denies it.
Scott is in a daze at school and blows off Kira as she calls his name in the hallway. Derek appears and tells her not to take it personally. He then asks her to tell him everything that happened that night at the power station. Kira decides to show him, and the two discover Stiles' bat. It is magnetized and attached to the power source. With this new discovery Derek forces Kira to tell him everything she knows about foxfire.
Back at school, Isaac and Allison go to Mr. Yukimura (Tom Choi) and ask him to translate the Japanese voicemail. He translates it, saying that it's a fake message about a Japanese internment camp. Meanwhile, Lydia is hypersensitive to sounds at school.
Mama McCall and Sheriff Stilinski have a heart to heart regarding Stiles. Melissa tells him that she noticed some symptoms when he came in for his most recent visit. She is hesitant to share with him her findings, at the risk of hurting his feelings. But before she can tell him he pulls out a notepad with the same symptoms on it. Apparently, he has been writing them down as he's come to see them. The Sheriff tells her that they need to run some tests.
Scott visits Stiles as he goes to do some tests. The doctor is looking for signs of frontal temporal dementia, which is what his mother had, what she died from. Stiles is afraid of what the doctor might discover and this clearly strikes a chord with Scott. The two share an emotional hug and Scott promises to "do something," anything to save him, if the tests turn out positive. Melissa and the Sheriff look on as the two best friends share this fairly emotional moment.
Derek figures out that Barrow used Kira's foxfire to jump-start the Nogitsune's powers inside Stiles. Derek and Kira return to the hospital to tell Scott what they have discovered. Kira waits outside the hospital since she feels guilty for causing the jump-start within Stiles. Derek relays the information to Scott, and also tells him that when he talked to his dead mother, Talia, she told him that the Hales not only lived in Beacon Hills, they protected it.
Just then Scott has an epiphany.
Scott and Derek go back to the roof and Scott realizes that Stiles was trying to protect everyone from what he was about to do. On the roof they find equipment that makes it obvious that Stiles was going to do something very similar to what Barrow might have done.
Lydia continues to hear the banging sound as she sits in her car. She attempts to tune out the banging by turning up the volume on the radio. We soon learn that the banging she is hearing is the MRI machine that Stiles is in. She screams when she can no longer take the noise but there is no sound, only silence.
As Stiles goes through the MRI machine the doctor determines that parts of Stiles' brain is showing signs of atrophy.
In the machine, Stiles closes his eyes and is again transported into his dream-like state with the bandaged man who continues to recite him a riddle. The creature once again asks him, "Everyone has it, but no one can lose it." He tells Stiles that if he can figure the riddle out, then maybe he won't kill his friends and family.
Faced with the pressure, Stiles tells the creature that the answer is a 'shadow'. Now that he has answered the question the bandaged man unwraps himself and unveils his true identity.
It's STILES!
Back in the real world, there's a power surge in the hospital. As the lights go out and everyone is distracted Stiles slips away from the testing room. When the lights turn on Melissa and the Sheriff notice he is missing. Upon discovery the Sheriff say firmly says "Where's my son."
Stiles has changed out of his gown and is standing in the hallway. That's when we see the elevator doors open to unveil Mrs. Yukimura. She has come to confront Stiles, who has become a host for the Nogitsune. She tells him that she will stop him, even if it means killing an innocent boy.
Stiles calls Mrs. Yukimura out on her threat. And she responds by making the Oni appear. However, Stiles is not afraid of them. "We're not really afraid of your fireflies." She continues to threaten him by whipping out the the big guns. "If the Oni cant defeat you I know someone who will." Unfortunately, we don't know who that is yet.
Outside, Kira watches as the electrical cord from the roof goes crazy. It falls and in the last moment of the episode we see it plummet right towards her.
Teasers from creator Jeff Davis – 'Wolf Pack'
• Davis revealed that we will be introduced to another banshee this season. How exciting!
• Stiles may or may not be fully gone.
• The backwards number 5 that we keep seeing is in fact a kanji.
Tune in to Teen Wolf Monday's 10/9c on MTV
*Image by MTV