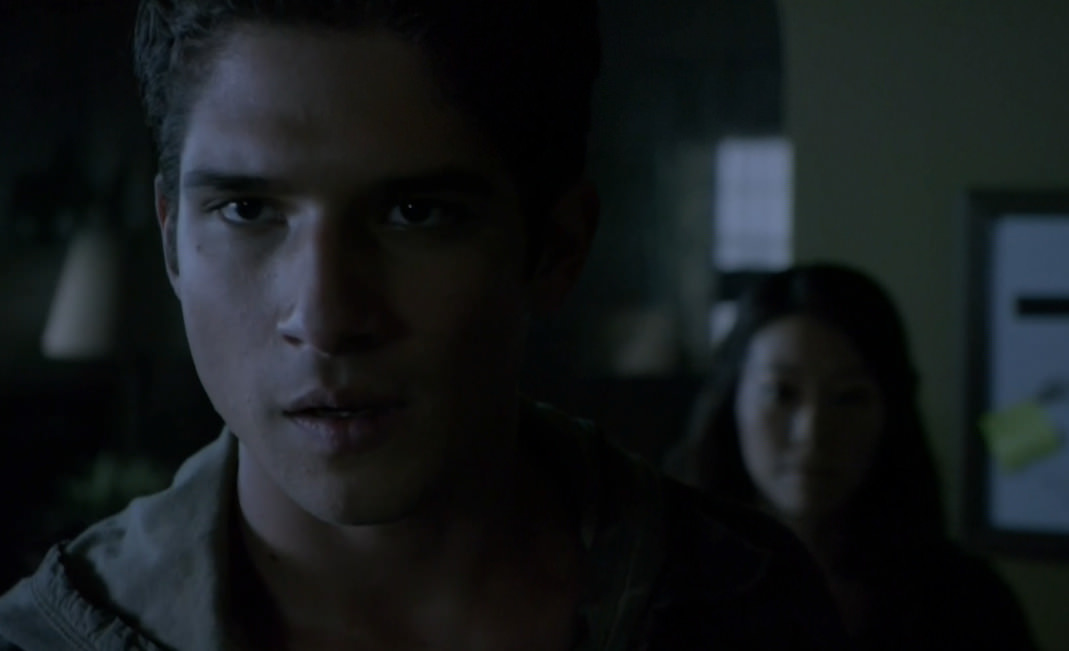 Teen Wolf 3B Episode 17 "Silverfinger"
Lexie Gerson —February 3, 2014
Teen Wolf season 3, episode 17, "Silverfinger," aired last night on MTV.
The episode begins with a flashback to young Papa Argent (JR Bourne). He is eighteen years old and in Japan. Argent goes on to tell Scott (Tyler Posey), Isaac (Daniel Sharman) and Allison (Crystal Reed) about his trip and encounter with the masked warriors. In Japan, Argent comes across the masked warriors for the first time. Argent witnesses the masked warriors attack a supernatural being. The only one to survive the attack is a man named Katashi aka Silverfinger.
Argent tells the group that he has been looking for Katashi all night; he is the only one who can answer their questions. Argent then reveals that behind their masks the warriors hide 'absolute darkness.'
Kira (Arden Cho) sneaks back home after her night out with Scott. As she lies down on her bed she recalls the time she spent him. Kira remembers being dropped off by Scott. Scott is worried that she will judge him and the others for being werewolves. Kira then asks to see Scott in his werewolf form. He transitions under his helmet and shows her his face. Much to his surprise she is calm and accepting.
Scott encounters the twins (Charlie and Max Carver) as he makes his way to school. The twins have taken it upon themselves to protect Scott from the "demonic ninjas." While Scott is appreciative he denies their around the clock protection. For Scott believes that he may not be the only target, they might be after Kira.
In a private discussion, Scott and Stiles (Dylan O'Brien), discuss the chemicals and the mysterious key. Stiles tells Scott that he was the one who opened the chemical closet door and wrote the message to Barrow on the board. Unfortunately, all the evidence is gone, including the key. Stiles swears he had it and realizes that the prank he played on Coach resembles Barrow's bomb. He used nuts, bolts and screws and placed the bomb and the detonator in a box wrapped as a birthday present.
Papa Argent comes up with a plan to draw Katashi out. His plan is to sell him an antique gun, since he is a collector. But Katashi does not want to make the deal himself. Therefore, Argent decides to send Isaac to make the deal and distract the men long enough for Allison and Chris to find Katashi.
Isaac who is extremely nervous lacks confidence in his disguise. With a passionate kiss and a little groping Allison convinces him that he's man enough to do it.
Stiles checks himself into the hospital. Mama McCall (Melissa Ponzio) examines the sleep-deprived boy and takes down his information. She then proceeds to give him a sedative so he can get some rest. As he drifts off he whispers "Thanks, Mom" which strikes a core. Mama McCall does some investigating and discovers that Stiles' mother suffered from the same symptoms that Stiles is experiencing, including: hallucinations, panic attacks, and insomnia.
Once again, Scott gets rid of his protectors [the twins] and brings Kira to his house in order to keep her safe. Kira tells Scott that she thinks she is a Kitsune, which in Japanese means fox. This form of a fox has the ability to control electricity. The two go in for a kiss but are interrupted when Scott thinks his mother has arrived home.
Surprisingly, it is Agent McCall (Matthew Del Negro) who arrives at the house. He is there to confront Scott and Kira about an image he found on his laptop. He knows the two of them broke into his office and he will not leave until he gets an explanation. As Scott and his father begin to dispute the sun goes down and the masked warriors attack them. Agent McCall is immediately injured but Derek (Tyler Hoechlin) and the twins quickly come to defend the McCall residence. Mama McCall arrives and attends her ex-husband as the supernatural beings duke it out. Finally, they drive out the warriors out and Mama McCall triggers a magical security system that Deaton helped install, this keeps the warriors at bay.
Back at the warehouse Papa Argent and Allison confront the Katashi and Argent reminds him of who he is. When he shows Katashi the mask, the old man says that the masked warriors are called Oni, unstoppable demons. He tells them that the Oni are looking for someone with a dark spirit, someone to possess. Those who are not the dark spirit are marked with the number 5.
Katashi also explains that there are 13 kinds of Kitsune. Among them is the Nogitsune, which is evil. This dark spirit possessed the man who Papa Argent saw getting attacked as a boy. Katashi says they must let the Oni kill the Nogitsune, no matter who it is.
Agent McCall is seriously injured from the Oni, and Mama McCall tells Scott he needs to go to the hospital but there is no way to leave.
Agent McCall wants to talk to Scott, but Mama McCall tells him he's not going to do it on his deathbed. In the other room, Scott calls Allison for help and she enlightens him on all that Katashi had to say. The Oni finally find their way into the house and when the werewolves ask Scott what they should do he replies with "nothing." Scott tells Kira to trust him, which she obliges. The Oni check Scott and Kira and determine that nothing possesses either one of them. Therefore, they are marked with the number 5.
In the final scene, Stiles has awoken from his slumber and has gone to find Mama McCall who has just arrived with Scott and Agent McCall. Scott goes to off to find Stiles who has stumbled across an empty ER room. Upon entering we see that Stiles is not alone, the masked warriors have arrived.
The Oni show up to check Stiles and they find that he is indeed possessed with the dark spirit of the Nogitsune. Good ole Stiles has gone to the dark side! Before the Oni can attack him, the dark spirit takes over and Stiles kills each one of the Oni. Turning them into mere fireflies. As Scott shows up, Stiles reverts back to his normal self and acts as if nothing is wrong.
Talk about a crazy episode! We certainly didn't predict that ending. Can't wait to see what happens to our beloved Stiles.
Tune in to Teen Wolf next Monday at 10/9c to find out what happens.
*Image by MTV
Twitter: @TheVRO
Facebook: Variety Radio Online
Tumblr: Variety Radio Online
//