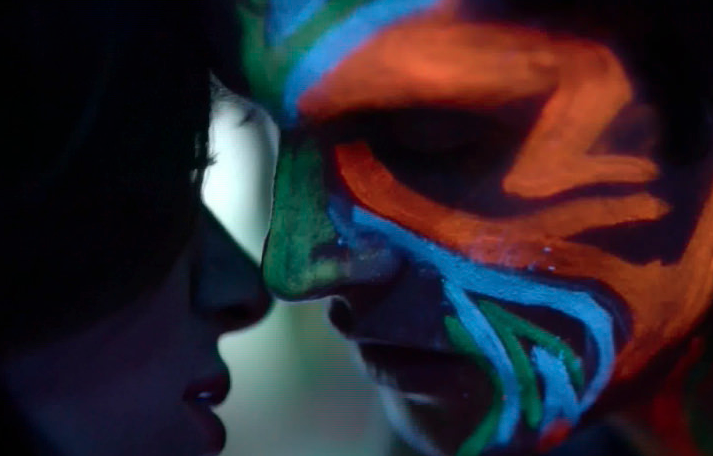 Teen Wolf 3B Episode 16 "Illuminated"
By: Lexie Gerson —January 27, 2014
Teen Wolf season 3, episode 16, "Illuminated," aired last night on MTV.
The episode starts on Halloween night. The group of masked men that appeared in last week's episode are walking down the street. Meanwhile, Allison (Crystal Reed) and Papa Argent (JR Bourne) are trying to get into Allison's room where Isaac (Daniel Sharman) was attacked. The two manage to make their way inside and find an ice cold Isaac laying on the floor. In order for Isaac to warm up Papa Argent must provoke him into changing. Isaac says that he saw five figures with glowing eyes that looked like fireflies. This of course strikes a nerve in Papa Argent and he proceeds to tell them that he thinks the masked figures are after him. He then asks Allison and Isaac to give him 24 hours to figure things out before they tell anyone. He leaves the room and opens a box where we see a mask that resembles the ones worn by the creepy figures.
In the next scene, we see Agent McCall (Matthew Del Negro) interviewing Stiles (Dylan O'Brien), Scott (Tyler Posey), Kira (Arden Cho), and Lydia (Holland Roden). Sheriff Stilinski (Linden Ashby) observes and Agent McCall tells the group of teens that they believe someone left the numbers on the chalkboard as a code for Barrow, telling him to kill Kira. As always they are uncooperative in answering the Agent's questions. Stiles is quite snarky yet humorous in his responses. Stiles, Scott, and Lydia are subtle in ensuring that Kira does not say anything, to which she obliges.
The teens head to school even though there is no power. As the students make there way to class we see that Danny (Keahu Kahuanui) is trying to plan a black light party. Unfortunately, his venue doesn't have enough power to accommodate the party and he must find another location. Ethan (Charlie Carver) decides to help Danny, something that Aidan (Max Carver) does not seem to understand.
Lydia's mom, Mrs. Martin (Susan Walters), is now a substitute for biology class. The mother and daughter exchange remarks regarding embarrassment and shoes before Mrs. Martin makes her way to the front of the room. Lydia tells Aidan that she saved a life [Kira] and that it felt good to help someone. She proceeds to tell Aidan that when she looks at him all she can think of is Boyd and how he killed him. She tells Aidan that he is a bad boy and she does not want to be with a bad boy. Aidan turns around in his seat and tells Danny that he knows where he can have his party.
Throughout the day, Scott tries to hang out with Kira. Stiles doesn't think that it is a good idea but Scott believes that Kira is just like him.
Scott sits on the ground next to Kira who is eating alone. He agrees not to talk about what happened the night before but Kira tells him to take a picture of her with the flash on. When he does, he sees a strange golden light around her. She tells him that it started about a few months ago. Kira then tells Scott that Barrow took photographs of her on her phone, which Agent McCall has in his office. She tells him that she must get her phone back and delete the images to which Scott agrees to help her.
Children trick-or-treating startle and ambush Derek (Tyler Hoechlin) on the street. He gives them candy and then proceeds to scare them with his wolf teeth, glowing blue eyes and a loud roar. The children run off screaming. And he laughs in amusement.
Just then the men in the masks show up and attack Derek.
Across town, Scott, Stiles and Kira are preparing to break into the police station to find her phone. Stiles provides Kira and Scott with keys and tells them that if they get caught they are on their own. The two sneak in while Stiles keeps watch in his Jeep. They find Kira's phone but it is dead. Since Agent McCall will notice if the phone is missing they must charge the phone and delete the images in the station. Scott finds a charger cable attached to a laptop. When he opens the computer he sees a picture of him as a kid. They plug in the phone and wait for it to turn on. Back in the Jeep, Stiles discovers a mysterious key that has appeared on his key ring.
Agent McCall pulls up to the police station and it's up to Stiles to stall him. Stiles stalls Agent McCall by telling him that he knows why he hates his father [Sheriff Stilinski] so much. Stiles says, that it's because the Sheriff knows something about him, and Stiles tells him that he knows it, too. His stalling works and appears to hit a nerve in the Agent. Kira and Scott manage to escape without getting caught. The rush of breaking in excites Kira and Scott offers to take her home on his bike. The two prepare to leave but before not before Scott asks Kira if she wants to go to a party. Looks like we're not heading back to the Yukimura residence tonight.
Back at Derek's loft, the black light party has begun. And it certainly looks like a good time! Thanks to the twins the party is going strong and Danny couldn't be happier. Allison and Isaac arrive. Meanwhile, Ethan and Danny share a moment that is both shirtless and adorable. Shortly after, Scott, Stiles and Kira arrive at the loft. Caitlin, the lesbian who lost her girlfriend earlier in the season, shows up and randomly kisses Stiles. He runs off to dance with her leaving Scott and Kira alone on the dance floor. Scott takes Kira's hand but soon spots Allison across the way. Kira drops Scott's hand when she notices the exchange and discretely walks away. Allison and Scott exchange a few looks before they smile at one another. Scott uses his Alpha powers to spot Kira in the crowd, and in doing so, he can see the glow around her. A glow that certainly looked like a fox!
Allison and Isaac share a steamy moment. And boy can you can feel the sexual tension between the two. During their conversation, Isaac brings up Scott and with a smirk asks Allison if she is "sexually frustrated." Allison says, "Do you want to talk about Scott, or do you want to paint my body?" The two make there way to the paint. Allison takes off her shirt to reveal a neon pink bralette and Isaac paints her body. HOT!
Lydia is hanging out in the sidelines, ignoring Aidan, and looking around at her friends. When she sees Allison and Isaac on the dance floor she responds with one word, "Finally." As her eyes wander around the room she sees the masked men coming out of the shadows. She frantically moves around the dance floor calling out Scott's name but he does not hear her. She runs out to the balcony and is confronted by one of the figures that comes straight out of the ground. She tries to scream, but the figure puts up its hand and stops her.
Stiles and Caitlin continue to get closer, making out on the side of the room. As the two continue with their advances, Caitlin notices that Stiles' key has phosphorus on it. That triggers an epiphany for Stiles, and he runs off apologetically.
As Allison and Isaac continue dancing, she feels something on his neck. The two go to a mirror to check it out and find the number 5 behind his ear. Allison and Isaac then find Ethan, who was attacked by the men in masks, on the ground.
Out on the dance floor Aidan and Danny search for Lydia and find her laying outside on the balcony. She tells them that "They came out of the dark." Ethan and Lydia are ice cold and are both marked with the number 5 behind their ears.
On the streets Derek wakes up from his attack, he too has the number 5 behind his ear. What is this an initiation?
Derek heads to his loft and kicks everyone out by giving a loud shout. The guests leave but the night is not over.
The men in the masks appear and stare down Aidan, who appears to be their next target. The wolves and masked men have a showdown. We soon learn that the masked men cannot be killed but they can make weapons appear out of nowhere. The men end up branding Aiden with the number 5, making the total number of branding 5 [Isaac, Derek, Ethan, Lydia, and Aidan].
Scott begins to transform in order to take down the masked men. As the sun rises, the men disappear. But not before Kira sees exactly what Scott is. Isaac then looks to Allison and tells her, her father is out of time, it's been 24 hours.
That morning, Papa Argent comes home, bloody and beaten. He passes out on the floor as Allison tries to call him.
Meanwhile, Stiles makes his way to the school and opens the door to the room with the chemicals using the mysterious key that showed up on his key ring. He then makes his way to the chalkboard which still has the message to Barrow written on the board. He recognizes the penmanship and writes the same numbers next to the ones on the board. It's a match. Stiles realizes that he was the one who left the message for Barrow.
dun Dun DUNNNNN! Mind blown! We can't wait to see where the story will lead us, could Stiles be turning bad?
Tune in to Teen Wolf Monday at 10/9c on MTV to find out.
*Image by MTV