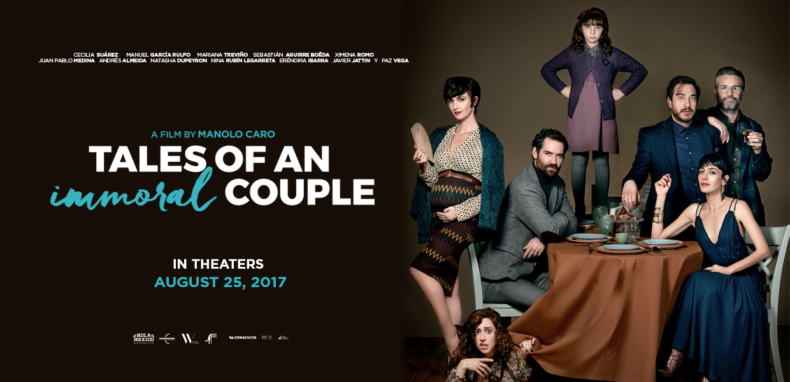 Hola Mexico Distribution has announced the U.S. theatrical release of the screwball comedyTales of an Immoral Couple(La vida inmoral de la parejaideal), the fifth feature film by writer-directorManolo Caro. Thefilm opens Friday, August 25and itmarks the first U.S. theatrical distribution by the young yet accomplishedMexican film and theater director, whose deft comedies have enjoyed significant box office success at home, making him the only filmmaker in Mexico to have scored a top ten highest-grossing movie in the past three consecutive years.
Tales of an Immoral Couplecenters on Lucio and Martina, two former lovers whose passionate romance began while attending a strict Catholic high school in Mexico. Twenty-five five years later, they unexpectedly run into each other in the city of San Miguel de Allende and despite still sharing an undiminished love for one another they both pretend to bein happy marriages––even if it's all lies. As they try to maintain their facades, a comedy of errors ensues that reveals the true reasons why the couple ended up separating in the first place.
Emmy-nominated actress and Caro regular Cecilia Suárezplays the role of Martina, while Manuel García Rulfo(The Magnificent Sevenand the upcoming Soldado) plays the role of Lucio. They are joined by a cast of established as well as up-and-coming actors including Sebastián Aguirre (Güerosand A Monster with a Thousand Heads), Andrés Almeida (You're Killing Me Susanaand Y Tu Mamá También), and Spain's Paz Vega (Lucía and Sex, and Almodóvar's Talk to Herand I'm So Excited).
Shot on location in Mexico's picturesque San Miguel de Allende, Tales of an Immoral Couplepremiered on Mexican screens in November of last year and became one of the top-grossing Mexican films of 2016. With a charming vivacity and a talented cast with impeccable comedic timing, the film offers U.S. audiences a great introduction to Caro, a director who deftly combines his artistry with comedy.
About the Director: Born in Guadalajara, Manolo Caro is a Mexican director, producer and screenwriter working in film and theater. His theater debut was with the play No sé si cortarme las venas o dejármelas largas(I Don't Know Whether to Cut My Veins or Leave Them Long), which he wrote and directed. It became a hit at the local box office and was sold to different territories worldwide. He then wrote Sin cura, Un dos tres por mí y todos mis amores, I love Romeo y Julieta, and more recently Nunca es tarde para aprender francés. His film debut was with the big screen version of I Don't Know Whether to Cut My Veins or Leave Them Long, which repeated the big success of the play, and landed in the number three spot for that year's box office. His second feature film was Amor de mis amores(Love of All My Loves), which went on to win the Audience Award at the Chicago Latino Film Festival. His film Elvira, I'd Give My Life, But I'm Using Ithad its international premiere at the Los Angeles Film Festival. He is currently working on a new series for Netflix.
Cast: Andrés Almeida, Cecilia Suarez, Erendira Ibarra, Francesco Roder, Javier Jattin, Juan Pablo Medina, Manuel García-Rulfo, Mariana Treviño, Mayte Gil, Natasha Dupeyron, Nina Rubín, Paz Vega, Sebastián Aguirre, Sofía Sisniega, Ximena Romo
Director: Manolo Caro
Writer: Manolo Caro