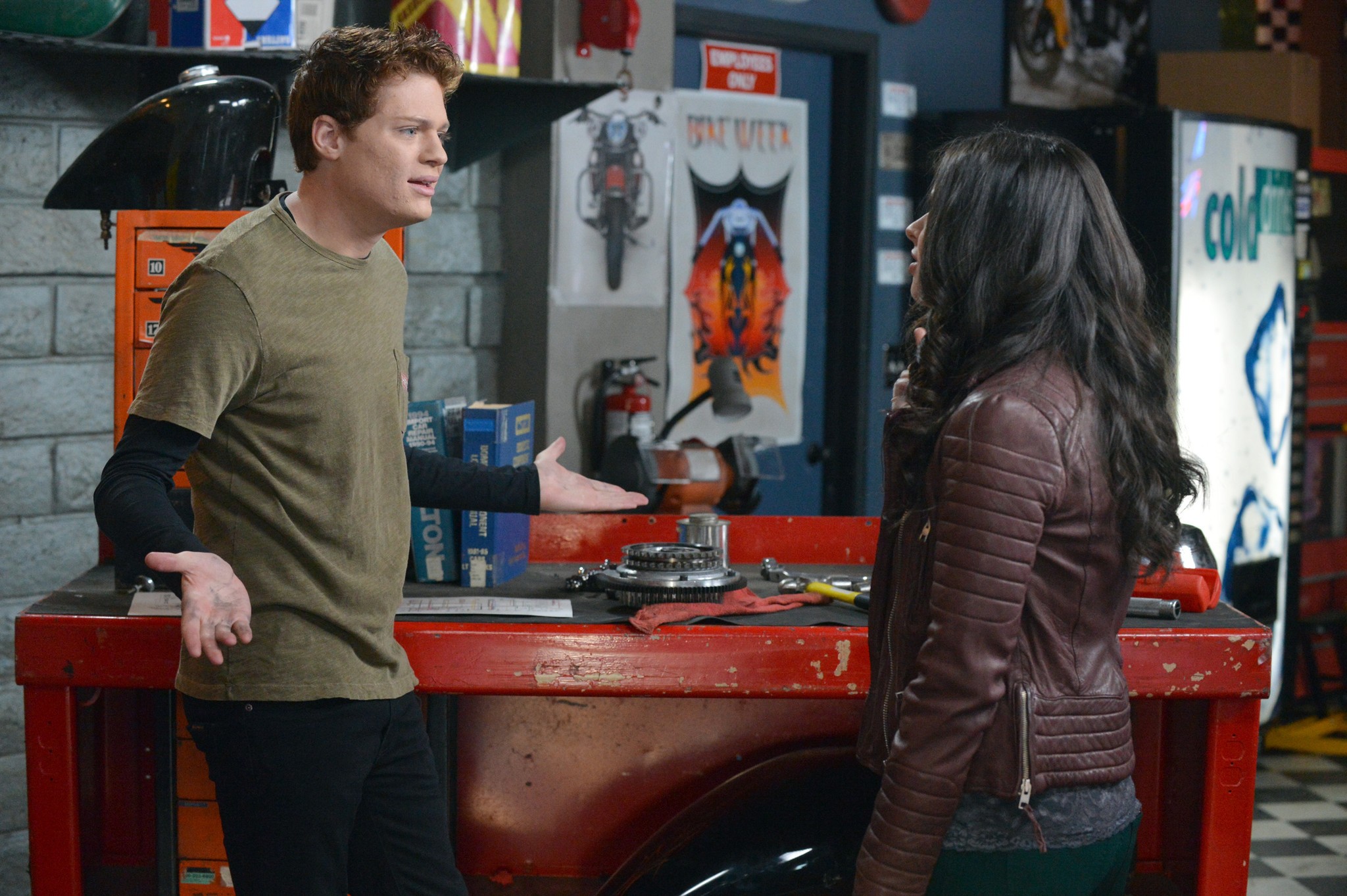 The Spring Finale of Switched at Birth was the best episode of this season, in my opinion. Jorge (David Castaneda) catches Daphne(Katie LeClerc) and Campbell (RJ Mitte) kissing. Jorge is happy Daphne only has a week left to work in the clinic, but she lets him know she's thinking about asking for an extension. Bay( Vanessa Marano) tries to tell Emmett(Sean Berdy) that he is being catfished, but he doesn't believe her. He gets so frustrated he tells her to stay but of his business.
After talking with her Mother, Regina (Constance Marie) is fed up and wants to stop working for Wes. After some information is leaked, Wes threatens to sue Regina then fires her. Katherine (Lea Thompson) trying to find out who leaked her book. She believes it was Renzo(Alec Mapa) who questions if he and Katherine were really friends since she's accusing him. She alter finds out it was her editor. Meanwhile Tank (Max Adler) is starting to wonder if Bay still has feelings for Emmett after she asks him to help find more info about his new girlfriend.
Daphne runs into one of the guys at the clinic, who was responsible for her attack on the food truck. She's mad at Jorge for treating him, but he tells her she has to understand it's apart of his job to help people. Daphne then goes and asks Angelo for a job at his restaurant one it opens. After taking some time to thin Toby ) Lucas Grabeel) realizes he can't live without Nicki and decides he's going to Peru to be with her.
Bay and Tank do a reverse image search on the picture they have of Emmett's girlfriend and find out she I not who she say she is. They travel to meet the girl in the photo who tells her she is not Mandi. Once they get their they have a fight and Tank leaves. Her name is Jennifer and doesn't know Emmett. Jennifer tells her cousin is deaf and maybe that's the connection. Remember Matthew??? The deaf kid Emmett snitched on for slashing peoples tires. Yeah that's Jennifer's cousin. Can you see where this is going? Bay tries to warn Emmett by text, but earlier in the day his Mo took his phone for missing class. By then it's too late, because Emmett is already on his way o meet his "girlfriend." Katherine talks Toby out of going to Peru. Later he leaves a note and tells his parents he's going to Ieland
Once again Daphne sees the perp who was apart of her attack. He needs IMMEDIATE medical attention. Jorge needs someone to assist him with an IV and Daphne hesitates. But in the end she helps. Meanwhile Emmett finally arrives at the picnic "Mandi" set up for them. He opens the basket and what does he see? A catfish served cold!Matthew comes from behind a tree recording the whole thing on his phone. Emmett being upset attacks Matt. After he loses the duel, Matthew decides to take more pictures of a hurt Emmett lying on the ground.
Daphne is happy she was able to let go of her feelings and help Adam when he needed medical attention. While telling Regina she no longer wants to work for Angelo a brick comes through their window with a note saying "Stay out of East Riverside"
Tank apologizes to Mary Beth(BK Cannon) for the party his Fraternity threw and de-pledges them. Bay finds Emmett hurting emotionally and comforts him. Emmett tells Bay he only dated Mandi because he wanted what he had with her, but now knows he will never have that with anyone else. Bay tells him she has always loved him and they kiss and do a little more…while the credits roll.
Twitter: @TheVRO
Facebook: Variety Radio Online
Tumblr: Variety Radio Online
//