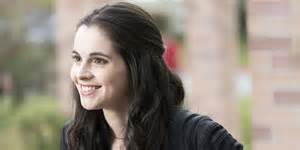 The newest episode of Switched At Birth starts off with what looks like a campus shooting and Daphne is helping to save them. But in actuality she's training to be safety dorm captain.
Bay is curious to know if Skye and Emmett are dating, but to spare her feelings Travis lies and says they're just friends. It seems like everyone except Bay knew that Regina was moving in with Eric. With Angelo's birthday coming up it's hard for Bay to accept Regina moving on. She and Regina plan a dinner with Daphne to celebrate his memory. Daphne can't attend because of her ambulance ride along and Regina forgets and made plans to go to Will's recital. It seems like Regina is constantly catering to Eric and forgetting about Bay. On the ride along Daphne has flashbacks of Angelo Bay definitely gets her curiosity from Regina. She questions Eric about where he's from and what he did before coming to Mission Hills which rubs him the wrong way. She then suggests putting a picture of the coffee shop in the newspaper which is definitely not a good idea considering Eric kidnapped his son. Oh and did I mention Bay now works there? Regina and Bay finally decide to talk about the big move seeing how upset Bay is Regina and the Kennishes agree it's best if Eric and Will move into the guest house.
Katherine suggests that she and John sell the car washes. John grows jealous of Katherine's growing popularity which prompts them to start endorsing products to make more money. They hate all of the products suggested to them so they decide to sell the car wash.
Since the 2nd half started the focus has been on Toby and Lily and their baby so I was a little disappointed when they weren't on this episode. Since we know they're keeping is there nothing left of that storyline? But on a lighter note Bay, Daphne, and Regina did get to celebrate Angelo's birthday by eating a slice of lemon cake he taught Daphne how to make.
On the preview of the next episode we see Daphne kissing someone who's not Mingo and Emmett shows up to Mexico where Travis and Bay are doing charity work. Bay kisses Travis and a fight breaks out between he and Emmett.
Twitter: @TheVRO
Facebook: Variety Radio Online
Tumblr: Variety Radio Online