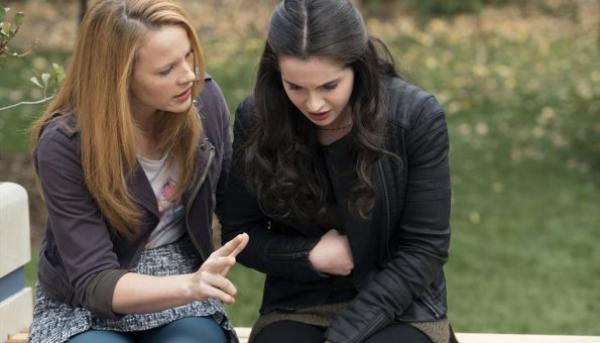 The 2nd half of season 4 of Switched at Birth kicks off with Bay at a gas station and she sees Emmett. He tells her he traveled all the way from LA to tell her he loves her. Then suddenly a cluster of Emmetts appears tells Bay they hate her. It's safe to say Bay has gone off the deep end. Daphne is surprisingly still with–I mean sleeping with Mingo though ALL her friends disagree with it.
Regina is digging into Eric's son to get information on his "dead" Mother. When Daphne talks to Emmett she's furious at him for breaking up with Bay. Toby's ex girlfriend Lily is pregnant with his child. She makes Daphne swear not to tell anyone.
Bay finally decides to step out and make steps towards getting over Emmett. At a party she meets a guy Feeling the beat the two share a kiss which Bay later regrets. When Regina searches for Will's Mother online she finds out he was kidnapped by none other than his dad, Regina's boyfriend ERIC!
In true Regina fashion she confronts Eric about the kidnapping. Will's Mother was on drugs and had an abusive boyfriend so Eric took him. Every 6 months or so they move to a different city under new names. Eric's real name is Marcus and Will's real name is Keon.
Bay visits Melanie to talk about Emmett, but it doesn't end well. She finally realizes the reason they broke up is not because of Tank, it all began when she took the fall for Daphne. Regina decides to keep Eric's secret.
In the final scene we find out that Lily's unborn child has down syndrome.
Twitter: @TheVRO
Facebook: Variety Radio Online
Tumblr: Variety Radio Online