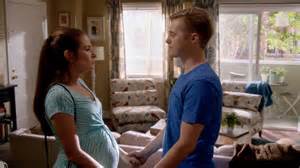 So happy to see Bay finally getting to show off her art work in a gallery. Things are heating up between her and Garrett, but Bay quickly realizes he only wants sex. In the previous episode. Daphne did warn her that he was a player. Speaking of Daphne her and Mingo are still on the rocks. This could all go away if she would stop talking to Quinn who's constantly sending flirtatious texts. Even when Daphne's in school he's sending texts which quickly distracts her. She's already failed Chemistry- focus Daphne focus.
Another thing distracting Daphne is Vimla and Josh's relationship. Josh has feelings for someone else and who could it be? Nope not Daphne this time, It's Mingo
I'm really disappointed in Toby for agreeing to move to London. As always, he does what Lily says instead of standing up for himself. Even though Lily is from London she chose to come to the US and moving back shouldn't have been an option.
When Bay goes to Garrett's place things get even hotter when he opens up a drawer full of condoms! But noticing he has way more experience she makes up an excuse and leaves. We know Travis likes Bay, but he crosses the line with her when he tells Garrett about her and Tank.
Eric tells John about a gentleman's club needing business partners. John is considering it, but Katherine is not. That is until she gets a lap dance. It' good to see Katherine opening up and venturing out instead of being the "perfect housewife" all the time. In the end things go opposite and John now thinks it wouldn't make a good investment
Toby and Lily are having a boy and Daphne finally cuts Quinn off.
In the final scene Bay is sketching a portrait of woman using words that describe her, that woman turns out to be Eric's ex wife and Will's mom. How did she make it to Mission Hills? And what drama is she going to bring to Regina?