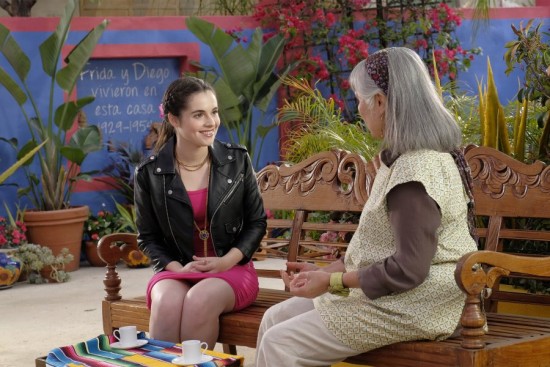 The latest episode of Switched At Birth kicks off with an exciting start as Bay,Daphne, Melanie, and Travis travel to Mexico for spring break!!! But of course it's ruined when Emmett shows up. He apologizes for making Bay uncomfortable and tells her nothing happened between he and Skye until after their break up. If you recall, on last weeks episode Travis lied about Emmett and Skye dating. Now that she knows shes determined to make his time in Mexico horrible.
Emmett makes a rookie mistake by leaving his cell phone unattended and of course Bay looked through it.This causes an argument and Emmett calls her jealous. To make Emmett the jealous one, Bay takes body shots off Travis, which causes he and Emmett to get into a fist fight. What was she thinking? Yes she was trying to make Emmett Jealous, but at the end of the day Travis dated her best friend Mary Beth. When Emmett apologies for the fight Travis admits he has a crush on Bay. I noticed they had been spending a lot of time together, but I didn't see that coming.
Daphne is having a good time aiding Quinn in testing hearing aids with patients. He's very easy on the eyes so we know what happens next…they make out. To my surprise she stops before it gets too serious. She meets a young girl who she's determined to help after none of the hearing aids working on her and she doesn't know how to sign, read, or write. She meets someone willing to help the young child learn Mexican sign language.
In one of the final scenes,Bay and Emmett finally have an adult conversation and make peace.
Variety Radio Online – – Bringing you all things Entertainment including News, Reviews and Interviews. Check out our website, like us on Facebook ,follow us on Twitter ,Tumblr and Instagram
// <![CDATA[
(adsbygoogle = window.adsbygoogle || []).push({});