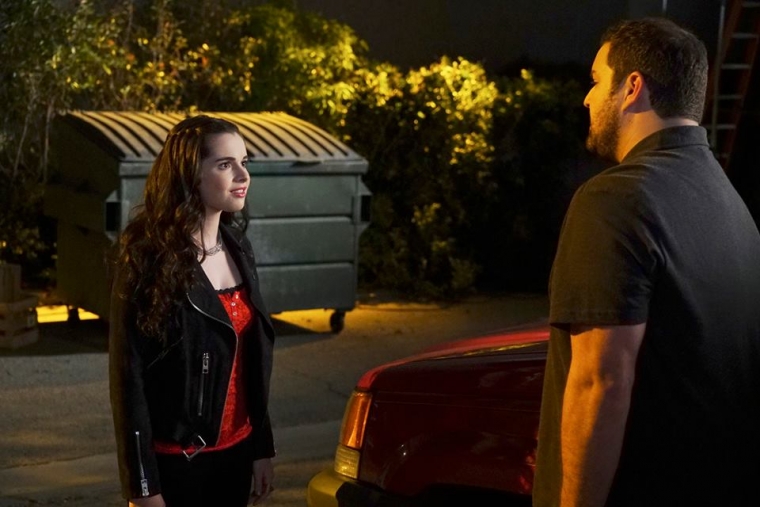 Daphne wakes up with Mingo. They plan a family dinner with both their parents so everyone can meet. The dinner gets really awkward when John finds out Mingo's dad is his former business manager. Larry,Mingo's dad and John keep throwing subtle shots at each other so to ease the tension Daphne and Mingo challenge them to a basketball game.
Bay feels like she isn't ready to move on…that is until she sees new Travis' hot friend Garrett. Even though I'm #TeamBemmet, it's great to see Bay finally start to move on. Of course Travis is jealous, because he has a HUGE crush on Bay. She has an awkward moment on her dinner date with Garrett when Tank is their waiter. He leaves, but instead of Bay staying she runs after Tank and begs him to talk to her. I never liked the idea of Tank and Bay, but i hated the rape storyline even more. Bay asks Regina for help with feeling bad for Tank. Regina tells her she has to let it go and let it be
After a month of dating, Gabe proposes to Melody to which she gladly accepts. She likes the idea of adopting a child, but only if it's an older child. Gabe is moving extremely fast with this adoption thing. Just a few days (if that) after proposing he's presenting the idea of adopting 2-month old twins.
Daphne comes clean about kissing Quinn in Mexico, and Mingo forgives her. In the final scene Bay goes to Garrett's job to apologize for her behavior on their date. They end talking about modern art.
In next weeks episode Daphne and Mingo's relationship hits the rocks. Bay finds about John's financial problems, and Lily is talking about moving to London!
Variety Radio Online – – Bringing you all things Entertainment including News, Reviews and Interviews. Check out our website, like us on Facebook ,follow us on Twitter ,Tumblr and Instagram
// <![CDATA[
(adsbygoogle = window.adsbygoogle || []).push({});