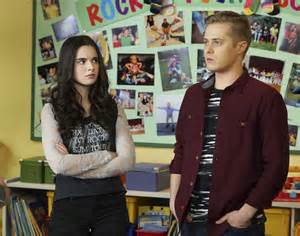 Regina's boyfriend asks her to move in, but she's very hesitant after learning of his past a few episodes ago.Daphne is excited about the news as she thinks Eric is a great guy even after learning his ex was an addict. Regina being nosey Regina and not being able to let things go tracks down Will's Mother in Atlanta and buys a plane ticket and of course Daphne MUST come with her. When they find her they discover her and her husband are drug dealers. Knowing now that Will is better off with Eric Regina decides to move in with him.
Toby tells Katherine he can no longer work on her musical. He then tells his family the big news, everyone is supportive except John. Pushing the boundaries are good but the writers of Switched At Birth are getting worse. First Emmett cheats in season 1, then John refers to Toby's child as "Mentally Retarded." It was pretty hard to watch after that statement was made. Toby and Bay visit a special needs school.Bay isnot on board and hope they don't keep the baby. Regina tells Katherine that John seems off about money lately ummm yeah because he's going broke! Katherine talks to their accountant and now knows John is having financial problems.
Travis visits Emmett. They made plans to go to an NFL game and go sight seeing around the city, but Skye ruins it for Travis by coming along. Emmett has changed and not for the better. Now that he's dating Skye, he dresses and acts different.
The moment we've all been waiting for finally came! Toby and Lily decide to keep the baby.
Twitter: @TheVRO
Facebook: Variety Radio Online
Tumblr: Variety Radio Online