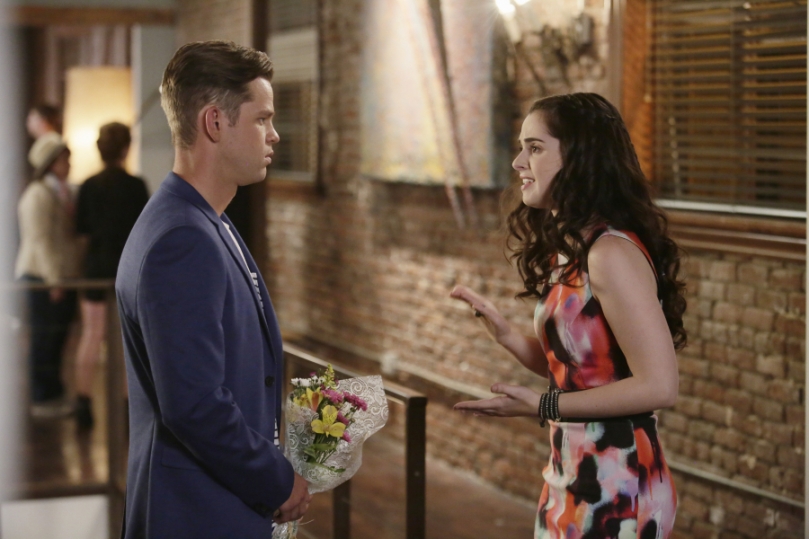 The fall finale of Switched at birth starts with The Kennish's confronting Regina about Eric. John basically tells Regina she needs to call the police or he will. Regina suggests to Eric that maybe he and Will return to Atlanta with with Hope so the two can co-parent and Will can finally know what it's like to have both parents. Hope agrees to the idea and all is going well until Will sneaks off to tell Regina goodbye, and tells her he doesn't want to move to Atlanta. This causes Eric to run again,but not before he tells Regina "I Love You." At this point I feel so bad for Regina. First Angelo, now this? But in the end Bay is there to comfort her.
Bay is finally getting to show off her art and all her friends and family show up including Emmett. Katheryn is a little late, because she meets up with Craig after John fails to negotiate a business deal. When he finds out she was with Craig he gets very upset. I don't blame him, I wouldn't want my wife to go out in a low cut dress to make a business deal with a guy who kissed her. But hey it worked. Everything is going well until the "gallery owner" tells her it's a sham and Travis paid $400 to rent out the building. After everything that happened in the last episode, it's understandable why Bay is upset. When she confronts Travis he told her he did it because he' in love with her and wanted to make her happy. A confused Bay tells him he can't be because of Mary Beth. The two share a kiss and sparks were definitely flying. I personally do not ship Bay and Travis. I mean what happened to never dating your friend's exes?
Someone who does ship them is Melanie, Emmett's Mom. They get into an argument at the art art show over Travis liking Bay. She tells he has no control over who Bay dates, and it's time to let her go.
Daphne is working hard to land a six week internship in China. She's interviewed by Quinn and gets it. It's obvious to everyone, especially Mingo…the only reason she got the internship is because Quinn will be attending and has the biggest crush on Daphne. At the art show Mingo and Quinn get a heated argument,and Daphne defends Mingo and that caused Quinn to fire her from the internship. But since she already bought her ticket she decides to go anyway. Since Bay had such a horrible year she invited Bay to come along to. Before she leaves, her and Mingo break up.
Back to the Regina and Eric situation she tells the Kennish's about him leaving. A few seconds later cops bust in looking for him. John is handcuffed, because he won't shut up and Bay gets a phone call that Lily's in labor.
On a lighter note, Lily gives birth to a baby boy!!! She and Toby named their son Carlton Summers Kennish. Switched at Birth then takes a time jump 10 months in the future, where Bay is a tattoo artist and Daphne is working at a clinic. They're both still in China. Bay gets a disturbing phone call and she runs to Daphne and tells her they have to go home.
I'm anxious to see what happens next season which start in 2016.