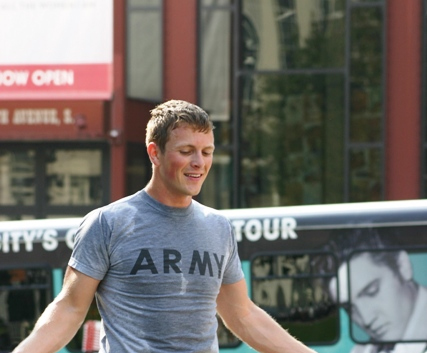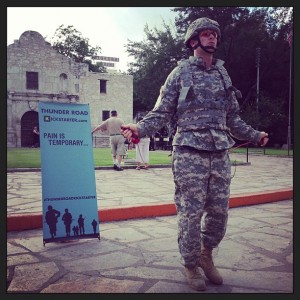 Update from the Thunder Road Kickstarter Road Trip! If you follow us on Twitter you know we are fully supporting Steven Grayhm , Matt Dallas, Charlie Bewley and their Thunder Road Kickstarter!
As you know Variety Radio is FAN oriented, and we would love to get your help on our #VROThunderRoad5000. If you would like to help us get $5,000 to pledge to Thunder Road and would like more info on #VROThunderRoad5000 Please e-mail Amy at amymccracken@thevro.com
Some of our Staff as already pledged and we are hoping to pledge more with the help of our listeners!
NOW AN UPDATE FROM THE GUYS!
Actor Charlie Bewley, of both Twilight and Vampire Diaries fame, is currently traveling around Texas jump-roping in 100 degree-plus conditions.. in full US Army combat gear. His aim is to draw attention to a Kickstarter.com campaign on the effects of Post Traumatic Stress Disorder (PTSD) amongst veteran soldiers.
Together with his partners at Astoria Film Company, Bewley has developed THUNDER ROAD, a feature film which follows the lives of three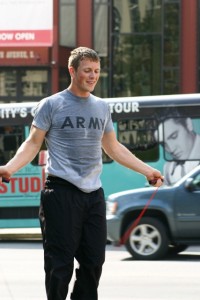 soldiers returning home from combat in Iraq and Afghanistan. The heart of the film lies in the true-to-life repercussions of war zone combat and how these young veterans coming home today cope with their new environment:
"We should all be educated on the changes that soldiers go through during combat, so we as a society can help them better assimilate back into life upon returning from war. Though, for some reason, PTSD is a taboo subject, which is non-sensical. Veterans don't have a voice right now; THUNDER ROAD is that voice."
As Bewley sweats for vets, his partners at Astoria and fellow THUNDER ROAD actors Matt Dallas and Steven Grayhm are recording every moment, LIVE!. Those who want to see the madness can tune into their site www.ThunderRoadKickstarter.com where the feat is broadcast thru a TwitCam stream. "I think he might have to take some clothes off soon," said Dallas, who you will remember from ABCs KYLE XY.
Bewley, a British national who has been living in America for 4 years, has previously raised $20,000 for BC Cancer Foundation in memory of Jocelyn Clarke, a friend and victim of a rare form of lung cancer. He ran 65kms (42 miles) having never even passed the half marathon distance beforehand.
"Compared to what Jocelyn went thru in battling cancer, running this distance is nothing. We live in such comfort, all of us. It's good to put ourselves in a place of suffering and pain now and again, to make us realize what others less fortunate are going through."
He has a similar philosophy towards his current challenge. Asked about what he hopes to learn from such a ridiculous endeavor: "How am I supposed to play a soldier if I haven't experienced the heat of the desert? Whack me in the oven."
"Plus, it's far more entertaining than watching cats on YouTube."
The Astoria Team arrived in San Antonio last night and can be seen in Downtown San Antonio Monday morning from 7am.
Their Kickstarter campaign runs for the next 38 days and the target is $750,000. Click on www.ThunderRoadKickstarter.com to see the pitch video and pledge to this great cause!

Join us live as we talk to Charlie Bewley, Matt Dallas, and Steven Grayhm about their film Thunder Road. THUNDER ROAD is the story of returning U.S. Soldier SGT. CALVIN COLE (played by Steven) whom we meet in present day Detroit as a troubled veteran who suffers from PTSD (Post Traumatic Stress Disorder) and tbi […]
Charlie Bewley plays a Volturi guard named Demetri in "The Twilight Saga: New Moon" Charlie's 1st interview with us. ClickHere Charlie's 2nd interview with us. Click Here