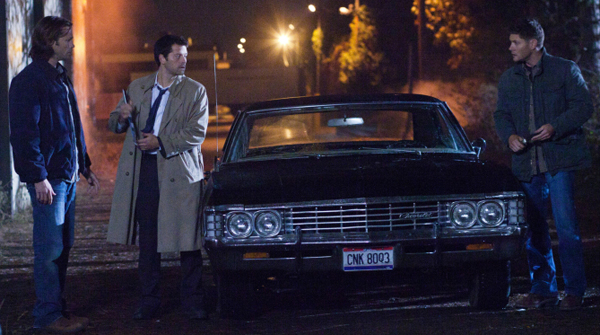 When we last left the boys before the break, they were at other ends of the map, each dealing with their new significant other. Dean cleaning up Benny's mess, Sam creating a new mess in Texas with his married lady love. Sam and Amelia sleep together and in the morning, she realizes her mistake. She loves her husband but she loves Sam more. Only problem is, Sam keeps popping in and out and she can't take it anymore. She gives him an ultimatum. If he agrees to stay, permanently, she'll leave her husband.
While Sam ponders what to do, Castiel gets orders from the mysterious Naomi. She orders him to save Samandriel, who is being brutally tortured by Crowley. Since the building is angel-proofed, Castiel needs human help. He pops in on Dean, scares the heck out of him, then they both set out to find Crowley's evil lair. Knowing that Crowley will be well guarded, they go to Kevin for more demon dynamite. Castiel pops out to fetch the ingredients and pops back in with Sam. He then firmly suggests that the brothers get over their issues and concentrate on the job before they all end up dead.
Back in the torture dome, Samandriel starts to spill his guts in enochian, but luckily Crowley is fluent and he gets some valuable information – there's an angel tablet. The boys arrive and slaughter their way to the inner chamber. They destroy the angel-proofing to let Castiel in, but Castiel starts having flashes where he's being tortured by Naomi. To the boys it looks like he's suffering a PTSD breakdown. He pulls it together, grabs Samandriel and pops out while the boys dispatch the last of the demons. Castiel thinks he's saved the angel, but Naomi orders him to kill Samandriel because he betrayed them. Castiel follows orders then tells the boys he had no choice. Dean doesn't buy it, especially since Castiel is crying tears of blood.
Cut to what appears to be Dean, sitting alone, watching TV. Has Sam gone to meet Amelia? Nope, he walks into frame and sits down with his brother. Amelia is a closed chapter. So is Benny – even though he's a man in crisis, Dean tells him not to call anymore.
It was a great episode, very enjoyable, and rounded off a few side storylines, furthered some others, and revealed some more useful information. I'd like to take a moment to note how brilliant Tyler Johnston was in this episode. He pulled off his scenes spectacularly, and I'm gutted that his character has gone. I can't wait for more Supernatural next week.
Twitter: @TheVRO
Facebook: Variety Radio Online
Tumblr: Variety Radio Online