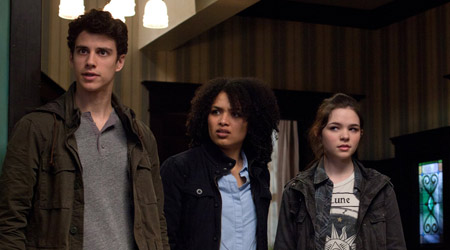 Hunting vampires, Sam and Dean encounter a rather unusual team of hunters composed of orphan kids, including Krissy Chambers who they met in season seven's "Adventures in Babysitting." The kids, Krissy, Aiden and Josephine have lost their families to a nest of vampires they are hunting and they live under the protection of an adult hunter named Victor who is training them while letting them also live a normal life. However, Dean grows suspicious as one of the vampires acts out of character and claims innocence.
Investigating, Dean finds evidence that the vampire can't have been turned more than a few weeks before and is thus innocent and searching for the nest, he finds a vampire that the kids were sent after that supposedly killed Krissy's father, but has just been turned. Sam and Dean realize that Victor has been trying to create the next generation of hunters by hiring a vampire to kill their families and turn people so they can get "revenge." Victor kidnaps Sam after he figures it out and in the confrontation that follows when Dean and the kids return, Krissy manages to take down the vampire and Victor kills himself when he realizes that he is going to be left alone.
Using the vampire's blood, the group is able to turn the last victim back to human using the cure from "Live Free or Twihard" and the kids decide to stay together and be hunters, protecting the town they live in, but not actively seeking out threats. While Sam and Dean accept this, it just increases Dean's determination to close the gates of Hell as the kids are in serious danger as hunters as long as they are open.
It was a good, fun episode, that was an interesting break from the overall storyline. I can't wait for more in the next episode.
Twitter: @TheVRO
Facebook: Variety Radio Online
Tumblr: Variety Radio Online