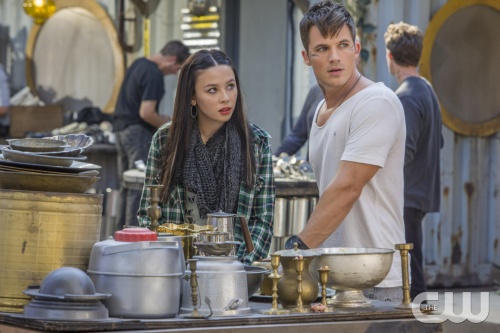 By: Brancey
The new CW series "Star Crossed" aired their third episode entitled "Our Toil Shall Strive to Mend" this Monday. As the episode opens we are seemingly viewing the first hook up of the series between Roman (Matt Lanter) and Teri (Chelsea Gilligan). However, Roman then wakes up and reaches under his pillow to discover a plant. He confronts Teri about the plant and she reminds him of a time where he asked for the visions the plants provide and a time in which the two were very much together in reality. Roman asks her to stop, making it clear that whatever existed between them in the past is over now, and he intends to keep it that way. Teri gives the audience the impression that she isn't over their relationship and has no intention of stopping her advances on Roman.
We then have Julia (Malese Jow) and Emery (Aimee Teegarden) walking through the halls of school chatting about Julia's first day of high school and her return to a semi-normal life after her seemingly miraculous recovery from cancer. Emery confides in Julia that Roman hasn't spoken to her since the Homecoming Carnival and she has no clue what she did wrong. Later, when it is announced that humans are being allowed into the Atrian Sector in honor of the ten year anniversary of Arrival Day, she attempts to get back into Roman's good graces by volunteering to lead interviews of the Atrians on their point of view from Arrival Day. Since it was Roman's father's hope to unite humans and Atrians in peace, this seems like a great idea, right? Wrong. Roman expresses his concern that Emery should not enter the Sector due to the lingering anger towards Emery's father for Roman's father's death, considering he was also the leader of the Atrians.
Drake (Greg Finley) gets into an argument with Taylor (Natalie Hall) and Grayson (Grey Damon) after a snide comment about the ribbons that humans are wearing to honor the deaths of every human that died on Arrival Day, namely Grayson's brother. Drake reminds the two that while humans may have died that day, the Atrians lost half of their tribe and the survivors were gunned down by humans.
Julia confronts Roman about her miracle cure and he finally admits that he is the reason she was cured. She then expresses the idea to tell the humans that cyper can indeed cure illnesses, but Roman quickly explains that cyper must be infused into an Atrian's blood, then the blood must be injected into the ill person. He begs her to keep this a secret for he believes as soon as humans know about this cure, they will give up the little peace that exists between the humans and Atrians in order to provide cures to those with illnesses. Julia then informs him that there may be a problem. She drops her dress the reveal glowing blue veins that have spread all over her torso.
Roman goes to Castor (Johnathon Schaech) seeking a solution in a subtle way in order to prevent anyone from discovering that he has used cyper on a human. He discovers that the blue veins do occur, although rarely, and can only be cured by using vire, a plant that only one tribe in the sector has the plant and that is must be consumed before the blue veins spread to the face, otherwise they will become permanent. Naturally, that tribe happens to be Teri's. Roman goes to Teri seeking help, but as soon as she learns that Roman used cyper on a human, she restates what Roman told her earlier: whatever they were is over.
Drake is then taken away and formally pledges the Trags, the rebel group of Atrians seeking to eliminate the humans. They ask him to help them destroy the humans on the Atrian ship visit that the humans and Atrians will have soon. Heis then later seen being trained by a Trag who pushes him, explaining that they need somebody who isn't afraid to die or kill for their cause.
Grayson and Emery are later seen interviewing Roman's sister, Sophia (Brina Palencia). Emery discovers the yarn star she gave Roman ten years ago hanging in his room. Roman returns to his home, angry that Emery continues to ignore his warnings that she isn't safe here.
We also see that Castor has people watching Roman. At this point it is unclear whether or not he has Roman's best interest at heart.
Roman tells Julia that he didn't get the cure yet, but that he knows where to find it. He also explains to her that the reason he is giving Emery the cold shoulder is that he is trying to protect her in any way that he can. Since she won't take his warnings seriously, he hopes that acting rudely towards her will get her to stop trying to communicate with him. The two go in search for the vire, but are interrupted when the Trags enter the room. Julia quickly hides while the Trags confront Roman, wondering what he is doing there. We discover that Teri's mother is the leader of the Trags when Teri enters the room, saving Roman from paralyzation from the Trags when Roman quickly fabricates a story about meeting Teri there for a date. While Roman and Juilia make a quick escape, Teri's mother gives Teri and ultimatum: choose Roman or her family. She believes Roman is too much like his father and that her relationship with Roman is causing her to become weak and lose focus on fulfilling her destiny of becoming a Trag.
Teri later slips Roman some vire, warning him to be careful because nobody knows the full effect the vire will have on humans. He asks Julia if she is sure that she wants to take the risks of the unknown. She assures him that this is the least she can do for him.
As the Arrival Anniversary video begins, it becomes clear that the video has been tampered with when a Red Hawk symbol flashes across the screen and video footage of angry Atrians begins to play. Roman quickly makes his way to the stage to explain that, while there are Atrians that feel that angry towards humans, the video was supposed to highlight Atrians' views on Arrival Day. He explains that on Arrival Day, he was saved by a human, but that now they couldn't even be seen in public together without causing a fight. Teri quickly leaves the gathered group, indicating that she knows who Roman is talking about even though most people do not know that the girl is Emery.
Meanwhile, we can also see Drake slipping away from the group, on a mission to fulfill his Trag duties. He hesitates to kill a human in the ship and Teri joins him. She kisses the human soldier and tells Drake that he won't remember anything that happened now. When Drake asks her why she's helping him, she tells him that she is going to embrace her destiny of becoming a Trag.
Emery overhears Grayson's parents talking and discover that the video was their doing. She confronts Grayson about the fact that instead of helping the cause, his father is also the leader of the Red Hawks against all Atrians. Grayson tries to tell Emery that he isn't a Red Hawk, but that he was just pretending to be part of the Red Hawks. Emery storms off, not believing a single word.
Julia comes to tell Roman that the cure has seemingly worked.
Later, Teri's mother congratulates Drake on officially becoming a Trag. She shows him that cyper can also be used as a deadly weapon when she uses it against a traitor that gave information to Castor. She calls the substance "Black Cyper" and indicates that the Trags plan to use it on the humans. The man presumably dies when part of his face is eaten away.
In the episode's final moments, we see Gloria (Victoria Gabrielle Platt), leader of the motion to integrate humans and Atrians, enter her home and open a hidden room. Inside is a young boy, presumably her own, with Atrian markings on his skin.
Could Gloria be an Atrian that has removed her markings to hide as a human? Did she remove her markings for a sinister purpose? Or is she simply a human who had a child with an Atrian? These are questions currently going through the minds of the viewers as well as many more questions. One thing, however, is clear: Gloria feels the need to hide her child from somebody.
Twitter: @TheVRO
Facebook: Variety Radio Online
Tumblr: Variety Radio Online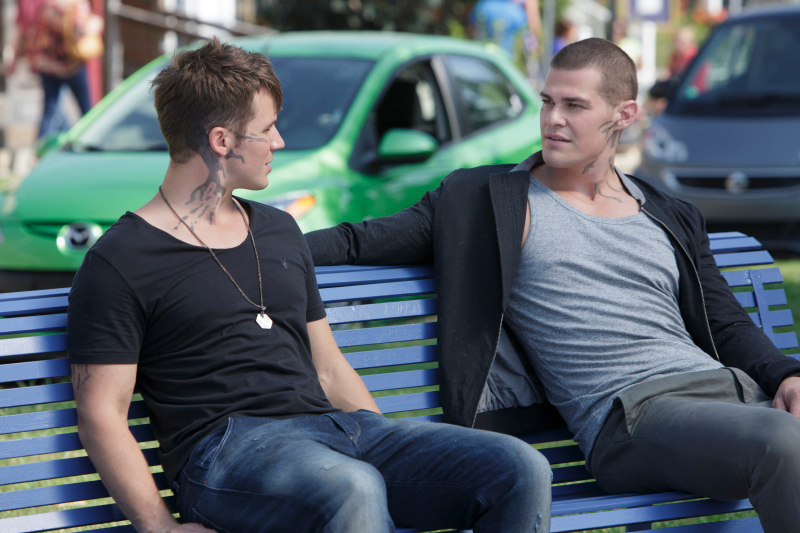 In the fifth episode of the series, "Dreamers Often Lie", we open with Gloria (Victoria Platt) instructing that now the Atrian 7 have been allowed into town for a few hours each day, with curfews still in place. This is met with mixed responses with Atrians feeling resentment for still being told what they can […]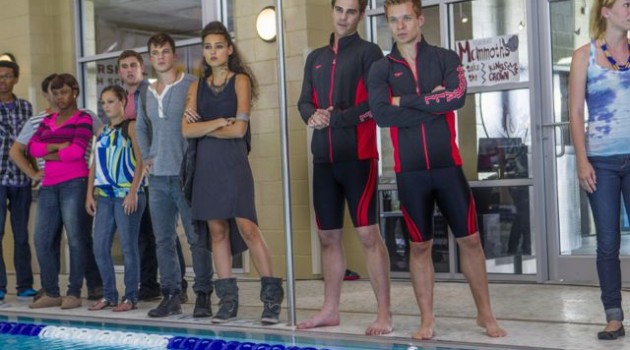 This week's episode of Star-Crossed titled "And Left No Friendly Drop", Roman (Matt Lanter) and his family's home is torn apart by authorities searching for illegal technology. Roman's mother (Susan Walters) tells Roman and Sophia (Brina Palencia) that they were looking for a cell phone which belonged to their father and Atrian leader Nox (Jason […]