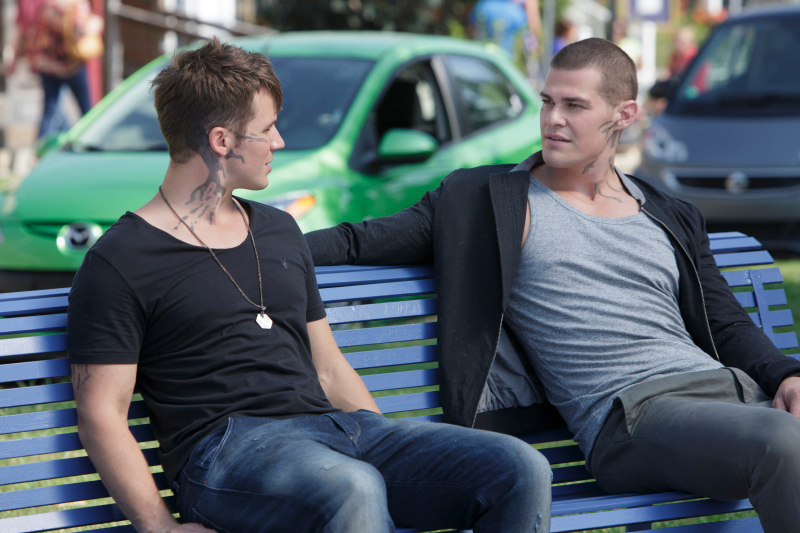 In the fifth episode of the series, "Dreamers Often Lie", we open with Gloria (Victoria Platt) instructing that now the Atrian 7 have been allowed into town for a few hours each day, with curfews still in place. This is met with mixed responses with Atrians feeling resentment for still being told what they can and cannot do and resistance from humans that still do not approve of the Atrians. Roman (Matt Lanter) asks Lukas (Titus Makin Jr.) if he has been able to locate who Nox was communicating with outside of the Sector. Lukas explains that he hasn't gotten a signal since the swim meet, meaning whoever has the phone has turned it off. Grayson (Grey Damon)  also asks Emery (Aimee Teegarden) out to a movie that night and she agrees.
At a Trag meeting, Teri's mother instructs Drake (Greg Finley) to deliver the black cyper cube to a Trag operative outside the Sector who has had her marking removed. She assures Drake that the operative will know what to do with the cube.
Meanwhile at Gloria's home we find her hiding in the secret room she has built to hide her son. She is presumably with her mother and the two watch on in horror as the security monitors show Red Hawks breaking into her home. Her mother tells her about Red Hawks attacking a store clerk and asks Gloria to think about the fact that they did that to a human and anyting they would do to an Atrian will be much worse. She insists that Gloria's son is not safe with them since Red Hawks are targeting her because of her involvement in the integration program. Gloria then suggests she take her son to Eljida, a place where Nox assured her that their son would be safe. Her mother reminds her that only an Atrian can locate Eljida.
We then see Grayson and Emery waiting in line to get into the movie. Grayson gets a phone call from Eric and excuses himself, promising Emery he will be back soon, telling her Eric (Jesse Luken)  needs a ride and that it is an emergency. However, he does not return because when he arrives to pick up Eric, several different boys all jump into his car and tell him to drive. Eric explains that he was asked to be lookout for the Red Hawks and instead of simple graffiti work, the crimes were much more serious. This becomes apparent when the police pull Grayson over and the Red Hawks bail with Tyler in tow, leaving Grayson to take the full blame. The next day Eric explains to Emery that Grayson was arrested, but she should go to Grayson for the full story.
At school the next day we see Lukas telling Roman that he got a hit on the phone that was communicating with Nox. They locate the phone and Roman finds a note written in the Atrian language that only Atrians can read. He explains to Lukas that Atrians have a superior eyesight allowing them to see wavelengths that humans cannot see with the naked eye. The note is steps for an Atrian to find Eljida. Roman explains that Eljida is a small group of Atrians living in the bayou. He at first believed that they did not really exist, but he now believes he should pursue the lead and see what is there.
Teri (Chelsea Gilligan) tries to weasel her way into Drake's assignment by trying to get involved with the handoff. From afar, Taylor (Natalie Hall) expresses her interest in Drake to her friend. She then goes to befriend Sophia (Brina Palencia) to try and gain more knowledge into Drake's personality. She takes Sophia off to go shopping while asking questions about Drake.
Lukas helps Roman find a road that leads to Eljida. Roman also asks Drake for help finding Eljida. Drake tells him that the legens says that the only way to get there is to signal the boat keeper, Jessatore, by lighting three fires. Roman asks Drake if he wants to join him. Drake declines, saying that he is going to lay low when, in reality, he will be meeting the Trag operative. Later, Roman finds Jessatore in an unusual way: the neon sign of an old shop spells out the word "Jesytur". He lights the three fires, but receives no response. The whole time, Roman has been followed. It is then revealed to be Gloria who tells Roman that she had to communicate with Nox because of his doubts about the interation program. Roman doesn't believe her and she tells him that she loved Nox and that he loved her too. She tells Roman that she wanted to find Eljida for all Atrians in case something happens. Roman tells her that they are at Eljida but nobody came to get them.
It is revealed that the Red Hawks are the ones that attacked the shop owner. Eric is taking the fall for them. Emery agrees to help Grayson find a way to prove Eric's innocence. The two eventually manage to get the true offenders to admit to the crime.
Drake then has an encounter with Taylor in which he believes that she is the Trag operative when in reality she is just coming on to him. The two both go off into the bathroom where Drake believes that they will talk about the assignment, but instead she strips off her clothes making her other intentions clear, resulting in the first present time hookup of the series. Afterwards, Drake discovers that she isn't actually an Atrian and runs off. He then finds out that it is actually Taylor's friend (Bailey Winston) that is the true Trag operative and the two leave together, leaving Taylor feeling hurt and rejected. She then gets drunk with Teri and the two play darts together and share some information with each other.
Taylor's friend takes Drake to an area where they dig up a dead Atrian. She tells Drake that just as cyper is grown from the bodies of dead Atrians, so is black cyper. She places the cyper inside of the cyper cube and then buries it with the body. She tells Drake that this will cause the black cyper spores to spread throughout the town resulting in the death of the humans in the area. He seems reluctant to carry out the plan, but she reminds him about how the humans took his mother and he decides to avenge her.
In another surprise twist, as Lukas compliments Sophia, she tells him that while she does like him, she "has a thing" for somebody else. Who? Taylor! Apparently Sophia has more than friendship on her mind when it comes to Taylor.
As the episode wraps up, Roman and Emery share a conversation showing that, hopefully, the two can begin to speak to each other again. Gloria hands her son off to the Eljida boatman with promises from him that he will keep the boy safe. Roman and Drake also share a conversation where Roman asks Drake to help him improve the integration program. Drake tells him that Roman can do so all he wants, but he intends to go his own way and lead the fight for Atrians' rights.
Twitter: @TheVRO
Facebook: Variety Radio Online
Tumblr: Variety Radio Online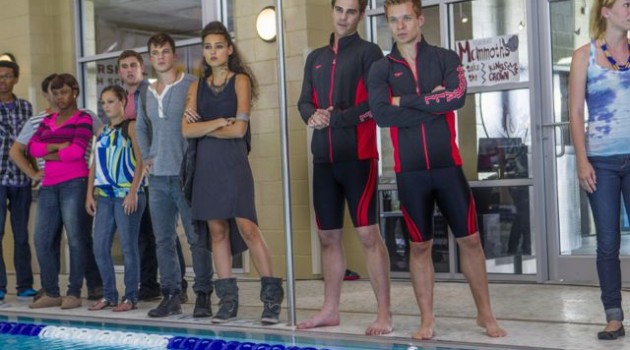 This week's episode of Star-Crossed titled "And Left No Friendly Drop", Roman (Matt Lanter) and his family's home is torn apart by authorities searching for illegal technology. Roman's mother (Susan Walters) tells Roman and Sophia (Brina Palencia) that they were looking for a cell phone which belonged to their father and Atrian leader Nox (Jason […]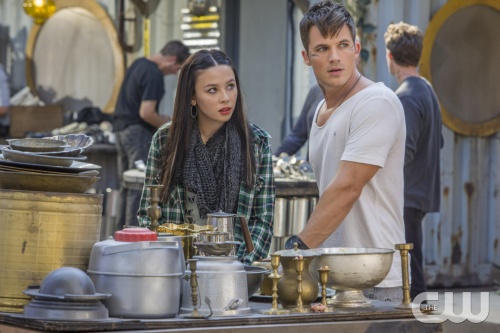 By: Brancey The new CW series "Star Crossed" aired their third episode entitled "Our Toil Shall Strive to Mend" this Monday. As the episode opens we are seemingly viewing the first hook up of the series between Roman (Matt Lanter) and Teri (Chelsea Gilligan). However, Roman then wakes up and reaches under his pillow to […]