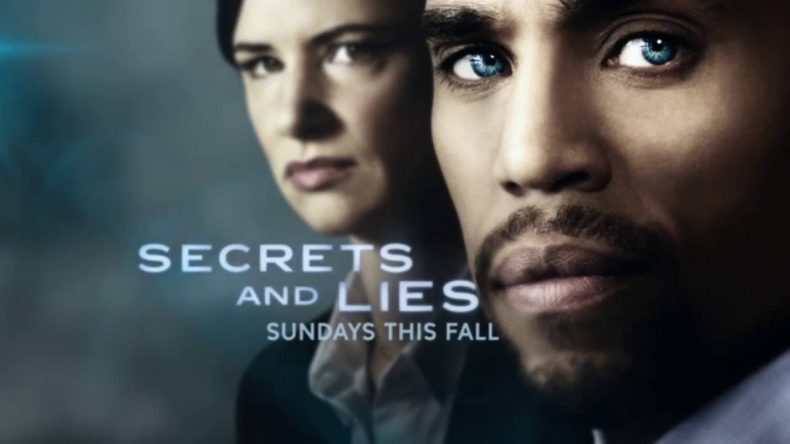 Secrets & lies is back for season 2 with a new thrilling mystery to solve. Juliette Lewis returns as homicide detective Andrea Cornell. Cornell is called to the scene to investigate the murder of Kate Warner portrayed by actress Jordana Brewster.
Kate was pushed off the roof of the law firm that not only she works but her husband family owns as well.
As the episode begins Kate's husband Eric Warner played by actor Michael Ealy is running down the flights of the stairs from the roof that leads to the sidewalk outside where his wife's deceased body is laying.
Eric rushes to his wife and holds her while his family joins him outside to see what happened. As Eric holds his wife's body he has flashbacks of he and Kate. Detective Cornell arrives to speak to Mr. Warner about the death of his wife and expresses her condolences.
As the family listens to detective Cornell explain she needs to speak to each of the family members Eric starts having flashbacks entering the party at his firm celebrating his father turning the company over to him only hours before Kate was murdered.
During questioning detective Cornell suggests that maybe Kate jumped off the roof and Eric reveals that his wife was pregnant. This is a shock to the family especially Eric's sister Amanda who introduced Kate to Eric.
Eric begins having flashbacks of Kate giving him the baby onesie before the party and how happy the couple were to be finally having their first baby. ( I felt so bad for Eric you can tell he was really excited to be a dad).
Amanda informs Cornell that she represents counsel for the family and that the family needs time to grieve and can answer questions at a different time. She then explains to her family that when a wife is murdered 9/10 times the husband did it. That leaves Eric as the prime suspect. on).
The family decides it's best to stay at Eric's fathers house for the night together since he doesn't want to return to his home with Kate and be reminded she's no longer with him. In the middle of the night Eric nor his father or sister could sleep so they grieved over Kate. ( I think that Amanda is a little upset over Kate's death and there's more to the story then she's letting on.)
During this time Eric has flashbacks remembering Kate's first thanksgiving with his family.
The next morning Detective Cornell conducted interviews with the staff members of the firm. Eric's brother Patrick was first. Eric goes into his office and sees a picture of he and Kate from their wedding he starts thinking back to when he and Kate had a pretended wedding in the backyard of his fathers house. He thinks back about telling him she would sign a prenup like Patrick's wife Melanie had to. She says their relationship is solid and she isn't worried about it. Eric tells her the papers he's filling out is the will & testament.
Eric approaches Cornell and tells her that he loves Kate and he didn't kill her.
Eric then goes up to the roof and is joined by a coworker who tells Eric that Kate didn't commit suicide. Eric begins to tell him that he doesn't understand how it happened that it was only family and friends at the party.
Eric begins having flashbacks of the time he and Kate were dating and discussing going public or not with their relationship.
The family arrives to hear the autopsy report which indicates that she was murdered and that their was a struggle. The coroner also dropped a huge bombshell to the family that Kate gave birth to a full term baby. ( I was shocked by this bombshell! Kate didn't tell her husband that she had another mans baby! Maybe this missing baby has something to do with why Kate was murdered.)!
The family exchange a tearful goodbye and Eric heads home to his house he shared with Kate. Eric finds a black iPad of Kate's that he cannot figure out the password to. Later to learn Kate actually had a white iPad she uses daily. He finds the baby onesie and has a breakdown grieving over his wife and unborn child. ( First a secret baby and now a secret iPad what else was Kate hiding.?)
The family has a service celebrating Kate's life where many friends and family members offer Eric condolences on the loss of his wife. Amanda sends a text message to her brother to meet in the playroom where Eric, Amanda and brother Patrick remises over Kate's life. Eric goes for a walk outside where he sees Cornell questioning the guests about Kate's death. ( how rude at least let them grieve properly instead of being hounded by the police.) Eric makes a scene saying he did not kill his wife when detective Cornell asks him about a man named Steven Porter who Eric killed and spent 6 months in a juvenile facility. Eric walks away by saying I didn't mean to kill him.
Who killed Kate Warner? Did Eric Warner really kill his wife? Who was Steven Porter and why did Eric accidentally kill him?! Stay tuned to secrets and lies Sunday's at 9pm on ABC.