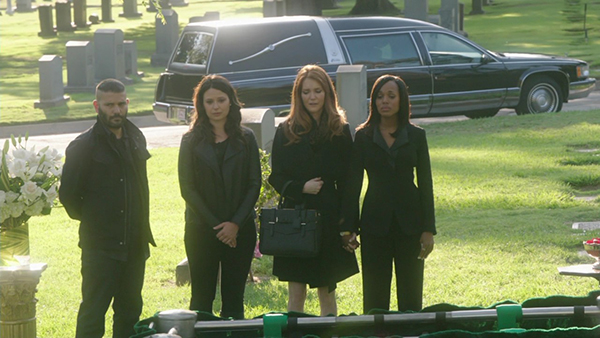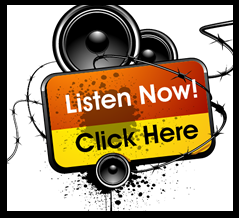 By: Kristin Trujillo (@kristin0409)
The Season 4 premiere picks up with Olivia and Jake, who are very much together, on an island. With 'Gone Girl' next to her on a table and Jake suggesting they use their next fifteen minutes of alone time (and, yes, he means it in that way)…Olivia seems to be at peace.
A boat comes in to bring them books, red wine and supplies, and surprisingly the captain has a letter for Olivia. She's concerned about this because the island that they're on isn't on a map and her name there isn't Olivia Pope; it's Julia Baker. Jake suggests that she not open the letter because it could be a Pandora's Box of sorts. She opens it anyway and finds a newspaper clipping reporting the death of Harrison. (Reminder: He'd gone missing in the Season 3 finale and had a gun pointed at him, but we never found out what happened to him).
Olivia and Jake return to D.C. for a few days in light of the news about Harrison. Olivia visits her office and finds it deserted. She walks into the window room and finds maps and pictures proving that someone had been tracking her…enter Quinn (a/k/a Huck 2.0). Olivia asks her what happened to everyone from O.P.A.
Huck has been working at a computer repair company. In true Huck fashion, he not only repairs customer's computers…he also informs some of them when their wives are cheating on them. When he sees Olivia in the line of customers, he asks her if she's back for now or back for good. He doesn't like her answer and asks for the next customer. Quinn tells her that she goes in to check on him once a week, but he never speaks to her.
Abby is now the White House Press Secretary and kicking butt at it!
Melli has clearly either lost her marbles or is deliberately trying to piss Fitz off by walking around with her hand in a cereal box in what seems like pajamas. Fitz is attempting to discuss the Equal Pay Bill, but Melli doesn't seem interested.
Quinn summons Abby, who she's dubbed 'Superfreak', to a meeting with Olivia. Abby doesn't seem very happy with Olivia either, especially since she completely wrote all of them off and appears out of nowhere to plan Harrison's funeral. Abby blames Olivia for Harrison's death because she up and left without a word, which rightfully pisses Olivia off. She tells Abby that she was halfway around the world, but Abby was right there and still abandoned Quinn, Huck and Harrison. The two walk away from each other and Olivia tells Quinn to go home.
Jake sneaks into Rosen's office and asks him what he did with all of the files on B-613. Rosen tells him that the majority of the files were terrifying and he's not sure where to even start.
Olivia meets with her father, who doesn't seem too pleased that she left the island. She tells him that Harrison is dead and asks him if he played a part in it. He lies and tells her that he didn't (Reminder: Harrison discovered that Eli was the one responsible for Fitz's son's death and confronted him about it. Eli wasn't happy about that).
Cyrus is pissed at Abby for not informing him of Olivia's return to D.C., which simultaneously pisses Abby off for him spying on her. He tells Fitz that she's back and we see the all too familiar pained look on Fitz's face as he walks over and gazes out of the window.
As she's sitting down watching recordings of Fitz and attempting to pick out a casket for Harrison, she looks to Jake for advice. While they're talking, her home phone rings. They decide not to answer, but then they hear a knock at the door. She tells the woman through the door that she has the wrong apartment, but the girl tells her that she was the one calling her phone and that she has her boss on the phone who desperately needs to speak with her. Olivia takes the phone and on the other end is Senator Vaughn, a woman who believes she's just killed Senator Sterling as he attempted to rape her.
Rosen goes into the storage unit where the B-613 files are being stored when he receives a phone call from the White House for a meeting. Cyrus asks him if he'd like to be the Attorney General.
Olivia goes to Senator Sterling's home and discovers that he is actually not dead. She calls 9-1-1, requests an ambulance and leaves the phone off the hook. She goes back to see Huck and he gives her a hard time. She tells him that she arranged the funeral for Harrison. He tells her that he's not Huck anymore, he's Randy the Smart Guy and that she's messing with that. He tells her not to come back until she's back for good.
Fitz and Melli go to the cemetery to visit their son's grave. Ugh, incredible heartbreaking!
Olivia is interrupting Jake's sexy time by discussing what happened with Senator Vaughn and Senator Sterling. She's upset that he is being praised, but they're not aware that he attempted to rape Senator Vaughn in his home. She derives the idea that in he-said-she-said matters, the woman is never believed, and as sad as it is to admit…she's right. She takes the case in order to help Senator Vaughn and the rights of women. Jake is upset and blames Fitz, as usual.
Back at the deserted offices of Olivia Pope & Associates, Olivia and Quinn begin to put together the pieces of the case. During a questioning session with Senator Vaughn and an attorney, Olivia asks to speak with her alone. She tells Senator Vaughn that she's lying about the events that took place. She knows this because Senator Vaughn is claiming not to remember certain things, but Olivia knows that when someone is sexually assaulted they remember every single detail. She gives her a moment and tells her that she wants to know the truth when she returns. She takes that moment to call Quinn to see if she's found anything. Quinn tells her that every woman who works for Sterling has brown hair and curves, far from the description of Senator Vaughn. Olivia realizes that Senator Vaughn's assistant fits the description and tells her that she's the one who was assaulted by Senator Sterling and she's the one who pushed him over the railing. She believes that Senator Vaughn is covering for her.
We find out that Rosen and Abby have split up because he wasn't there for her when Olivia left, and instead he was color-coding files for B-613. She suggests that he accept the position as Attorney General and to use the power it gets him.
Olivia, Senator Vaughn and her assistant sit down to discuss Olivia's findings. The assistant realizes that Senator Vaughn sent her over there because she knew that Senator Sterling would attempt to make a move.
Olivia and Jake attend Harrison's funeral, where no one is in attendance. She stands next to his casket alone as Quinn walks up to join her. Olivia reveals to Quinn that Harrison grew up in a group home and had no one but OPA. As the two are standing there, Abby walks over and the three are then joined by Huck. Abby grabs Olivia's hand and the four watch as their friend is lowered down. They toss red rose petals over the casket and go their separate ways without a word. Jake comforts Olivia and as he's hugging her, he looks over and sees Eli watching from a nearby car.
Fitz joins Melli out on the balcony, where he informs her that Olivia is back in town. She asks if he's seen her yet and he claims that he will not see her. Melli makes a comment about him once attempting to commit suicide. She tells him that he'll tell her when he sees her, even if it's not with words.
Jake tells Olivia that they can catch the plane back to the island. She tells him that Harrison would ask if they're gladiators or bitches, hinting that she intends to stay. Olivia announces that she will be representing Senator Vaughn's assistant in the case against Senator Sterling, and simultaneously wins Fitz, Abby and Cyrus the Equal Pay Bill. At OPA, Huck and Quinn are back and helping Olivia.
Over at the courthouse, she walks through the lobby and passes Fitz swiftly as their hands almost touch. Both have a hint of a smile on their faces as they pass each other without a word.
Tune in on Thursday, October 2nd at 9/8c on ABC to find out what happens next!
Twitter: @TheVRO
Facebook: Variety Radio Online
Tumblr: Variety Radio Online
//