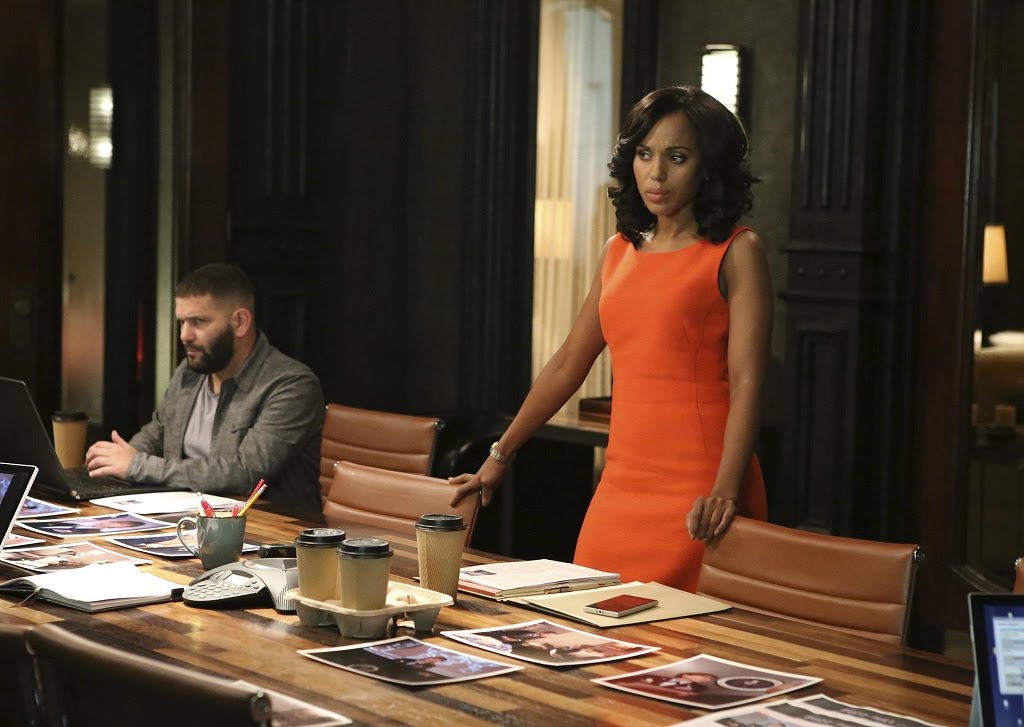 By: Jamie Casseday
6 months after Olivia leaves the White House, things get even more interesting. Scandal is back in full swing and it's about time! I've been having Shondaland withdrawals for weeks! I, unfortunately, couldn't watch the episode live … And actually, couldn't watch the episode until the Sunday after. Imagine my anxiety spreading, especially since you can't get on any social media sites without spoilers everywhere. I made it through, I've survived, and now I can live to tell the tale.
*SPOILERS AHEAD. IF YOU HAVE NOT WATCHED THE LATEST EPISODE OF SCANDAL, PLEASE TURN BACK NOW.*
The episode begins and we are now 6 months after the Winter Finale ended….
The opening scene is the beginning of a new episode of The Liberty Report, with the one and only Sally Langston. She's speaking out about how power is the "beating heart of our nation's bosom" and how the reason nothing can ever get done in Washington DC is because the number one priority is to get power. I have one thing to say to that – PREACH ON, GIRL.
Can I be the first to state that Liv is rockin' the new red outfits! Shonda Rhimes has always been crucial about showing Liv's true colors and feelings through her clothes. First, it was white – because she always worked for good. Then black as she slid farther down into the darker realms of the government. And now, this beautiful red.
We quickly learn that Olivia has continued her dinners with her father, Rowan, as a couple women sneak a picture of her. Olivia gives the woman a nod and a smile as the viewers learn how much of a celebrity she's become. Rowan quickly goes into one of his lectures on how Liv had power in the White House and how she's now "overcompensating" herself. "You were running the place and he was clueless," Rowan states to Liv as he speaks proudly about the topic. Liv responds that, "It's better this way," while Rowan disagrees. He states that once you get a taste of power, you become addicted and only want it more. "He tried to make me into a First Lady. I felt like I was a prisoner," states Liv. And I think all of us women can agree on a time when a man has made us feel less than we were… And that we were somehow trapped into doing everything to make him happy! Olivia knows her father well as she goes on a little sarcastic retort on how he'd respond to her comment on being 'trapped' inside the White House. Rowan states that he misses Olivia and wishes she would come by his house more often, when she replies, "You know I can't." Rowan says, "Because he's there." And we find out that Jake has been living with Rowan!
Jump back to Sally Langston stating that if you don't have power in Washington DC, then you feel impotent. And no one wants to feel impotent.
Jake is waiting at Liv's door when she gets home. They obviously have a lot of hate and anger toward one another – But this wouldn't be Scandal without a little… 'scandal.' (Yes, I came up with that one myself.) And Jake and Liv have a very sexy, very angry encounter with one another.
Abby gets woken up at 2 in the morning by Fitz calling about changing his schedule. He asked her to clear his schedule and also go to the Grid Iron Dinner with him, which she refuses. She states it's because Leo is very sick as he's "trying to sleep" even though he's not in bed with her. Fitz continues to talk to her about government business and asks her to go to another room so she doesn't wake Leo. You can tell Abby is frustrated, but continues to do her job.
Huck goes to Liv's apartment about a client and doesn't understand why Olivia won't open the door. She states that he could have called, while he retorted that it isn't a conversation they should have over the phone with the "usual phone surveillance that goes on." He states that they don't want anyone at the NSA to hear about their client because it's the head of the NSA.
Air Force Lieutenant, Diane Peters, a very intelligent woman and the Director of the NSA. She has many accomplishments and awards under her belt. She's the first woman to hold the position of the Director of the NSA and in Huck's words, "a total badass." She became a victim of a root kit, which makes no sense considering her intelligence levels with computers. A root kit is where a hacker can take complete control of your computer and it shows surveillance footage of it happening on her computer. The code name of the file they were looking for is called, "Project Mercury." Project Mercury is where the NSA is listening to phone calls, emails, etc. She states that she designed her own firewall herself and it is impenetrable, there's no way anyone could have broken threw it. The only way the root kit could've gotten on to her computer was through a thumb drive in to the computer itself. The only person that had been inside her house was William Torrence, Diane's new boyfriend. Diane claims that there's no way it could have been Billy, that she checked his entire background and even his emails. Olivia and Huck are convinced that he did it. Now Olivia Pope and Associates have to figure out if he's a spy or a whistleblower.
Cyrus calls Olivia late in the night. Liv tells him that "the days of them talking on the phone late into the night like besties is over" when Cyrus yells out that it's about Abby. Cyrus wants to know if Abby has what it takes to be the President's work wife. "Yes, Abby can handle it. But that's a lot of power Cy, that's the oval. Be sure before you give that up. Be sure," Liv states to Cyrus because he's thinking about leaving the White House.
"Mellie Grant is in your office" as Mellie smiles at Liv through her office. She wrote a book to "air out all of her dirty laundry" before she starts to campaign for her run at the presidency. She states "we" as in Olivia working for her and helping her win. Olivia says that she's not running her campaign, while Mellie forcefully convinces Olivia to read her book and let her know what she thinks.
Abby finds out by a reporter of a whistleblower threatening to give information about Project Mercury and quickly goes to Cyrus and Fitz about the situation. "That ain't good," is Cyrus' only response. She then calls Liv and Liv finds out through the conversation that it is a whistleblower, not a spy.
Jake meets Fitz at the White House because Fitz needs Jake's help to shut down the Project Mercury issue. During their conversation, it leads to Liv and they both state that they don't talk to her. Jake agrees to do the job and he states that he "really needs to get this view." Fitz responds with, "There's only one way to get this view and trust me, it's a bitch."
We see Fitz calling Abby again late into the night again. The next day, Abby storms into Cyrus' office asking if he was mad at her or punishing her. "He's driving me crazy, he's calling me 24 hours a day. I can exist on 4 hours of sleep, but he's whittled me down to 3 and a half. What kind of human being only need three and a half hours of sleep. He calls and calls with questions and ideas and thoughts. The other day, he wanted me to explain the backstory for a TV show!" states Abby in a huge venting session to Cyrus. He responds with, "Marriage, Red, can wreak havoc on a person. You're his new work wife!" His advice is to work around it, because he needs a wife to succeed. Another hilariously done performance Jeff Perry!
Quinn and Marcus can't find Billy anywhere, so Huck found a tracker on his phone. Huck tells Marcus he doesn't want him to go to the house to find Billy, but he doesn't listen. Abby and Marcus can't find anything at the house, until they find Jake who has Billy's phone in his hand.
Cut to the next scene, he tells Liv he was looking for William Torrence, but he's working for the President. They get into an argument about who is right and wrong, when Liv says that Diane's "only mistakes was falling for the wrong guy." Jake retorts back, "Oh, well no wonder you're so sympathetic to her cause." Olivia goes to Diane's house while boxes are being taken out, finding out that she is now under investigation.
"If the President fires me, that's it. I won't just be the first female NSA Director, I'll be the last. They will use me as an example; say our hearts make us weak. And for the next 20, 30, 50 years the only candidates they'll consider will be men. I made a mistake, Liv, and I deserve to be punished. Just not if it means punishing our entire sex," states Diane about the situation. And as a feminist, I have to say – isn't that so true? We have to walk on eggshells because if we make ONE step out of line, we'll get judged and there will be an uproar.
Abby heads to Olivia's to hangout and has to lie to Fitz to get him off the phone. Abby asks Liv if she misses Fitz and she says that she "does, but she doesn't." After Abby complains about Fitz and states that she doesn't understand what his deal is, Olivia states that Fitz "isn't lonely, he's alone." She goes on to say, "He doesn't have anyone, I was it. I was the last person he trusted, the last person he had. He doesn't have anyone," states Liv. Abby responds, "Oh, well now I feel like an ass."
As Quinn is trying to sleep, Charlie is racking his brain to figure out why they can't find anything on the whistleblower. He continues to ask questions about him and how there isn't any suspicious activity from him. He states, "The guy is great at disappearing for a whistleblower. He's got some serious game." And that wakes Quinn up to do a little more digging on him.
Olivia gets up the nerve to call Fitz about her client, but he doesn't accept the call.
Quinn has been up all night trying to hack into The Post's information to get the voicemail sent from William Torrence when he first called. Charlie gives her the idea to use the same virus that was used to hack into the NSA Director's computer.
As we find out Diane Peters resigned from her position as NSA Director, we find out that Fitz is in the process of appointing someone else. Diane asked Olivia to get a conversation with the President, to get into the oval, and even to get her the name of the person replacing her. Olivia states that she's sure the President is making a list of candidates when Diane tells her that he's already chosen someone. Diane walks away stating, "I thought I was out of the loop." Earlier in the conversation, Diane states that it's an "old coney of the Presidents" and it hits me… Jake has been appointed as the new Director of the NSA! He set Billy up. Olivia and the team went back to the house and found Billy's body in the fridge. Jake was disposing of the body at the house when they found him there.
Olivia goes to her father's house to confront Jake. Finding out, Rowan helped Jake! (Surprise, surprise) He states that Diane is weak and it's safer now that she's out of her position. Rowan says that both Jake and Olivia (his son and his daughter) both need power to keep them moving.
And Abby gets another phone call from President Grant throughout the night. She hangs up on him, gets ready, and goes straight to the White House. Abby goes off on the President about all the things she hasn't done that he's expected her to do. She put her foot down in a wonderful speech and ends that she'll be in her office getting her work done, where she will be available if the President "actually needs her." She calls Cyrus and gives him the update – and he loves it!
Marcus invites the Huck and Quinn to Gettysburger, when Huck says no (while Quinn says yes.) Huck convinces Quinn to say no. When she asks why he's so mean to Marcus, he responds, "He's normal. He's a normal person, Quinn. We have to protect him. We can't let him be friends with us."
Last scene begins with Mellie coming to speak with Olivia. Olivia goes on a rant about how Mellie's book is a bore, how it will only sell for a little while and then drop off tremendously. She tells Mellie to write a real book, about the honest truth, even though it will be hard to write. "That book will make you president," states Olivia. Mellie responds, "I want to write that book."
"Well, I'll call you tomorrow and we can get started." – Olivia Pope
My two favorite girls are now working together! I'm SO excited about the ending. Olivia truly does love power and the fast paced world of the politics. Her father was right. And now we get to watch it all unfold with her previous archenemy, Mellie Grant!! Hold on to your hats everyone, we're in for a hell for a ride.