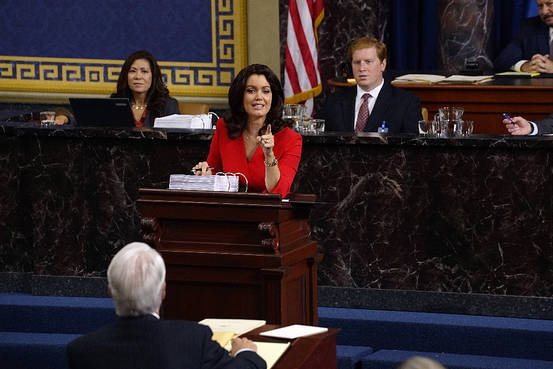 Mellie's 16-hour filibuster, Huck has dinner with Rowan, and Olivia has a secret of her own.
By: Jamie
I'm a newbie here at The VRO and thought reviewing Scandal's Winter Finale should be my first. OH LAWD! What was I thinking? As we all know, Scandal is a very quick paced show – and to get everything down on paper would be a miracle, so I'll be focusing on the points I found important. Feel free to let me know any other points you found important that I may have missed. Viewer Discretion Advised Warning at the beginning of the episode, so please be forewarned before you continue on.
*MAJOR SPOILERS AHEAD. IF YOU HAVE NOT WATCHED SCANDAL'S WINTER FINALE, TURN BACK NOW! DON'T SAY I DIDN'T WARN YOU*
In typical Scandal fashion, the episode begins in black and white (and a little red) with an immense amount of stills and slow motion shots of Olivia. Stevie Wonder's "Someday at Christmas" sets the tone as the White House is in full swing with the holiday celebrations, showing Olivia has taken over all the 'First Lady Duties.' It's easy to see she isn't thrilled about this set up, as she quietly debates on which outfit to wear next. Fitz points to one outfit, while stating "I like that one" as he kisses her and continues to walk out of the room. As if that isn't enough, we see a woman tell Olivia she needs help with… Finding a cookie recipe. WHAT?! Come on. This is THE Olivia Pope and this is her latest 'fixer' crisis? Shonda Rhimes wastes no time to show you how far she's fallen.
The Senate wants to quickly finalize and sign a bill so everyone can get home to spend the holidays with their families, but there's one huge problem – Discretionary funds for Planned Parenthood. While we'll keep our personal opinions to ourselves for the sake of everyone's sanity, Mellie is NOT feelin' this. Which leads (a couple scenes later) to Mellie bravely beginning a 16-hour filibuster to refuse to sign the bill. Our girl Mellie begins to list off one by one nondiscretionary items that are inappropriate at best. And in a later scene, she totally steals a protein bar. 'Nuff said. All of the nondiscretionary items Mellie listed in this episodes are TRUE funds that the government consider nondiscretionary in today's society. Shondaland, as always, did their research and loudly stated what everyone else is afraid to say.
In a quick scene back at Pope & Associates, while Marcus is in the Christmas spirit, Quinn is the Scrooge of the group. David Rosen is, yet again, the most innocent and wonderful human being on the show. He buys Elizabeth a beautiful bracelet for Christmas and she denies this sweet gesture. All the while, Huck has Rowan in a warehouse after buying him an Underground Railroad Burger… Which he denies. Come on Huck, we all know you can't have the Underground Railroad burger without Freedom Fries!
By this time, I'm already exhausted – Shondaland came in swinging and my head is already spinning.
Jake has been doing recon on the Lazarus 1 situation. We find him following ex-B6-13 agent and main security detail, Tom Larsen, who meets up with good ole' Franklin.
Huck and Rowan continue to go back and forth with incredible banter and argument to push each other to the limit. Rowan asks Huck, "Why did you save me?" and proceeds to state how miserable his life is (with children) and how Huck's life is the same. This banter comes with quite a lot of insults and painful comments – Prime example: "Which white boy do you approve of being inside your daughter?" We quickly find out that Rowan is pushing Huck's buttons so he will snap and possibly kill him. "DO IT!" Rowan screams as Huck grabs his throat as tight as he can. Huck's ending response, "Knowing you want to die is almost better than killing you." Woah.
Back in the Oval Office, Fitz is incredibly frustrated with Mellie as she continues her filibuster of the bill. She has to spend 16 hours on the podium, to make it to midnight, and then the bill will NOT be passed before Senate. Typical Fitz is playing the 'poor pitiful me' card and complaining that Mellie is doing this as a vendetta against him. Olivia then slays him down by saying, "Maybe what Mellie is doing isn't about you at all." Slay, girl!
Let's backtrack to the beginning of the episode at one of the many holiday parties everyone has to attend. David Rosen is seen speaking with Vice President Susan Ross. They joke about how she chose the party punch while he chose eggnog. Forward to now, Susan buys Rosen a bottle of liquor to 'enjoy in his eggnog' and he proceeds to give her the gift Elizabeth denies. This man is oblivious! First, it's awful enough to re-gift something, but to re-gift it to a woman who has a serious crush on you. Granted, Rosen has no idea, but that's not the point.
The one time a person can leave the podium during a filibuster is when someone asks a very long, drawn out question. If they continue to speak until the person is back to the podium, the speech can continue. Olivia steps in and gets Susan Ross to help Mellie. Ross comes in just the right time, because Mellie wasn't going to last much longer. "Will you yield the floor to me," Susan Ross asks Mellie. When approval is granted by Mellie, Ross sits down. This leads to another Shonda Rhimes classic quote, "Let's talk about gonorrhea!"
As Mellie is in the restroom, she's greeted by Olivia. Mellie is obviously feeling defeated and she states to Olivia that she's done, that she can't do this. Olivia responds, "You're the biggest bitch I know. Don't tell me you can't do this." And I love this dialogue between Mellie and Liv. Two strong women finally not at each other's throats. Let's hope we see more of this in future episodes!
We next see Olivia sitting in a waiting room listening to Mellie continue filibustering the Senate bill. Someone comes to the waiting room to tell Liv they were ready for her, and then BAM! We find out Olivia is having an abortion as soon as Mellie accomplishes making to midnight. This is such a huge scene for all women. Women's rights and healthcare are so important to fight for today.
Jake finds Franklin. As Franklin is trying to persuade Jake to join him to rebuild B6-13, Jake shoots him in the head. Huck tells Rowan that family is the most important thing and that he's going to go home to his family.
Olivia finally returns home and walks into their bedroom franticly while Fitz sits there waiting on her. She searches for Mellie's hooch as the President asks her where she's been. All she says is that she had somewhere to be and Fitz yells, "DO NOT LIE TO ME!" They continue to argue, jabbing at one another with each word spoken. Fitz tells Liv that she's worse than Mellie. "There is no us! There is no this! There is no Vermont! There is no jam! There's no future. Not anymore," Olivia states to end the argument. And there we are left – with the remembrance of promise Fitz and Olivia had. Their relationship is over. The scene ends with this dialogue:
"I hate that you're always right." – Fitz
"Me, too" – Olivia
"We tried." – Fitz
"Yes, we did." – Olivia
And a million Olitz hearts are breaking around the world.
The final montage finalizes the entire episode. Olivia walks out of the White House with all of her bags, while Abby watches her go. It's only Quinn and Marcus at Pope & Associates, but he has family plans – so she is left alone. Elizabeth sees the bracelet on Susan's arm as Susan gushes that it's from David Rosen. Huck takes Rowan back to his home and proceeds to go back to his own family. Jake finds Rowan and tells him he knows Lazarus 1 was not his fault. Charlie shows up on Quinn's door with stolen Christmas decorations. Fitz is drinking alone and Mellie is with their two children. Lastly, Liv answers a phone call and says, "Come on up." She waits at the elevator as we wonder who in the world it could be. As the doors open, we see a beautiful new couch… Finally! Olivia gets herself a new couch to replace the red wine stained white couch. She cozies down with a glass of red wine, popcorn, and all is right in the world.
Wow! That's all I can. I'll admit this season has been a bit of a bore for me. I haven't been invested in the storyline like I normally am. This Winter Finale left me SPEECHLESS. The writing was amazing. The acting was incredible. And the set designs were top notch. Shonda always brings real life situations to the table and speaks loudly about the importance of the issue. I bow down to Shondaland and commend them for kicking our butts during this finale.
Scandal returns to ABC on February 11th, 2016 at 9 EST / 8 CST
Variety Radio Online – – Bringing you all things Entertainment including News, Reviews and Interviews. Check out our website, like us on Facebook ,follow us on Twitter ,Tumblr and Instagram