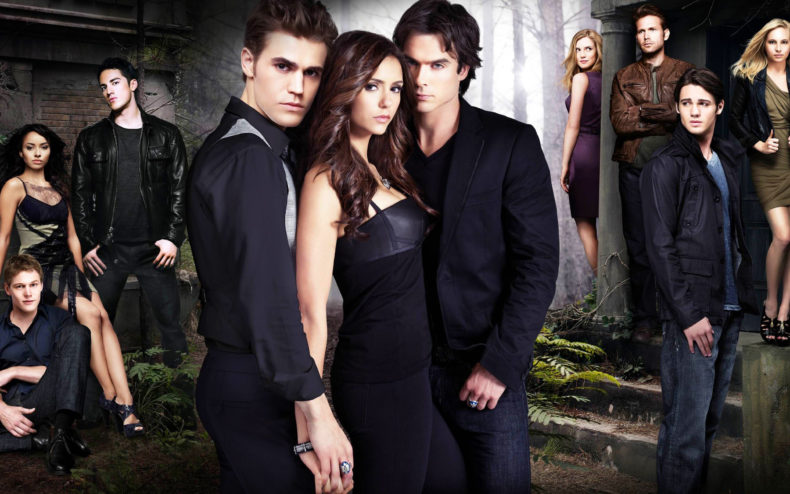 In a few weeks, we say goodbye to one of our beloved TV shows The Vampire Diaries. In this post, I would like you to take a walk down memory lane with me.
The series premiered on The CW on September 10, 2009. Variety Radio Online staff instantly knew that we wanted to add a review show to our radio station that we have on BlogTalkRadio.
On September 9th, 2009, Twilight Diaries premiered on Variety Radio Online. Below is our first Twilight Diaries show from 7 years ago. Gina and Angie discuss the similarities between The Vampire Diaries & Twilight. This was the start of our Vampire Diaries Review shows.
In Dec of 2009 we had Vampire Diaries very own Michael Trevino & Zach Roerig call into our switchboard to chat with fans.
In March of 2010, Angie and I decided to take a trip to Georgia to see Gina and check out filming of The Vampire Diaries in Convington, GA. While watching Season 1 episode 20 'Blood Brothers' being filmed at the rock quarry in Convington, we ran into some amazing women. Jessica Lowery from Vampire Stalkers and Amber Davis, both became Variety, Radio Online staff members shortly after we met them that day.
Below are never before seen photos from that day.
After returning home, I knew we had a hit on our hands due to the number of e-mails I received from fans. In return I wanted to do something special for all of our listeners. Gina and I spent a few days gathering contact information in hopes of setting up some cast interviews. I didn't know it would turn into our first Vampire Diaries Month of May.
In May of 2010 I scheduled interviews with Robert Pralgo (Mayor Lockwood), Matt Davis (Alaric), Kelly Hu (Pearl), Malese Jow (Anna), Steven R. McQueen (Jeremy), Sterling Sulieman (Harper), Candice Accola (Caroline), Michael Trevino (Tyler), Marcos Siega (Director), Stephen Martines (Frederick), Susan Walters (Mrs. Lockwood), Paul M. Sommers (Cinematographer), Marguerite MacIntyre (Sheriff Liz Forbes), Julie Plec (Writer and Producer), Katerina Graham (Bonnie) Interviews Found HERE
After our Julie Plec interview, entertainment websites like MTV Hollywood, Just Jared, and E! Started blogging about us. During Julie's interview she said "There is not a magazine in Hollywood that could have accomplished this, I'm impressed" Timestamp 1:59. Who knew those words would stay with me, every time I doubted myself they pop into my head. Making all my doubt go away.  Thank you, Julie.
Let's not forget the time I starred in The Vampire Diaries! Okay… I might have been just an extra in the background, but it was an amazing opportunity. "On the Founder's Day, Mystic Falls celebrates one hundred and fifty years with a parade and fireworks." (Season 1 Episode 22). I was part of the Carnival, Parade and Fireworks scene. It truly felt like I was in Mystic Falls celebrating with my friends.
Sep. 2010 Jessica and Amber became our lead Vampire Dairies Season 2 on air anchors. Every Friday night the 3 of us would get on the air with 100s of listeners in our live chat room to talk that week's episode of The Vampire Diaries. Throughout the year I would go down to Convington to see friends and to watch filming.
Around Oct 2010, I met Josh Reid-Davis from eyeconfla.com. We still joke to this day that we met on the street corner: it's not a lie, we were both standing on the street corner watching TVD be filmed.
Season 2 was coming to an end, and once again I scheduled our Vampire Diaries Month of May interviews with Joseph Morgan, Paul M. Sommers , Gino Anthony Pesi, Bryton James, Candice Accola, Matt Davis, Sara Canning, Susan Walters, Trent Ford, David Anders, Marguerite MacIntyer, Ian Somerhalder, and Daniel Gillies.
However, we didn't end our Vampire Diaries Month of May with just phone interviews again. We wanted to do something fun to be able to meet a few of our listeners.
On Saturday, May 14, 2011 at 7 PM – 11:30 PM Amber, Jessica and I planned a Candlelight Vigil. Memorial Service for those (characters) we lost on May 13th 2010 – May 12th, 2011 on The Vampire Diaries. A Memorial Fund was set up, all proceeds went to Angels Among Us. *Angels Among Us Pet Rescue, Inc. is a 501(c)3 non-profit volunteer-based organization dedicated to rescuing dogs and cats from high-kill shelters in north Georgia* Sherwood's flowers & Gifts in Covington, GA donated flowers to make our stage look beautiful. Square Perk Cafe stayed open late for us. Josh, who is an ordained minister, also spoke on behalf of the our lost characters. We had around 100 people show up to this event.
I've always liked to surprise people, so I asked Robert Pralgo (Mayor Lockwood on the Vampire Diaries) to come back from the dead to share the night with us. Mayor Lockwood died in Season 1 of The vampire Diaries.
After May of 2011 we started covering press for The Vampire Diaries at San Diego Comic Con after becoming friends with Chris McLaughlin from WB/CW. We've covered San Diego Comic Con for five years now and it's going to be very sad knowing that The Vampire Diaries won't be there this year.
For eight seasons The Vampire Diaries has been a big part of Variety Radio Online. Without this show I wouldn't have met our staff members Michelle Moreland, Brancey Montgomery, Raechel Papuga, Ella Worley, Reeba Marshall, Reebeca Marshall, and Julie Vu along with Jessica from Mystic Falls Tours, Amber, Chole, Autumn, Josh, Kenny, and so many more.
Julie Vu is now our Vampire Diaries blogger. She is reviewing the last season right on Variety Radio Online.
Thank you all for being part of my Vampire Diaries World.
Our Vampire Diaries story isn't over yet. On Friday, March 10 at 3 PM – 11 PM ET Vampire Stalkers/Mystic Falls Tours Jessica is hosting Mystic Falls Celebrating 8 season Founders Day Vampire Diaries Finale Party. I will be there to celebrate with all of our Vampire Diaries family. You can find more about this event HERE.


BIG Thanks to the Cast and Crew Of The Vampire Diaries! You have made the past 8 years unforgettable. Let's end this with some pictures of the Variety Radio Online staff having fun with the Vampire Diaries cast and on set.
Variety Radio Online – – Bringing you all things Entertainment including News, Reviews and Interviews. Check out our website, like us on Facebook ,follow us on Twitter ,Tumblr and Instagram