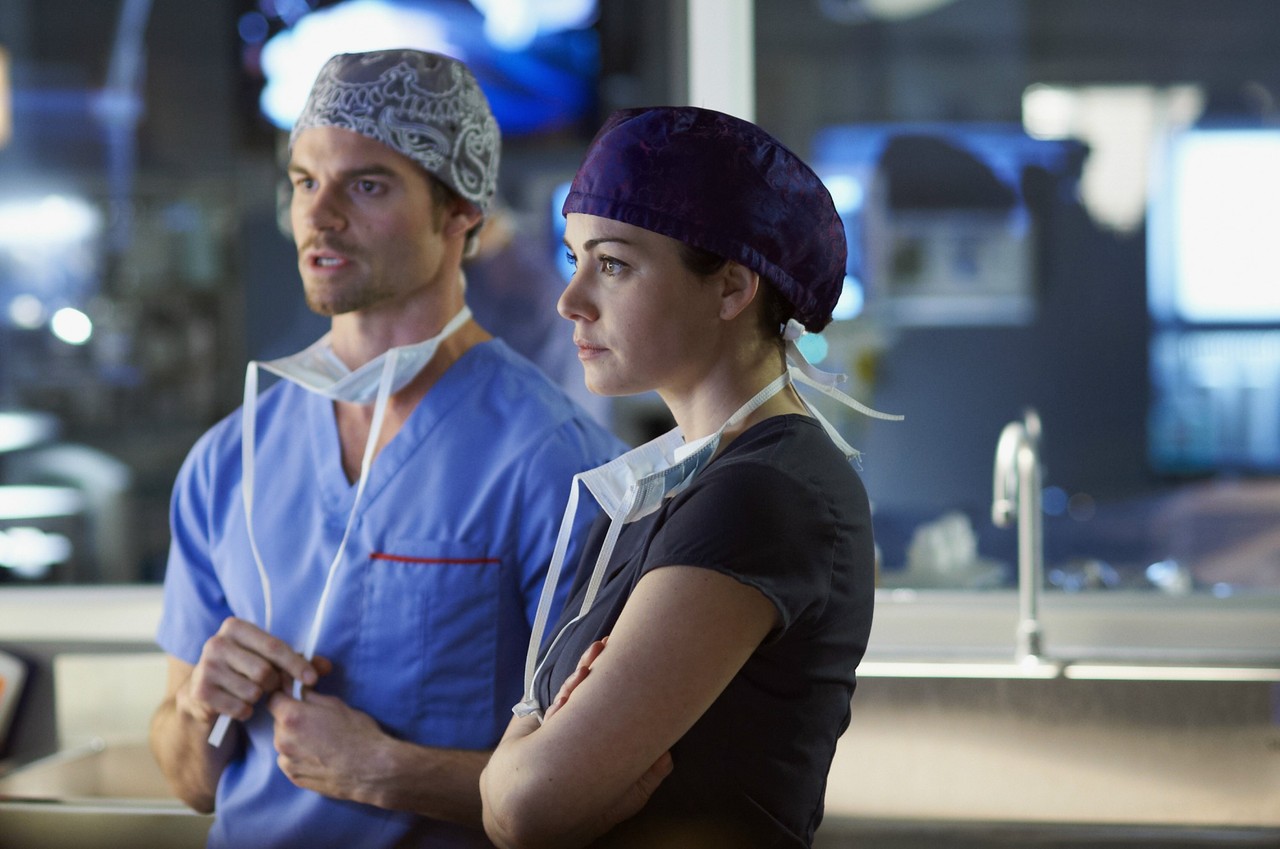 By: Lynn
Episode 6 opens with Alex reading some get well cards to Charlie. She is interrupted by Melanda asking if Alex happens to have a tampon with her, as it's "that time" of the month. Alex starts to answer, then pauses, startled, as it suddenly occurs to her that she's late for her own time. Could she possibly be pregnant? The idea has her kind of freaked out, but Charlie, listening in, is overjoyed at the thought. Alex does purchase a
pregnancy test, but keeps finding excuses to put off taking it, much to Melanda's and Charlie's frustration. She confesses she wants Charlie's baby, but is afraid to find out the answer.
Down in the ER, paramedics bring in a patient who was in a car wreck – he ran into a truck carrying construction materials,  and now has a metal rebar rod sticking out of his chest. The weird thing is, not only does he have amnesia (though he didn't hit his head), but he is also quite jolly, as he is feeling no pain whatsoever! Zach asks Maggie to bring "Mr. Happy" up to x-rays. As she does so, she runs into Joel, who asks why she didn't answer his calls last night. Maggie brushes him off, leaving Joel wondering what's going on.
Alex and Joel study the x-rays of Mr. Happy, while Alex tells him how the man mysteriously is not feeling any pain, even though he has multiple fractured ribs to go along with the metal rod sticking out of his chest. Joel thinks he must be on some sort of drug, but Alex assures him the tox  screen was negative. They discuss how best to remove the rod, an
d then Joel goes in to speak to Mr. Happy himself, explaining how the surgery will work. The man calmly listens to Joel, nodding and smiling, then when Joel mentions how they will remove the piece of rebar from his chest, Mr. Happy decides to literally take matters into his own hands and grabs the rebar, pulling it out before anyone can stop him. He immediately passes out as blood gushes from the hole in his chest, and Alex and Joel must rush to stop the bleed and repair the damage in order to save Mr. Happy's life.
Meanwhile, back in the ER, Maggie now examines Heather Day, who claims her mother pushed her down the stairs, and injured her neck. However, Maggie becomes suspicious that there is more to the story when Heather starts wandering around the room, acting as if she's never seen Maggie, and then randomly rhyming words that
make no sense. She calls in Gavin for a consult. When Gavin hears about the rhyming, he thinks it might be clang association. Overhearing this, Heather freaks out, thinking she's about to be strapped down. She starts yelling at a bewildered Zach and throwing medical supplies, so Gavin calls for sedatives and tells security to back off for the moment. Heather doesn't want to be sedated, but Zach worries that she's a danger to the other patients, and says it's necessary. She finally gives in, and is carried to bed while the hospital contacts her mother. Heather's mom Donna, arrives, and tells Gavin that she didn't push Heather down the stairs. Ever since she was 15, Heather has been delusional. She hears voices, and tends to twist events into conspiracy theories about people out to get her. They've tried medication after medication, and although some help for a little while, nothing has given any long-term improvement. Gavin insists there are better medications than what Heather is currently taking, and other methods of therapy, but Donna feels that people like Gavin just give her false hope, and in the end, make everything worse.
Mr. Happy came through surgery just fine, and is still happy as a clam, although he does admit it probably wasn't a good idea to yank that piece
of rebar out of his chest. Victor is going through his belongings brought in by the paramedics, and finds a business card for a hypnotist known as The Great Randall. Could Mr. Happy be hypnotized? Alex worries that if he is, the hypnosis could be masking some of Mr. Happy's real symptoms, which means they can't treat him properly. She calls Gavin in to see if he can help, but Gavin is a psychiatrist, not a hypnotist, and has no luck at all, so Alex's only other choice is to call The Great Randall himself.
Randall arrives at the hospital and has Alex paged. When Charlie walks through the lobby, he's shocked to hear Randall comment "Nice tux, buddy." Randall can see Charlie! Before Charlie can pursue this revelation, Alex arrives in answer to the page, and whisks Randall off to see Mr. Happy. He puts him under and then takes him out of hypnosis, which makes Mr. Happy not so happy anymore. He immediately remembers who he is (Chester Mills),
and he's also suddenly in terrible pain – not from his surgery, but from a chronic stomach condition. Chester has been fighting this problem for five years with no success. Doctors can't figure out what's wrong with him, and the constant pain has ruined both his career and his love life. He would much rather have stayed hypnotized!  Not one to give up on a challenge, Alex decides she's going to find out what the heck is wrong with Chester. She thanks Randall for his assistance, but he's done his part now, it's time for him to go. She's surprised to later find Randall waiting for her in the hall – he is expecting payment for helping with Chester!  Alex tells him to consider it his good deed for the day. She's clearly not a fan of his profession.
Charlie, on the other hand, is thrilled with Randall's talents, and believes he's finally found a way to communicate with Alex! Thinking Charlie is a ghost, Randall at first asks Charlie to leave him alone – he's been thought crazy before for talking to what seems like thin air. He finally gives in, however, when he realizes that Charlie isn't truly
a ghost – he's in a coma, and Charlie is desperate to not only let Alex know that he's there, but that he would be thrilled to be a father if she is pregnant. Charlie and Randall hang out in the hospital snack bar as Randall explains that his "gift" is really a curse that has caused him a lot of

trouble. When Alex comes in, Charlie urges Randall to speak with her, so reluctantly, he does, telling Alex that he was on his way out of the hospital, but a spirit named Charlie, (who won't shut up) wants him to talk to her. Alex clearly does not believe him at first, until Randall tells her that Charlie is happy to see her wearing the necklace he gave her for her birthday. A glimmer of hope starts to spark in Alex, but just when Charlie is trying to get Randall to tell her his message, Randall stops and asks Alex for money before he will say any more. Charlie freaks out – he knows Alex will think he's a fake! And he's right – Alex storms off, feeling like an idiot for believing him even for a moment.
Zach later notices Alex studying Chester's old medical records. She wants to help,
but Zach reminds her that she's already saved Chester's life – she's done her part. Alex doesn't want to hear this, and goes to Chester's room only to find that his face is now covered in blisters from being in  the sun after the accident while the paramedics worked on him. Chester says he always has this kind of reaction to sunlight. Jackson comments that either the ozone layer has completely gone, or Chester must be a vampire! Alex thinks it has to be lupus, even though Chester has been tested for that before, and she asks to run more tests. Chester reluctantly agrees.
Joel is shocked when Maggie smiles but then bites his lip hard during a behind-the-ER-curtain makeout session. He asks what's wrong, and she admits she's upset because he didn't get her on his surgical team for the hand replantation surgery last week, plus he never calls her unless he wants sex. Taken aback by her change of attitude, Joel says he thought this was their deal,

and he's always been completely honest about not wanting a relationship and just having fun – he's never lied to her or led her on. Maggie agrees, but as things stand, she's decided their "transaction" is done and offers to shake hands on their new platonic friendship, leaving Joel to wonder where and when things changed.
Gavin meets with Heather again. He wants her to try a new medication, and also give "talk therapy" a chance, in hopes of controlling her "hate voices." Heather is resistant to his ideas until he uses a little trick to straighten out her neck. Impressed, Heather thinks Gavin has "magic hands", and agrees to take his advice regarding changing her treatment. Later, Gavin discharges Heather from the hospital. She's thrilled to tell her mother about her new medication, and about meeting with Gavin every week for talk therapy. There's even a possibility if things go well, that she can get a job and move out of her mother's house soon. Donna is very grateful to Gavin for the big improvement in her daughter's attitude.
As the doctors discuss Chester's odd case in the elevator, Jackson remarks again that all the signs are pointing to Chester being a vampire. Suddenly, a light bulb goes off in Alex's head – and she immediately grabs Joel and heads off to the lab, thanking Jackson for the ide
a he just gave her. Alex thinks Chester may have a very rare disease known as porphyria, or the "vampire disease." If he does, his urine will glow neon pink under a black light. Alex and Joel run the test in the lab, and bingo! Chester has what Joel calls "disco pee" – glowing pink! Elated, Alex  rushes off to tell Chester the good news – they finally know what's wrong with him! Unfortunately for Chester, the best Alex can do is set him up with a hematologist who will recommend what changes he needs to make in his lifestyle in order to reduce the attacks from the disease that cause the horrible stomach pain. There is no cure – this is a lifelong battle. Chester is left wondering if he's really any better off than he was before.
Afterwards, Alex finally decides to take her pregnancy test. She disappears into the bathroom while Charlie's spirit and Melanda nervously wait outside for the results. But Alex walks out without saying anything, leaving them to wonder. On her way out, Alex sees Randall again. He's feeling guilty about before, and offers to communicate with Charlie for Alex free of charge. When he tells her that Charlie is roaming the halls pining away for her, Alex, already on the edge emotionally, blasts him for preying on her vulnerabilities, and tells him goodbye and good riddance.
Alex next bumps into Joel, who, still stinging from his confrontation with Maggie, demands to know what it is that women want. He thought it was honesty, but when he tried to be honest, he ended up sounding like a jerk. Alex assures him he's not a jerk, (quite a change in her attitude towards Joel since Episode 1 when she blasted him and said he was NOT nice) but she says he IS acting chicken – he could give more than he's currently giving. But she says she really can't preach to anyone, because she's so desperate to find a way to hang on to Charlie that she believed The Great Randall when he said he could talk to Charlie's spirit!
Alex finally ends up in Charlie's ICU room to give him the results of her pregnancy test – which were negative. Both she and Charlie are sad, and flash back to a time before when they were home, cooking dinner together. They talk about their childhoods, and then Charlie thinks, why wait? They should make a baby of their own, right then and there. A flustered Alex says she doesn't have time for a baby right now; her career is too important. Charlie isn't too upset – he's certain that Alex will change her mind soon. He teases her that he wants six children, all named after him.
Joel tracks Maggie down, and gives her a cup of coffee as both a peace offering and a sign that he wants to work on becoming more generous. Maggie wonders aloud if this means he wants to be exclusive, and after a slight hesitation, Joel says yes. Maggie still refuses to accept the coffee until he says the word "boyfriend" aloud. When he finally says he wants to be her boyfriend, she snags the coffee, tells him he's cheesy, and saunters off, but with a saucy grin back over her shoulder, once again leaving Joel speechless.