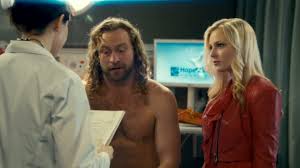 By: Lynn
I don't want to come off like a broken record saying how this show gets better each week (even though it does!), so let's just jump right into the recap:
As Episode 4 begins, Alex is sitting vigil at Charlie's bedside. Charlie's spirit sits beside her, and says "Any surgeon will tell you … the hardest part is the waiting." She leans over to rest her head on Charlie's chest, and becomes concerned when she hears a crackling sound in his lungs. Not a good sign, as this signals possible pneumonia. Alex immediately tells ICU nurse Melanda to order additional x-rays to confirm if what she fears is true.
Meanwhile, Maggie flirts with Joel as he fills out paperwork at the nurses' station, and gives him a big kiss. Jackson, who witnesses this exchange, wisely takes the "see no evil, hear no evil" approach after seeing the side look that Joel gives him. Alex then approaches and teases Joel about his "fancy jeans". Joel says he's going to Shahir's birthday party that evening at El Convento Rico, and Alex gets a chuckle out of that. She obviously knows something about the location that Joel doesn't! When Joel asks Alex if she's going to the party, she says no because she's taken on an Emergency Room shift that night in order to earn extra money to pay for Charlie's coma arousal therapy. Joel is concerned that Alex is working too hard.
Alex heads off to report to Zach for her ER duty, and tells him that it looks to be a nice quiet Saturday night. Zach tells her she just jinxed it, but Alex doesn't believe in jinxes. However, it seems Zach was right, because almost immediately, a young man is rushed into the ER in critical condition – the victim of a knife fight in a bar. He's quickly taken into surgery, but flatlines. Charlie's spirit tries to talk to the boy's spirit, but the young punk (Eddie), doesn't want to hear it, and tries to punch Charlie in a panic. When Charlie tells him what happened, and explains that he's dying, and that he needs to accept it and let go, Eddie starts to scream at his body "C'mon, let's go! I'll mess you up – c'mon fight! Let's GO – FIGHT!" And as Charlie watches in amazement, Eddie actually seems to will his body back to life, as his spirit disappears – back into his body. However, although still alive, Eddie then goes into a coma.
Charlie: "Whoa, little guy! Slow down!"
Alex's next ER case is professional hockey player Todd, who came in because, while out having dinner with his girlfriend Amanda, some guy trying to prove his manhood against the big tough hockey star picked a fight with Todd, punching him in the back of the head and kicking him in the ribs. We find out Alex is a huge hockey fan, (but she still refuses Amanda's request for a twitpic with Todd to send to his 82,000 twitter followers!) Alex orders a chest x-ray for the ribs, and wants to do a CT scan to check his head for a concussion, but Todd refuses the scan. Being diagnosed with another concussion (it would not be his first) would end his hockey career. Alex consults with Zach about running a new diagnostic blood test on Todd that could determine if he has a concussion, without having to do the CT scan. Zach gives her the ok to perform the test. He also, during their talk, points out to Alex that the ER waiting room is full of punks from the bar fight – half from Eddie's side, and half from the stabber's side. Tension is running pretty high in the room.
Gavin screws up the courage to ask Maggie if she'd like to ride with him to Shahir's party, or is she going with Joel? Maggie says she and Joel are not dating, and promises to meet Gavin at the party later.  As she dances away down the hall, she tells him he can buy her a drink. Gavin and Joel are among the first to arrive at El Convento Rico, which turns out to be a gay bar, with a drag queen dance show!  Not only that, it's Best Ass Competition night! (Side note: According to the twitterverse, Joel would have won that competition, hands-down).  Shahir is not at all comfortable with social situations, and clearly doesn't want to be there, even though the party is for him, courtesy of boyfriend Victor.
Gavin: "So, how does it feel to be out?" Joel: "What do you mean – like feather boa, tiara 'out'?"
Back at the hospital, Alex is paged to ICU by Melanda, where it turns out she was right – Charlie does have pneumonia. Alex snaps, and starts accusing Melanda of not doing her job correctly and catching it sooner. Spirit Charlie gently rests his hand on Alex's neck, and she immediately calms down and apologizes to Melanda, simply asking her to let her know if there are any changes.
Charlie then spies Eddie near his comatose body and tries to ask him how he managed to will himself back into his body earlier, after he died during surgery. Eddie doesn't answer him, and instead takes off to find the ER, which is still full of tough guys from both sides of the fight. Turns out, Eddie deals drugs. He confronted a guy he caught selling drugs in "his" club, and punched him, breaking his jaw, but got knifed in return. Eddie's spirit then rants to the knifer, telling him that when he wakes up, he's coming after him, along with his family, his friends, "and your stupid little dog!" He tells Charlie he never loses a fight.
Alex gets the x-ray results back, and informs Todd that his rib is only cracked, and there are no punctures or bleeding. She'll give him some pain meds, but there is no other treatment. Todd is thrilled, and after promising Alex some great hockey tickets, is ready to get out of there. However, Alex stops him and draws some blood, saying she needs to run a quick diagnostic just to make sure there is no infection. Todd is suspicious, and gets up to leave with Amanda. Just as they are about to head out the door, however, shots ring out as a fight ensues between the two rival gangs in the ER lobby.
The stabber is shot, as well as bystander Irene, who was simply waiting in the ER for her husband Anthony's injured hand to be treated. As security restrains the combatants, and the doctors assist the two victims, Irene says she can't feel her legs. Zach has Joel paged at the bar, as it looks like the bullet may be lodged in Irene's spine. Joel rushes back to the hospital, and after taking a look at the scans and hearing what happened, he wants to perform surgery right away on Irene to remove the bullet and save her spine. However, Zach cautions that Irene has lost a lot of blood, and may not be stable enough to survive such a major operation just yet.
Eddie is not happy to hear from Charlie that the guy who stabbed him and just got shot, is not going to die – his wound is not serious. He runs back off to find his own body, determined that he has to wake up and finish the job himself.
Joel talks to Anthony about their options. He is recommending immediate surgery, saying that is the best chance Irene has in order to not end up in a wheelchair for the rest of her life. Irene agrees with Joel, and wants to have the surgery. However, Anthony is more concerned about his wife being strong enough to actually survive, and wants to wait, much to Joel's frustration. He vents to Alex, who shocks him by firing back, saying that Joel just wants to show off, while the husband just wants his wife to live. Any risk is too much.
Irene: "I love ya like crazy!"
Everyone who was in the ER at the time of the shooting is being held by the police, who are taking statements. Todd isn't happy about this, but it works in Alex's favor, because the blood tests have come back, and they indicate that Todd does indeed have a concussion. Todd begs Alex to drop it, because it will end his career, and his entire family depends on him for support. The police come in to do his interview, and Todd jokes around with them, telling them a funny story, when suddenly he falls to the floor, convulsing with a seizure. An aneurysm has ruptured in his brain.
Back at the El Convento Rico, Shahir is very unhappy with Victor. He doesn't understand how Victor can't see after a year and a half of dating, that he doesn't like surprises and crowded social situations. Fortunately for them both, Shahir gets the page to come back to the hospital – he's needed to perform emergency brain surgery on Todd. Turns out, Todd actually had three aneurysms in his brain, and the remaining two could rupture at any time, killing him. As Shahir prepares to operate, Alex talks to Amanda in the lobby, assuring her that Todd is in the best hands, and that he will be ok.
Shahir: "It's not about the gay, Victor. It's about people. Large groups of people – they fill me with anxiety…"
Todd does come through the surgery, but is told by Shahir that he was not able to get the last aneurysm, and that the one remaining could still rupture. He must avoid any blows to the head, which means his hockey career is over. Todd doesn't want to hear that, and refuses to quit, causing Alex to become completely frustrated with him. She accuses Todd of being an idiot. She tells him he is throwing away his life and turning his back on the woman he loves, who also loves him. Todd and Amanda's eyes meet – it seems Alex has made an impression.
Alex tells Melanda that Charlie is now entering the start of week four of his coma. Statistics show that after three weeks, only four percent of coma victims wake up. Melanda tries to comfort Alex, saying that she prefers to think of Charlie as "minimally conscious".  His fever from the pneumonia is rising, though. A few beds over, Eddie is once again yelling at his body to fight and wake up. He accuses Charlie of giving up. Charlie thinks Eddie is just wasting his time, until all of a sudden, Eddie's spirit is gone, and his body comes awake! Jackson and Melanda rush to his side as Alex looks on in disbelief. Charlie is also dumbfounded. How did Eddie do that?
Irene finally convinces Anthony to sign off for her to have the surgery. As they are wheeling her in, Anthony stops Joel and begs him not to let Irene die. He can't lose her. Joel seems touched by the depth of the man's feelings for his wife. He preps for surgery, but as he poises the knife over Irene's back, he pauses, having second thoughts. He steps outside to compose himself, and then re-enters the room with a different strategy. He's decided to take a more conservative approach, and will only do the minimum necessary at this point to stabilize Irene's spine, giving her time to recover more before doing the longer, more invasive surgery to remove the bullet and repair her spine. Alex's and Anthony's words have gotten through.
Charlie decides to give Eddie's method a try, and yells at his body to fight and wake up, but there is no response. However, when Alex comes to check on him, she finds that his fever has broken. In relief, she goes to the doctor's lounge to get some rest. She runs into Joel, who tells her that he backed off on the surgery, and Alex is pleased to hear it. Joel is supposed to be meeting Maggie back at the bar, and heads out. Alex sits down, and her mind drifts back to a happier time with Charlie. They are walking together down the street, and Alex wonders aloud if they would still be together if they weren't both doctors, since that is their main connection. Charlie recites a beautiful list of some of the little things that he loves about Alex. Yes, they would still be together. Lost in her remembrances, Alex looks up, and can't believe her eyes as she sees Charlie standing in the doorway! For a few  brief moments, they stare at each other, but as
Alex stands and whispers "Charlie?" he disappears, and Joel is there, coming back to check on her. Alex stammers out a few words about seeing Charlie, and a concerned Joel says that she needs to rest, gently covering her with a blanket as she lies down on the couch and promising to come and wake her in half an hour. As she drifts off to sleep, Charlie sits beside her, watching her with a tender smile.
Charlie: "You know how you frown first thing in the morning before you open your eyes, out of protest? And the way your voice goes soft and shy when you're nervous, and you grab hold of my hand and you hold it real tight? … And the way you're looking at me right now."
We learn this week that sometimes you have to fight. Fight for what you believe in. Fight for the ones you love. Fight for survival. Never give up. And always have hope.
Twitter: @TheVRO
Facebook: Variety Radio Online
Tumblr: Variety Radio Online