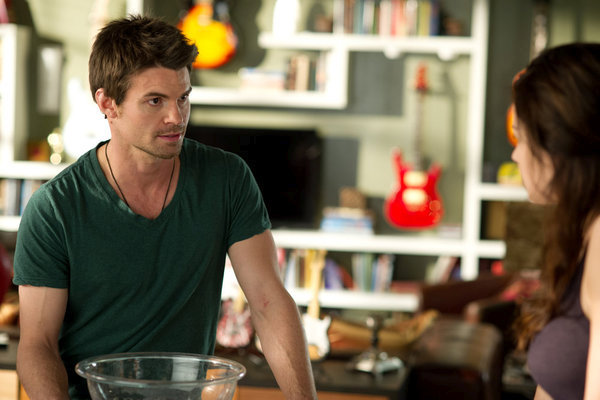 By: Lynn
Episode 5 opens with what looks like the entire staff of Hope Zee seated in the auditorium as Dr. Dana Kinney tells everyone about an upcoming important, hi-profile surgery. A worker in a chicken processing plant, Mr. Pineda, has had both of his hands completely cut off, and the hospital is geared up to perform a double hand replantation – the first of its kind in the city. Two teams will be performing the surgery – one led by Kinney,  the other by Joel. As Kinney gives the details of the surgery, she notices Alex nodding off in her seat. Charlie's spirit is seated beside her, but he is unable to do anything to wake her up before Alex is called out in front of everyone by Kinney. As the meeting comes to an end, Alex apologizes to Kinney. To her surprise, Dana is suspiciously sympathetic, and instead of being angry, tells Alex to go home and get some rest. Reluctantly, she does, but instead of rest, she finds only more heartache in the form of a note from Charlie on the refrigerator left there the day of their wedding, asking Alex if she knows where his cufflinks are.
Back at the hospital, everyone wants to be a part of this historical surgery, including Maggie, who suggestively promises Joel that she will do anything (hint, hint) to be included on his team. Joel says he'll see what he can do, as he heads off to meet with Kinney to pick the two teams. At
that meeting, Joel is surprised when Kinney does not include Alex, and when he questions it, Dana says that Alex is too exhausted, and even goes so far as to say she doesn't know if Alex will be Chief Surgical Resident much longer. As he leaves the meeting, he immediately heads off to Alex's apartment to warn her of what is going on behind her back. (I love how Joel always defends Alex and looks out for her – it's all too obvious he still has feelings for her!) Alex is surprised when Joel shows up at her home, and after he tells her about his meeting with Kinney, she blames herself for falling asleep at the meeting. Joel tells her she made a mistake – get over it! She needs to pick herself up, get back to work, and show Kinney why Charlie made her Chief Surgical Resident to begin with. She can't give up, or Tom Reycraft will have an easy time stepping into her place. After Joel's pep talk, Alex heads back to the hospital for Mr. Pineda's hand surgery.
Over in ICU, Charlie watches as an elderly man in a coma is brought in from a nursing home with pneumonia. Melanda is complaining to Jackson that he is taking up bedspace from someone that she could actually help. The man's much younger spirit materializes beside Charlie – he (Scott) agrees with Melanda and says the plug should have been pulled on him years ago – he's been in a coma for 27 years!
At first, Charlie is excited about this – Scott is the first person he's met in the same in-between situation as himself. He figures Scott may know something more about it that can help him. Unfortunately, it seems the only thing that Scott has learned in 27 years of spirit life is that he can sneak into the nurses' dressing room without being seen, and jump off of balconies without getting hurt. He tries to get Charlie to lighten up and have some fun, but Charlie is simply frustrated – he wants to wake up and get back to Alex, not learn to enjoy his spirit status.
Maggie gets called to ICU by Melanda to treat an abscess on a homeless man who was brought in after being badly beaten up by a gang of teenagers. At first, Maggie doesn't think she'll have time for the John Doe, as she assumes she is going to be part of the hand replantation surgery, but Melanda insists, and as she works on the abscess, she begins to notice other symptoms that make her think John Doe is suffering from more than just a beating.
Mr. Pineda arrives at the hospital, as do his hands, carried in an ice chest. Dana is surprised to see Alex there, but Joel breezily tells her that the doctor that Kinney had assigned to his team was exhausted and he sent him home, so Alex will take his place. As they begin surgical prep, a problem arises when blood is found in Mr. Pineda's urine, a common indicator of other internal injuries. It puzzles the staff, because other than  the hands and an area of his leg that was crushed, there should be no abdominal injuries. They have to make an immediate decision whether or not to open up his abdomen, which would delay the hand surgery, possibly causing the hands to die. Alex thinks it through, and comes up with the correct diagnosis, which requires only a flushing of the man's system, not surgery. Despite her quick thinking, Kinney is still skeptical of Alex being on the team, but reluctantly gives her the green light.
Maggie, in the meantime, is not at all happy to hear from Joel that he was too busy fighting to get Alex put on his surgical team to get her on it as well. To distract herself, she goes to check on the John Doe in ICU, and is alarmed to see his stomach swollen and hard to the touch. She questions Jackson, and thinks he may have Abdominal Compartment Syndrome – a serious ailment that can cause death. Melanda doesn't agree with her diagnosis, however, and accuses Maggie of trying to make a name for herself.
The historic double hand-replantation surgery is underway, and is now down to the final steps of suturing the tiny veins together to re-establish blood flow to the hands. Alex works on one hand, Tom Reycraft on the other. Tom finishes first, but the blood is not flowing. Alex takes her time, and when the tourniquet is taken off of her hand, it pinks up – the blood is flowing again. Kinney quickly orders Tom to swap out with Alex, who discovers that Tom accidently sutured the vein to the back wall, closing it and cutting off blood flow. She repairs it, and blood returns to the second hand. Joel can hardly contain his gloating, and Tom storms off with an attitude. The rest of the team decides to hold a celebratory victory party, and Victor volunteers Alex to host and provide Chinese food – Kinney will bring the liquor!
Maggie vents to Gavin about Melanda not believing her regarding the John Doe (who she's nicknamed Mr. Darcy). She goes to check on him again, and finds that his stomach is even more distended, and he is crashing. Melanda is nowhere around at the moment. Making a quick decision, Maggie dons a gown, grabs a scalpel, and with Jackson assisting, cuts John Doe's belly open, thus relieving the pressure and saving his life. Afterwards, Maggie is telling the tale to her coworkers about what happened. She may not have been part of the hand replantation surgery, but she saved someone's life that day, and feels like a real doctor. Melanda steps into the room to let Maggie know that John Doe is now stabilized. Maggie can't stop herself from telling Melanda that because she didn't listen to her, John Doe almost died. Melanda, in a disapproving tone, tells her that John Doe didn't show the proper signs for ACS, and graveyards are full of people who have died from doctor's mistakes. As soon as Melanda leaves the room, though, Maggie tells Gavin that despite Melanda's words, she's feeling great about what she did.
Back in ICU, Charlie and Scott are still discussing how best to spend their spirit time when Scott is surprised by the arrival of his ex-wife, Melissa, who is still listed as his next of kin, even though they've been divorced for many years and she is re-married. Melanda explains to Melissa that there is very little hope that Scott will recover from the pneumonia, and they are basically just dragging things out – does she want  to continue the life support? After thinking about it, Melissa agrees to a DNR – do not resuscitate. Scott, hurt, turns to Charlie and tells him that the living always forget those who are in a coma such as they are. He is resentful that Melissa has led a rich, full life while he has been stuck there for almost 30 years. As they remove the ventilator, and his body flatlines, Scott sees Melissa sit on the bed and hold his hand, crying. She tells him that she was never able to do this before, because she couldn't let him go – she loved him too much. Scott realizes that he was wrong, and his spirit touches her, telling her not to cry. She seems to find a sense of peace. Before leaving, Scott tells Charlie that if he wants to get back to Alex, he needs to fight harder, or he will lose her.
On her way home to prepare for the party, Alex stops off in Charlie's room to tell him about her day, and to let him know that she will be back first thing in the morning. Hearing about the party, Charlie is left feeling more sad and lonely than ever before, especially after what Scott told him. It looks like Alex is moving on with her life without him.
As everyone gathers at Alex's place, the Chinese food and the beer is flowing freely as the doctors swap stories about past surgeries. Dana offers Alex a beer, and says that this is her way of saying good job – she's doesn't do well with the touchy-feely atta-boy side of things! Joel can't believe that Shahir won't share his beef and broccoli due to his germaphobia. Victor drops a wonton on the floor, and after quickly picking it up, wonders aloud whether he should chance eating it, because if he does, Shahir may not kiss him for a very long time! As everyone chants "Wonton! Wonton!" Victor pops the wonton in his mouth, then grabs Shahir for a big kiss anyway. The stunned, horrified look on Shahir's face sends everyone off into gales of laughter, including Alex. However, her laughter gives way to hysterical sobbing that she can't control, and she runs off into another room, mortified. Joel, concerned, follows her, and Alex confesses to him that for a little while, she actually forgot about Charlie and felt free, and the thought of that makes her feel horrible.
Back at the hospital, Tom Reycraft, who, after his embarrassing mess-up during the hand surgery did not want to attend the party, checks on Mr. Pineda, who is on the mend and very grateful to the doctors of Hope Zion. Charlie is surprised to see a teary-eyed Alex show back up at his bedside – he didn't expect her until the next day. Alex tells him what happened at the party, and that it frightened her to see that life could go on without him – she doesn't want it to. Thinking about the note on the refrigerator about his cufflinks makes her remember when she first gave them to Charlie. They were Alex's father's cufflinks, and were very special to them both. Back in the present, Alex reassures Charlie that she will never forget about him, and will never let him go.
We find in this episode that "Out of Sight" can sometimes lead to out of mind, but if we truly care for someone, out of sight will never lead to that person being out of our hearts.
Twitter: @TheVRO
Facebook: Variety Radio Online
Tumblr: Variety Radio Online