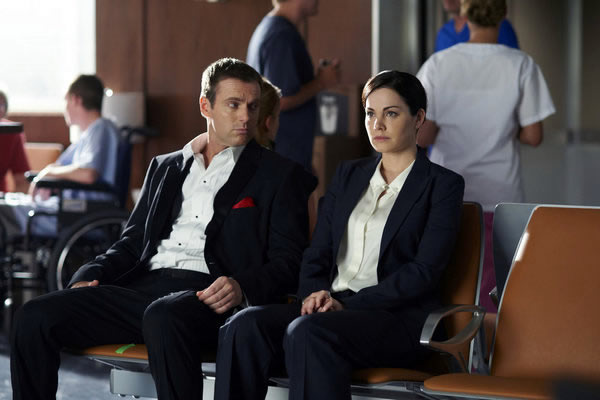 By:Lynn
Episode 8 jumps right in with Alex and Dawn facing each other across the table at the Consent
& Capacity hearing to determine who is better qualified to make Charlie's end-of-life decisions. The moderator hears Dawn's case first, as she is the one who initiated the petition. Dawn states that Charlie wouldn't want to be kept as a "living corpse", and offers as proof an email to her dated years ago when they were married. In the email,  Charlie has just come from seeing a patient of his who is on life-support, and asks Dawn not to let him go out like that. Alex argues that Charlie would not give up on a patient, and therefore, they shouldn't give up on him. She shows two case files of Charlie's that indicate that he is supportive of a full-code status – meaning that he believes every possible means should be used to revive a patient.
In another part of the hospital, Maggie is telling Joel that her sister, along with her very colicky baby, is coming to stay with her this weekend. When Joel's response is to recommend a good brand of earplugs, Maggie asks if it would be ok if she crashed at his place instead. Joel waffles, saying that he hasn't finalized any plans for the weekend yet, and can he think about it? Maggie tells him that his plans suck, and leaves in a huff.
Leaving the hearing, having done all she can to fight for the right to keep Charlie alive, Alex has to put all of her personal issues aside, as she is due to assist on a heart-transplant surgery. The heart donor arrives down in the ER – a prison inmate who got in a fight and had his head
cracked with a barbell. Following his body into the hospital is the guy's spirit – Bernie, who immediately notices that Charlie can see him and latches on to him, much to Charlie's annoyance. Charlie is extremely preoccupied with what the outcome of the morning's hearing will be, and doesn't feel up to hearing the guy's story. Bernie, watching his organs being removed from his body, is upset at what is happening to him without his consent. Relenting a bit, Charlie explains that his family must have signed over permission for the donation, and tells Bernie that he is giving the gift of life to others. Bernie isn't really impressed, and thinks his family should at least have been paid for his organs. Alex goes to meet with the heart recipient – young, newly married Kyle, who is hopeful that this heart will give him a second chance at life, and that he can spend it with his loving bride, Grace.
Having just driven the organ donor to the hospital is police officer Jimmy, who takes the opportunity to get checked out for the back pain he is experiencing. Joel meets with him and runs some basic tests, but can't find anything physically wrong. Jimmy asks for pain medication, but
Joel wants to run an MRI first.  The results of the MRI still show no injuries or inflammation, so Joel recommends some specific exercises to help
with the pain.  Jimmy becomes irate, and pretty much demands that Joel just give him a prescription for pain meds and be done with it. He's a cop, an older man, and they both know he's not going to do those exercises. Joel gives in and writes the scrip,
Meanwhile, Charlie is "hiding" in the morgue, but Bernie tracks him down, and Charlie ends up explaining what's going on with him – his life or death is pretty much being decided that day. Suddenly, he feels a pain in his side. Is this a good sign? He rushes to ICU, but it turns out that he has an embolism (blockage of a vein)… definitely not good. Melanda tells Jackson to page Alex right away.
Alex, however, is right in the middle of the heart transplant surgery. Everything is prepped and ready for Hope Zee's heart surgeon, when Alex is shocked to see Dawn scrubbing up outside the room. Turns out, Dr. Levine has food poisoning, and Dawn is taking his place. She is cocky as she enters; stating that she does everything Dr. Levine does, but faster. She also uses the opportunity to take several digs at Alex during the surgery, telling her that she was once pregnant with Charlie's baby, and if she'd carried to term, they'd probably still be together. As Dawn finishes up
with her portion of the transplant, she's confident it went well, and is already pulling her gloves off when Alex notices a bleed – there's a tear in the heart, and blood is filling the cavity. Kyle's blood pressure is dropping rapidly. Flustered and angry, Dawn tries to find the tear, but can't locate it, and Kyle flatlines. Alex assures her that she can see the tear from her angle, and is sure she can repair it. Dawn has no choice but to turn things over to Alex, who quickly repairs the damage. The heart starts pumping again, and Kyle's blood pressure is on the rise – he's going to make it! Dawn even grudgingly compliments Alex on a job well done. Breathing a short sigh of relief, Alex steps outside the surgery room to look at Melanda's page, and immediately rushes off to Charlie's bedside. The clot has moved from Charlie's groin to his chest, but Melanda promises Alex that they're doing everything they can to break it up.
Over in the doctor's lounge, Joel, Maggie, and Gavin are all on lunch break. Maggie is grumbling about the upcoming weekend with her sister
and the crying baby, while trying unsuccessfully to knit a baby's cap. Joel, stretched out on the couch with his laptop, has no comment, but Gavin immediately offers to let Maggie stay at his place that weekend. Shooting a sideways look at Joel, Maggie gratefully accepts Gavin's offer, then,  giving up on her knitting, heads off to buy a cap instead. Gavin takes the opportunity to ask Joel about his relationship with Maggie, but Joel cuts him off, basically saying it's none of his business. Gavin digs a bit more though, and is surprised to hear that not only does Joel have no intention of hanging out with Maggie and her sister over the weekend, (even Maggie doesn't want to hang out with her, he claims) but he also doesn't believe that men and women can be just friends.
Seeing Dawn in the hospital coffee shop, Alex is unable to stop herself from asking again – why is she doing this – why does she want to kill Charlie? Dawn tells her that if Charlie were any other patient, Alex would feel the same way that she does. Alex disagrees. She says Charlie is a
fighter, and he will pull through. Dawn tells her that word is one that families use, not doctors. There is no such thing as a "fighter". The two women stare at each other, both convinced of the rightness of their opinions, when they are both paged. Kyle's body is rejecting Bernie's heart. Alex and Dawn are at his bedside when Kyle's wife Grace assures them with a smile that Kyle will be alright… he's a fighter. Dawn smiles back and says "That's good." to the couple, while the look she sends Alex clearly says "Told you so." more loudly than words.
We see Jimmy the cop is back, now wandering uninvited into the ICU. He ignores Melanda and heads towards Kyle's room. Jackson blocks his way, saying that he can't go in there. Jimmy insists that he just wants to say hi and give the boy his good wishes. Jackson tells him that he'll be sure to pass the message along, but only family is allowed in Kyle's room. As Jimmy wanders off unsteadily, Jackson tells Melanda that the guy is high as a kite. Later, Joel finds Jimmy lying down on a patient bed. When he tells Jimmy he's not supposed to be in there, Jimmy starts rambling about camping; then tells Joel a horrific story about going to a 911 call at a house where a young boy's mother had hanged herself in the basement. Joel realizes that the guy is seriously disturbed. He follows him back down to the ER, where Zach then tells Joel that they know all about Jimmy – he always hits up the new Hope Zee doctors in order to get pain meds. Did he use the back or the knee story? Joel is disgusted with Zach for not giving him the heads-up. Zach tells him that Jimmy accidentally shot a kid a few years ago on the job, and ever since then, he's been little more than a chauffeur. Handing Joel a cooler containing a set of kidneys, Zach asks him to go find his friend – these kidneys need transportation.
Bernie and Charlie watch Kyle as the young man struggles to survive. Bernie is sure that it's his fault – he was a bad person, (he killed two people) therefore, his heart is bad. Charlie assures him that there is no such thing as a "bad heart", just bad life choices, but Bernie isn't
convinced. More to placate Bernie than anything else, Charlie tells him that now could be his chance to do something good – make peace with his heart. Bernie does just that, sitting down beside Kyle and telling his heart that it is in a good person now, and it needs to be good too. As he places his hand over the heart and says "I'm sorry." Kyle's heart monitor comes to life. At first, Bernie panics, thinking he's killed Kyle, but with a smile, Charlie tells him no, it's a good sign – Kyle's body is accepting the heart! Bernie's spirit can now be at peace. Dawn and Alex are called in, and as they give these same happy results to the young couple, Alex is able to triumphantly return the "Told you so." look to Dawn.
The hearing moderator has reached a decision, and calls Alex and Dawn back to the conference room. In the eyes of the court, an ex-wife and a fiancé are equals, and after listening to both sides, Mr. Stein feels that Alex is letting her emotions get the better of her, and that Dawn is better able to make the decision for Charlie. Alex is devastated.
Tracking down Jimmy, Joel finds the cop sitting in his cruiser in the parking garage. As he approaches the vehicle, he is shocked to see Jimmy holding a revolver in his hand. He warily asks him what's going on, and the cop looks up at Joel with tears in his eyes. People used to look at him

as a hero, he says. But he accidentally shot that kid five years ago today, and now… no one looks at him that way anymore. The pain meds help him to forget for a while, but he can't go on like this. Joel can see what Jimmy is thinking, and desperately pleads with the man, telling him that it's going to be okay – things are going to get better, he'll see. But Jimmy takes Joel's words in a completely different way. He seems to agree, nodding and saying that yes, things WILL get better, then puts the gun to his head and pulls the trigger as a horrified Joel watches, unable to do anything to stop him in time.  (High five to both actors here – this was a tremendous, gut-wrenching, well-acted scene.)
Still reeling from the shocking decision at the hearing, Alex wanders into the hospital lobby and finds Joel sitting there.
He's still shell-shocked from what he just witnessed, and tells Alex he's probably not the best person to talk to at the moment. Not knowing what just happened to Joel, Alex can't stop herself from blurting out that she lost at the hearing – and she's absolutely terrified that Dawn is going to pull the plug on Charlie  and kill him. Unsure of what else to say, Joel starts to say that he still… when Alex cuts him off. She doesn't want to hear about any feelings Joel still has for her right now.  Joel, unable to deal with anything more at the moment, walks off, shoving the hospital door open with a vengeance.  Just as he leaves, a Code Blue comes over the hospital loudspeaker for Charlie's room number in ICU, and Alex takes off running.
She reaches ICU to find Melanda and Jackson with Charlie – he's flatlined. Jumping onto the bed with him, she immediately starts administering CPR while Melanda gets the electro-shock paddles ready. They shock Charlie a couple of times with no results, when Dawn suddenly enters the room and orders them to stop. Charlie is DNR, and they are breaking hospital rules. Furious and desperate, Alex orders Melanda to shock Charlie one more time. When Melanda hesitates, eyeing Dawn, Alex screams at her to do it! She does, and Charlie's heart starts up again as Alex collapses with relief. Dawn lights into her, though, demanding to know if she broke Charlie's ribs (she didn't), and what will happen the next time? Charlie deserves to die with some dignity she tells Alex, as the women face off, both crying. Dawn says it's time to take Charlie off of the ventilator. At this, Alex dissolves into tears, begging Dawn not do it. "I can't breathe!" she gasps, sobbing her heart out. (Was there a dry eye watching this scene? Erica Durance is amazing – I'm tearing up just writing about it!) Even Dawn is moved, and tells Alex that she can see her heart is breaking, but she is still determined to do what she thinks is best for Charlie, and that means removing him from life support.
Joel is at a local bar, drowning his sorrows in alcohol. A pretty girl in the bar starts to flirt with him, when her boyfriend returns from the bathroom. The guy provides Joel a convenient outlet for his hurt and anger, and he picks a fight with him, which ends in a broken nose for the boyfriend, and possibly a broken hand for Joel. He cradles the hand to his chest as he gets in a cab to head back to the hospital.
Sitting outside after work, Maggie confides to buddy Gavin that Joel witnessed Jimmy's suicide. When Gavin asks how things are going between

the two of them, Maggie says they're fine, but it sounds like she's trying to convince herself more than Gavin, and he doesn't buy it. Typically, he says, there's the boy that a girl likes, and a boy that likes the girl, but they're never the same guy. What would Maggie do if the boy actually liked her back? Feeling confused, Maggie asks Gavin to stop talking, and he agrees – words are not what he needs. He leans in and plants a passionate kiss on Maggie. At first, she returns it, but then panics and pulls back. Telling him it probably wouldn't be a good idea to stay at his house that weekend, she quickly runs off.
Alex is sitting with Charlie, tearfully telling him that she loves him and will never give up on him.
Charlie's spirit sits with her, understanding and supportive, yet helpless to comfort her. Dawn enters… she's sorry, but it's time. As Alex wraps
herself around Charlie, sobbing her heart out, his spirit urges her to hold on tight. Dawn reaches over and switches off the ventilator. So now, Saving Hope fans, we have to wait until August 16th for the next episode, due to NBC coverage of the Olympics. And what an emotional cliffhanger we're left with!  This episode was indeed all about heart. Sick hearts, broken hearts, both literally and figuratively. What do you think will happen to Charlie? Leave your comments below!
Twitter: @TheVRO
Facebook: Variety Radio Online
Tumblr: Variety Radio Online