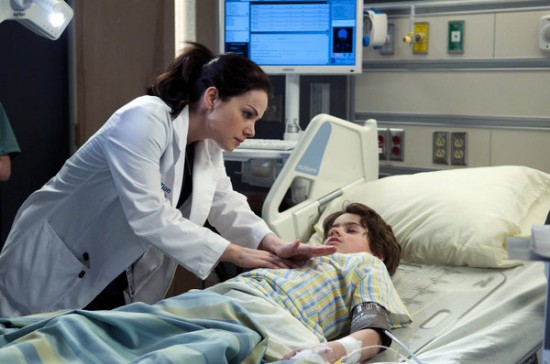 By: Lynn
Well, for me, the second episode of Saving Hope surpassed the first – this show is getting better and better! Viewer numbers were up in both Canada and the US, which is a great sign! This week's theme is "Contact" – how we, as people, all need some form of contact with our fellow human beings, whether it be talking, touching, or simply being near someone, even if only for a short time.
 The show starts with Alex getting in a bit of hot water with the newly appointed interim Chief of Surgery, Dr. Dana Kinney, because she is running late for a surgery she was scheduled to perform. She's been sleeping in the ICU at Charlie's bedside, and may not be at her best. Dr. Kinney makes it clear that she will not be cutting Alex any slack, and has already assigned another doctor to perform the surgery.
Dana: "You may be Chief Surgical Resident, but I'm not your boyfriend. No special treatment, Reid."
Surgical resident Maggie Lin confesses to her pal, Dr. Gavin, that she has a crush on Dr. Joel Goran. (Who can blame her, really?).
Dr. Goran finds himself, with the help of Maggie, trying to treat a woman with a badly broken leg and internal injuries. However, she and her husband both refuse to let her be given any pain medication or receive a blood transfusion due to their religious beliefs.
Joel is frustrated, but does what he can for the woman's leg. Without a transfusion, however, the woman will surely die. Her spleen is ruptured, and she is bleeding internally.
Alex, meanwhile, has a young boy with very odd symptoms that no one can seem to figure out. The boy (Cal) seems fine one moment, and then deathly ill the next. In fact, he is sitting in the lobby talking to Alex at one point, about to be discharged, when he suddenly collapses and flatlines. As Alex and the crew work to revive him, the boy's spirit looks to the side of the operating room, where he can see Charlie! Cal's heart starts beating again, and he is brought back to his body, not really remembering anything from this short journey to "the other side."
Adding to Alex's stress, Charlie's ex-wife, Dawn, shows up at the hospital to visit Charlie in ICU, and though she remains mostly polite, she makes it clear that she doesn't think Alex and Dr. Shahir are doing everything possible to try to get Charlie to come out of his coma. She wants Alex to try "coma arousal therapy", which involves stimulating Charlie's senses through sound, smell, and touch. Alex argues that it has no proven scientific benefit (and Shahir agrees with Alex), but as Dawn says, why not try it? (In this instance, I must say I agreed with Dawn – proven or not, what would it hurt to try?)
Dawn: "Well I would think that you would try anything! I know that I would."
Dawn ends up trying some of this therapy on her own, playing Charlie's favorite song for him through earphones, and massaging his shoulders (which doesn't go over too well with Alex!). The show makes a point here of Alex stating that she is still just Charlie's fiancé, not his wife. I have a feeling this will come into play later, when decisions have to be made about his future…
Over in Cal's room, his parents, who are going through a divorce, get into a heated argument over his treatment. Cal overhears them and gets very upset, yelling at them to stop, and then he abruptly flatlines again. This time, he spends several minutes outside of his body, and Charlie is able to have a conversation with him. The scenes with Charlie and Cal were great, with Charlie trying to explain what it meant to be in a coma versus being dead, comforting Cal and telling him it was not his fault that his parents argued a lot, and then eventually, Charlie figuring out what is actually wrong with Cal just as his spirit re-enters his body, and Alex makes the same diagnosis on the other side.
Cal: "I bit my doctor." Charlie: "Dr. Runnel, the pediatrician? Good for you. She can be kinda mean."
When faced with the reality of his wife actually dying in front of him, the husband of the lady with the injured leg and ruptured spleen finally consents to let Joel and Maggie perform surgery on her and give her a blood transfusion. Later, Maggie realizes that Joel was pretty sure all along the husband wouldn't let his wife die, as he already had the blood and the OR on standby. She's impressed, and doesn't hesitate to say so!
Maggie: "I do NOT have a crush on you." Joel: "Good." Maggie: 'But I'd do you."
Now that Alex knows what is wrong with Cal – a rare type of tumor that dumps massive loads of hormones into his body – she knows what to do, and can perform the surgery to remove the tumors. However, during the surgery, Cal flatlines a third time, if only for a minute. It's long enough for Charlie to ask Cal if he'll pass on a message to Alex – that he loves her. As Cal recovers from the surgery, his memory of everything that happened while in spirit form is very vague, but he draws a picture of a man in a black and white suit, with an undone bowtie (exactly what Charlie was wearing the night of the accident.). Alex doesn't know quite what to make of it, but she keeps the picture, and can't help but feeling a rush of hope, despite her more practical side telling her it's impossible for Cal to have seen Charlie. She goes to see Charlie in ICU and plays a special song for him, from the night that Charlie first told her he loved her.
Maggie decides to go for it with Joel, and basically drags him into a spare room. Despite Joel's feeble protests about it being "a bad idea", before long, the two are in a full-on makeout session. Joel is honest with her and does tell her that he's not ready for a relationship, but Maggie simply tells him to shut up.
Joel: "Does the door lock?" Maggie: "No." (shirts off!)
As a montage of scenes plays of Alex with Charlie, Cal with his parents, the husband and wife, and Maggie and Joel… Charlie reminds us of this: "Basic human contact. It's bigger than any idea. It takes you outside yourself. It's more comforting than words. Without it… we'd die. But sometimes, it's not enough. And sometimes, it's enough – for now. Contact grounds you. It brings you back."
And as his spirit says those words… Charlie's hand moves in Alex's grip…and Alex cries with joy.