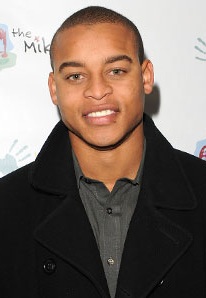 Robert Ri'chard is an amazing actor and friend! We all love him here at Variety Radio Online. He has starred in the Nickelodeon sitcom Cousin Skeeter. He also made a few appearances as himself on the hit Nickelodeon game show, Figure It Out. He played Alex on 'Touched By An Angel, a troubled teen who is in prison for shooting a man. Also, he has appeared in films such as Coach Carter and House of Wax.
His breakout role was in the TV adaptation of Anne Rice's novel, The Feast of All Saints, where he played the young Marcel who becomes a man within society. He has been professionally acting since the age of 13. He appeared in the movie Light It Up along with R&B star Usher. On November 16, 2011, it was announced that Robert Ri'chard was cast as Jamie in the TV series The Vampire Diaries.
Robert has been on Variety Radio Online a number of times. You can check out his radio interview HERE.
Now Robert is here to answer 'Listeners Top Ten'.
1. Character you've played that you relate to the most?
Damien Carter is pretty spot on when I relate my personal character to a character I've played. He's a good guy, smart, but is willing to push the boundaries and leave private school to go after his dream of playing ball and WINNING.
He's a good guy pushed to break the rules because he is that passionate. I've experienced mirrored circumstances of this in my own career.
2. What would be your dream role?
I love saving woman vs. saving the world!! To run, shoot the gun, and most importantly steal a kiss from the girl of my dreams…There's no greater role.
3. Who was your first celebrity crush?
Well my first is Halle Berry because she's a knockout. As of late, Nina Dobrev is looking pretty fine on the cover of Cosmopolitan Magazine Sept 2013. 😉
4. Current television show you can't miss?
NFL Football. Cant miss it, not even for a food run!!!!
5. Movie you can watch hundred times?
Catch Me If you Can with Leonardo. If I could only watch one movie for the rest of my life, that's my Go To on the couch. Inception ain't half bad either 😉
6. Song you play on repeat?
If you've never heard Royksopp – What Else Is There (Remix Flashlights & Explosions) you may want to put your stereo on Full Blast and start working out. You will be drenched 2 hours later like you just jumped out the pool.
7. What's your favorite author/book?
Hands down, Nick Hornby. Read High Fidelity and then read About A Boy. Classically, I like Homer. Odyssey I one of the best books ever written in history. Everything you can want in a book, love, war, intellect, famine, victory, defeat, glory…EPIC!!!
8. Do you have a hobby?
Is swimming a hobby? Love pools of all kinds…. uhhhhh what about lip-locking a babe….seems like that qualifies as a hobby
9. If you could have dinner with anyone (dead or alive) who would it be?
The IRS. Seriously what is your DEAL??? 50%, you didn't do anything and you want half!!!!!
10. One thing people would be surprised to learn about you?
I love helping people out. Seeing others dreams come true is so amazing to me. Now you get to buy dinner you successful champion you!!! lol
Bonus Question: In a Zombie Apocalypse, who would you want by your side?
My wife!!! I'm not married yet but if there's a Zombie Apocalypse, I'm finding the nearest priest to marry the girl I'm lip-locking with, and I'm saving her life and keeping her right by me!! #You're.safe.babe

Stephen Limbaugh one of our fan favorites here at Variety Radio Online. Check out his website stephenlimbaugh.com to find out why. Stephen answers our 'Listeners Top Ten'! 1. Character you've played that you relate to the most? I did a Randy Wayne impersonation once…. it wasn't that good though. But then he did a Stephen […]

Jordan Pier from Leaving Richmond answers our 'Listeners Top Ten'! Visit www.leavingrichmond.com for more info on Jordan and Leaving Richmond. 1. Character you've played that you relate to the most? I have never really played any characters. 2. What would be your dream role? Not an actor. 3. Who was your first celebrity crush? Ariana […]