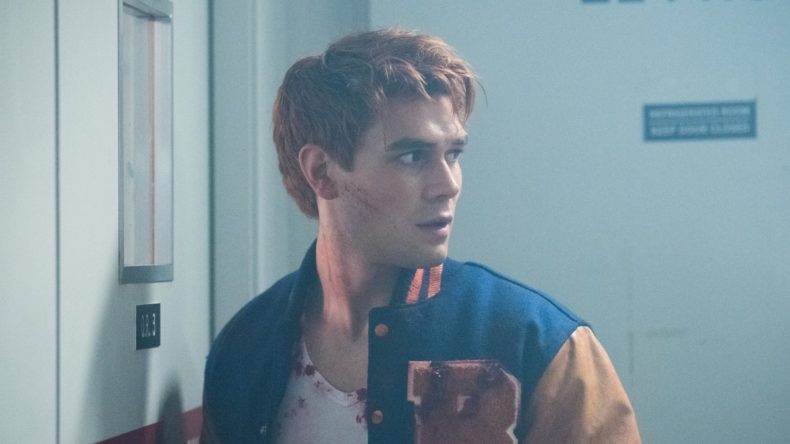 After several months of anticipation and longing for more, Riverdale finally returned to the CW last Wednesday with what might be the darkest episode to date. We started our waiting game before this season even premiered wondering if Fred Andrews was going to live to see another day or if he would become another victim to the endless darkness that is Riverdale.
This is what unfolded in "Chapter 14: A Kiss Before Dying"
The first episode of this season picked up with the aftermath of where the last season left off, the day after the Mayor's jubilee. We see Archie panic as he drives his father to the hospital for them to assess the damages the bullet may have caused. The scene skips to Betty and her mother talking about her and Jugheads rendezvous the night before. Betty then receives a phone call from Archie informing her of the dramatic events that occurred. Every member of the core four and their parents rush to the hospital to be there for their dear friend. Archie explains exactly what happened that night, before stepping away to inform his mother as well. He tells her to come as soon as she can in case they need to say their goodbyes. The sheriff comes to question Archie and Jughead tags along for support. Jughead notices the hesitation as Archie is explaining what happened to the sheriff and confronts him about it but Archie doesn't tell him why.
The scene changes to Veronica explaining to Betty that she isn't the best at dealing with death and grieving boyfriends. The doctor comes in to inform them that Fred is recovering but he is unable to breathe on his own. Veronica insists Archie goes home to shower and process what has happened. Once they get back to the house, Veronica and Archie are going to walk Vegas and Arch is telling stories of how Vegas was his responsibility but Fred had started taking care of him due to Archie's constant curricular activities and that his father loves Vegas more than anyone. Back at the house, Veronica joins Archie in the shower for what could be the steamiest scene we have seen between the two so far. After that, Archie asks Veronica to leave and let him be. Before, Veronica would have just left but with the advice Betty gave her (thank the lord for her) she stayed stating she will not be going anywhere no matter how much he pushes her away and she held Archie as he broke down.
Back at the hospital, Betty expresses her feeling about Jughead to Kevin and told him about the Southside Serpent jacket. Suddenly, Cheryl appears in the hospital and explains to Kevin and Betty that there was a terrible fire at Thornhill in which she almost perished if not for her mother's heroic actions. Now, we know this to not be true as we watched Cheryl burn Thornhill to the ground last season, her mother had run back in to grab a family portrait and caused third degree burns all over her body.
Archie goes to the police station to attempt to identify the shooter while Betty and Jughead go on a mission to find Fred Andrews wallet which seem to be missing. Veronica is in the chapel at the hospital accusing her mother of putting a hit out on Mr. Andrews due to him no longer wanting to sell the company to Lodge Industries and because of their activities that took place outside of the office. Personally, I believe it was Hermione or Hiram who put the hit on Mr. Andrews because this wasn't just a random act of violence, he was targeted. Hermione goes on to threaten Veronica stating that she "better get back in line with this family" as she "is a Lodge before anything else" and that she should slap her for her accusations but she isn't a violent person.
Betty and Jughead speak with Pop who stated the gunman didn't get off with any cash and reflected on the gunman saying it was like "the angel of death had come to Riverdale". Fred's wallet wasn't at Pop's but they stayed for a burger and fries, of course, it's in Jugheads nature. Betty expresses her worries about Jughead becoming a Serpent but he states that he's not sure what is going to happen.
The scene changes to Cheryl threatening her mother that if she tells anyone what really happened with the house fire than she will tell everyone what really happened in the barn with Mr. Blossom. Excuse me, what?! What really happened?! I may have freaked out a bit, as I didn't expect that. Cheryl goes on to cut her mother's breathing off, and says anything that her mother does is only going to be done by Cheryl's hand/blessing. Have I expressed how much I love Cheryl as a character and can't wait to see more of her?
Archie finally tells the core four that after the guy shot his father, he was paralyzed and the gunman held his gun to Archie's head and during that time, the gunman stole Fred's wallet. Archie then goes to his father's room and see's Cheryl kissing his father's forehead to pay him back for giving her the "kiss of life" at Sweetwater River and now she has given it to his father. Then we see the iconic wedding scene that Fred is dreaming about between Archie and Veronica. He wakes up when the gunman shoots him in his dream. Archie expresses a sigh of relief as his father is finally wakes up. Fred explains that he chose to come back to protect Archie as it is not Archie's job to protect him.
The Southside Serpents show up at F. P's trailer to tell Jughead that with or without the jacket, he's a Serpent and they will take care of him.
Hiram (finally) shows up to the Lodge residents and Veronica questions him on his action asking if he's changed? She explains Fred woke up and will make it through, stating she knows they're all really happy about that. Our episode ends with Archie standing guard at their front door to protect his house and family. Plot twist, Ms. Grundy is on the other side of the river in Greendale preying on her next victim. Suddenly, she's attacked by the same man who attacked Fred Andrews. Now this leaves me wondering, who would have a grudge against both Ms. Grundy and Mr. Andrews? Or is the grudge really against Archie? Guess we'll find out in episodes to come.
Riverdale airs on Wednesdays at 8/7 c on the CW!