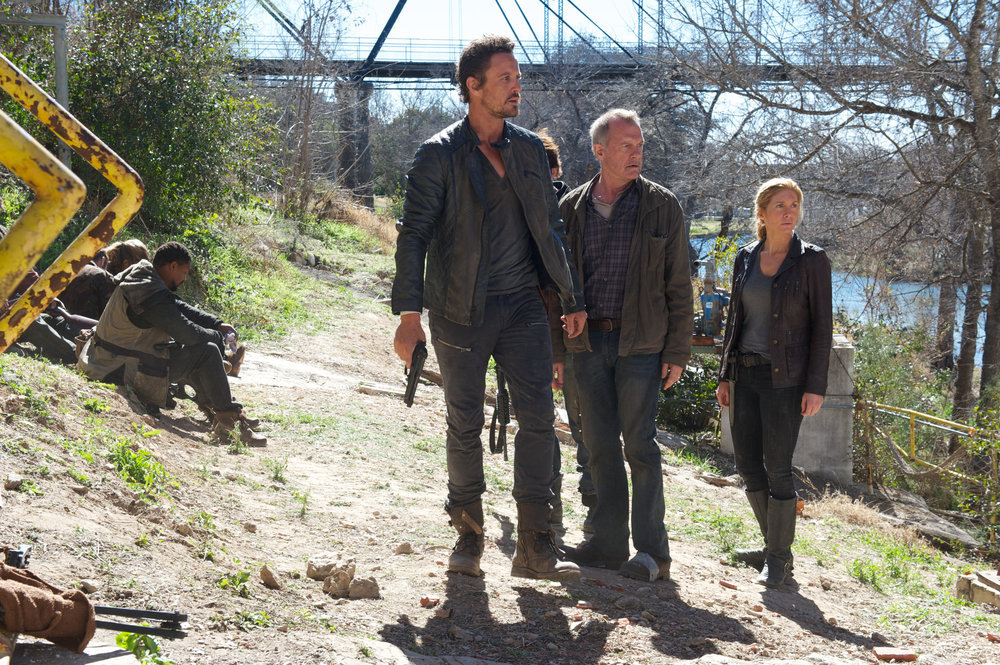 Revolution Season 2 Episode 16 "Exposition Boulevard"
By: Lexie Gerson —March 12, 2014
Last night, Revolution returned with a new episode called "Exposition Boulevard."
Miles (Billy Burke), Rachel (Elizabeth Mitchell), Neville (Giancarlo Esposito) and Jason (J.D. Pardo) are in a standoff. But before we can see who will shoot first Doyle and the Patriots ambush leading Miles and Rachel to flee.
Doyle (Christopher Cousins) reprimands Neville for his failure in capturing Monroe. He then reveals that the only reason why Neville and Julia are alive is because the President ordered gave orders no to kill them.
Throughout the episode we see that the Patriots don't carry a high opinion of Truman (Steven Culp). At first, we thought that Truman was one of the worst but we clearly learn that this is not the case, he is fairly soft compared to the rest of them.
During a flashback we get a look into Truman's past, working at a U.S. detention facility on Guantanamo Bay. The facility continued to be operated even though they hadn't heard from the mainland. Truman questions this immediately but is shot down by his superior. The surviving members of the U.S. Government arrive on boats and they begin to plan for a new United States with their fittest survivors.
After a week, Monroe (David Lyons), Conner (Matt Vairo) and Charlie (Tracy Spiridakos) return to the group. Miles makes a witty remark about Miles returning empty handed thus, reminding us that they do not have enough member to defeat the Patriots.
The re-education program is underway at the camp. Miles and Monroe are horrified to discover that they are using kids. As the two head to their safe house they discover new Patriot recruits spying on them. Since the recruits are just kids Miles is conflicted as to whether or not it is right to kill them. Miles wants to be a better man but he understands that they are a threat.
They are brought back to the safe house where they all discuss what to do with them. The kids make it clear that they wanted to sign up, however, Gene (Stephen Collins) knows those kids, he helped bring them into the world. Miles tags along as Gene and Rachel take them home. Miles is still conflicted but Rachel reminds him that Monroe killed Danny.
Aaron (Zak Orth) and Priscilla (Maureen Sebastian) head back to Willoughby but Priscilla appears to be acting quite strange. Instead of her most recent miserable self she is now overjoyed and elated by everything. This causes Aaron to raise some suspicion but he soon agrees with her that they should be happy because they are alive and together. The two later make love but as Aaron sleeps Priscilla wanders off into the woods and is greeted by the fireflies. Are they controlling her?
Back in Willoughby, Kim (Jaz Sinclair) and Dillon (John Omohundro) are brought back together at home. Kim's father is furious that they removed them from the camp. Kim tells him about the harsh conditions but her father quickly notices that something isn't right. As he takes a closer look he realizes that she has a number tattooed on her eyelid. Unknowingly, he reads it out loud and activates her. She shoots him and tries to shoot the others but her gun runs out of bullets. Now helpless, Kim picks up a sharp tool and slits her throat.
They return to the safe house will Dillon but are quickly ambushed by the Patriots. Apparently, Neville convinced Truman to go against Doyle and capture Monroe secretly. Unfortunately, their plan backfires and they all manage to escape.
Doyle reprimands Truman for going behind his back and tells him that he must get his permission before doing anything. Truman tries to defend himself but is unsuccessful. As he goes to leave the room, Truman looks to Neville with question as to whether or not he is doing the right thing. Neville picks up on this immediately.
Once again, Doyle is one step ahead of Neville. He summons Jason into the room and hold him down as he reads out the number on his eyelid. Jason is activated and Doyle begins to question him about his father.
Share you thoughts and tune in to Revolution Wednesday's 8/7c on NBC to see what happens.