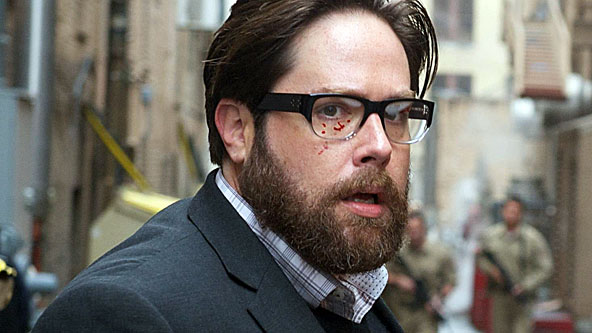 Revolution Season 2 Episode 15 "Dreamcatcher"
By: Lexie Gerson —March 5, 2014
Last night, Revolution returned with a new episode called "Dreamcatcher."
Aaron (Zak Orth) awakes to find himself in a world with power. He is married to Priscilla (Maureen Sebastian) and running his company. Although he knows something is not quite right, familiar faces begin to appear.
An alternate universe has taken over. During this state, Aaron can recall his past, which comes back to him in flashes as he tries to enjoy his new life and his wife. Before Aaron blacked out he killed the Nanos. Or so he thought he did.
Back at his company, Aaron runs in to multiple employees who want him to fix a broken a code. When they first ask him, he sees Rachel appear on TV and it prompts a flashback. Someone, at times something, jogs most of his past memories.
As he struggles to determine which world is real, Aaron begins to crack. He worries about losing his mind and asks his wife to take him home to get his head straight. The next day Aaron heads back to work in what he believes to be his 'real' life. Again, Aaron is asked to fix a broken code. He comes close to fixing it when Charlie (Tracy Spiridakos) appears, kills off his employees and kidnaps him.
Apparently, Aaron never finished killing off the Nanos. Charlie who is really a figment of his imagination tells Aaron that the Nanos built this program inside his head in order to get him to fix the code. Part of Aaron knows that he is being manipulated and that's he created Charlie. Charlie tells Aaron that he needs to find his friends [Rachel, Miles, etc.]. His friends will help him escape. But he must be careful. The Nanos have and will kill anyone who gets in their way.
Unfortunately, none of his friends remember him. Aaron tries to approach Rachel (Elizabeth Mitchell) with the truth but she stun gunned him. However, Aaron manages to conjure up a gun and forces her to bring him to Miles (Billy Burke).
In fact, his ability to alter this universe is what helps saves him on numerous occasions. He even had to summon weapons for Miles and Monroe (David Lyons) to get them to remember him and "wake up". But when it comes time for Aaron to wake up Rachel suggests that they use something that will terrify him. Aaron isn't sold on the idea but his fear of falling is sure to be an option.
The Nanos try to stop Aaron from jumping. The Nanos try to reason with Aaron by using his wife but when that doesn't work they attempt to torture him. Yet none of it works. Aaron's friends managed to break through to him and he comes to the realization that he can control what's going on within his own mind. He just has to stop reacting.
Aaron takes control and manages to wake up. He finds himself lying on the floor surrounded by Priscilla and Peter. But there's a problem. Without the Nanos the power is coming back and it's dangerous. Destructive lightning swept over everything.
Aaron finally reunites with Rachel and Miles. He soon learns how dangerous shutting down the Nanos really was. A lightning bolt hit Rachel and now Aaron must fix everything. If he had the time he could have realized that a conveniently located laptop just lying around couldn't be real. However he doesn't have the time and it isn't until after he finishes fixing up the Nanos that he realized he has been tricked.
His creation manipulated him into thinking he woke up. The Nanos clearly have a plan and now they no longer need Aaron.
After all is said and done, Aaron just wanted to go home. Little does he know what he is returning too.
Share your thoughts and tune in to Revolution Wednesday's 8/7c on NBC to see what happens.