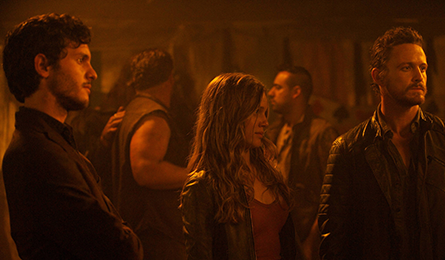 Revolution Season 2 Episode 13 "Happy Endings"
By: Lexie Gerson —January 29, 2014
Revolution returned to NBC last night with a new episode called, "Happy Endings" which provided a little love, a little action, and a little rock and roll. Here's what went down last night.
Last week Revolution left is with a cliffhanger with Conner (Mat Vairo) in a standoff with the Patriots inside Truman's office. Conner entered the camp with Truman (Steven Culp) with the intention of getting the typhus antidote for Gene (Stephen Collins) and the infected Willoughby townspeople.
Conner has his gun at Truman's head as five Patriots place their drawn weapons on the men. Truman orders Patriot Sanders to take the shot. But before he can, Miles (Billy Burke) snipes Sanders in the head and the others withdraw their weapons.
Connor handcuffs the Patriots to radiators, places the medicine in a bag, and returns to Gene, Charlie (Tracy Spiridakos) and Rachel (Elizabeth Mitchell). They administer the antidote to the sick and place Gene on a gurney, escaping the camp and picking up Miles and Monroe (David Lyons) on the way.
Tom Neville (Giancarlo Esposito) has been severely beaten and held in custody by Doyle and The Patriots. The President, Davis, summons him. The President appears to know everything about Tom because of Julia (Kim Raver), who hasn't been keeping her mouth shut. The President wants to keep Neville and Julia alive in order to find Monroe. "You know Willoughby, Texas? I have important plans for that town."
The plan is to have Monroe executed and since Tom knows Monroe better than anyone, it's up to him to travel to Willoughby and carry out the hit.
Davis knows that Tom will carry out the hit because if he doesn't he'll torture Julia. "I'll cut out her tongue…" Davis rips up a picture of her to simulate the demise.
Tom agrees and convinces Davis to let Jason (JD Pardo) go to Willoughby with him. The father and son quickly arrive at Willoughby and meet with Truman.
Meanwhile, Charlie, Conner, and Monroe head to New Vegas to recruit armed forces while Rachel and Miles camp outside Willoughby to take care of Gene and keep an eye on the Patriots.
Before departing for Vegas, Charlie and Connor share some awkward moments full of flirtation. The trio then heads to New Vegas, which hasn't changed much post-apocalypse. New Vegas is full of promiscuous woman, gambling and booze.
The trio are in search of Duncan Page. But before they manage to find her they come across Bret Michaels singing his infamous song "Every Rose Has It's Thorn." Of course, in an apocalyptic world, Bret Michaels would survive. Monroe makes a few humorous stabs at Michaels' survival. The trio stumbles upon a man named Gould who thinks Monroe's name is Jimmy King. Jimmy was Gould's best fighter, but he vanished, and now Monroe owes him.
Charlie, Conner and Monroe find Duncan (Katie Aselton, The League) in a poker room and things quickly turn defensive. Weapons and pulled and Charlie puts a gun to Duncan's head. Monroe tells Charlie to lower her weapon and after much hesitation she obliges.
Meanwhile, Aaron (Zach Orth) and Priscilla (Maureen Sebastian) make their way on foot to Lubbock, Texas. There they find Peter (Daniel Henney), their old friend who helped them create the nanite technology. As co-parent of the nano Peter has learned that he can heal people, he saves a young blind girl by praying.
Peter believes that it is God who gives him the power and the townspeople worship him for his healing abilities. He has given them faith.
During their conversation, Monroe convinces Duncan to sell him some men at 30 diamonds a head. But before they can make the sale they need to raise the capital.
Back in Willoughby, Rachel and Miles finally get some sexual healing. The couple spends their Saturday night on a bench where they pretend to watch a drive in movie, Evil Dead 2. Just like the good old days. However, their movie doesn't last too long as Rachel quickly tears off her shirt and declares that 20 years is long enough.
But they aren't the only two getting lucky tonight! Monroe returns to camp ready to execute a plan. Instead, he finds Connor and Charlie in post-coital bliss. Monroe is naturally horrified.
Charlie and Conner do not seem to overanalyze the situation; to them it's only a problem if they decide to care. Monroe yells at Conner for being a halfwit but he just laughs it off.
Tom and Jason manage to find Monroe and Rachel's secret hideout. Tom tells Rachel, Gene, and Miles that he is in Willoughby for revenge, to kill the Patriots who dropped the bomb that killed his wife. Miles is unsure of Tom's intentions but Jason swears on his mother's grave that his father's words are true.
In Lubbock, Peter locks Priscilla and Aaron inside a hotel room to keep them from telling the townspeople about the nanites. He tells them that they are going to stay in the hotel room until they figure out why the nanite has brought them together.
Monroe's plan is in full swing and he stages a fight with Gould's best man to distract the guards. Charlie and Conner proceed with the heist as Monroe fights for his life.
At a gaming table, Charlie plays cards as a seemingly over-intoxicated Conner collapses on the table. The observers in the tent make their way over to help Conner. At that moment, Charlie grabs the lockbox of diamonds and makes a run for it. The guards chase her down and she drops the box as she hops the fence to safety.
Monroe sees the guards rush to tell Gould of the theft and nearly kills them. Gould soon finds the lockbox, which is now filled with rocks. Turns out Charlie switched the boxes and placed the real one in a trashcan. When the guards began to chase Charlie, Conner placed the box of diamonds in a backpack and went to find Monroe.
Just when we think they're in the clear Gould's henchman find Conner and Monroe making a run for it. The episode ends with the henchman hitting Monroe upside the head with the end of his gun.
Tune in to Revolution when it returns February 6th.