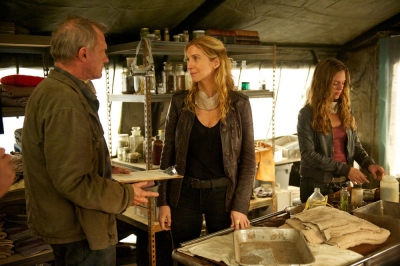 Revolution Season 2 Episode 12 "Captain Trips"
By: Lexie Gerson —January 22, 2014
Revolution returned to NBC last night with a new episode called, "Captain Trips."
In last night's episode, Charlie (Tracy Spiridakos) and Rachel (Elizabeth Mitchell) are compelled to help Gene (Stephen Collins) find a cure for the outbreak. But Rachel makes a discovery about the disease that throws suspicion on the Patriots. Miles (Billy Burke) and Monroe (David Lyons) continue to join forces in order to survive while Julia (Kim Raver) and Tom Neville (Giancarlo Esposito) work to rescue their son, Jason (JD Pardo).
Miles, Rachel, Monroe and Connor (Mat Vairo) return to Willoughby only to find Charlie, Gene, and Aaron (Zach Orth) gone. Shortly after, the group discovers the Patriot's campsite where Charlie and Gene have been residing in order to help treat those affected by the outbreak.
Typhus breakouts continue to spread like wildfire and Gene does his best to treat those who have been infected. After seeing her father and daughter, Rachel decides to enter the campsite in order to be with her family. While there she helps Gene treat those who are being held in quarantine tents.
In Washington, Julia and Tom plot to save Jason from her new husband, Doyle (Christopher Cousins). During their many secret conversations, we see a series of flashbacks. The flashback takes place two years after the blackout occurred; a young Jason is starving and on his way to death. In order to provide food for his son, Tom attacks two men he comes across in the woods.
Back in Willoughby, Rachel, Charlie and Gene are working to help cure patients. Gene and Rachel notice that the patients aren't responding to the fluids and that the symptoms match but are not spreading the way it should. This raises suspicion.
In Spring City, we see that Grace has abandoned Aaron and Pricilla. Shortly after Aaron makes this discovery he is visited by the Nano, who appears as his former love, Cynthia (Jessica Collins). She tells him that they [Pricilla and Aaron] must go to Texas.Unconvinced, Aaron asks the Nano why he should do anything it says. She responds by telling him that they will be in danger if they do not go. Just then, Priscilla (Maureen Sebastian) enters the room and asks Aaron whom he is talking to.
Charlie and Rachel run some blood tests and quickly discover that the outbreak is not what it seems. Rachel promptly goes to tell Gene what she has discovered.
She tells him that the outbreak is not a naturally occurring typhus; it was made in a lab. Moreover, reveals that the Patriots started the outbreak on purpose. But how do they stop it? They must find the cure.
Rachel signals Miles, Monroe and Connor to fulfill the plan to find the cure. Connor is reluctant but Monroe reminds him that in order for them to reclaim the Republic they need to have Miles on their side. Although he is averse, he agrees to go along with the plan.
Julia tries to find out where Doyle is keeping Jason but he is clearly suspicious of her questions. We then see another flashback of Julia and Tom in which Julia tells Tom that they must start using their strengths if they want to survive. Back in the present, Julia snoops around Doyle's office while he sleeps and uncovers paperwork that confirms that Jason was one of his experiments in the reeducation camp.
Miles, Monroe and Connor sneak into the Patriots camp where they wait for Rachel and Truman (Steven Culp).
As she observes the patients, Rachel comes to the realization that the outbreak is being used to exterminate those who the Patriots feel are "undesirable," its all a cover. In that moment, Gene collapses; he has been infected.
Julia and Tom attempt to come up with a plan to overtake the Patriots and retrieve Jason alive. Julia says, "I'll do whatever it takes." In another flashback of Julia and Tom we see Julia seduce and divert the same men Tom previously attacked. Julia gets intimate with one of the men inside a tent while the other one sits by the fire. But Tom quickly appears and kills both men.
In Willoughby, Rachel, Miles, Monroe and Conner attack Truman and bring him to a secure hideout. In order to help Gene, Miles infects Truman with a distilled version of typhus and demands to know where the anecdote. Of course, Truman wants to live so he agrees to show them where the cure is being held.
Priscilla refuses to go with Aaron to Texas. As she attempts to run, the Nano appears as a fly and nearly kills her with a tree. Those Nanos aren't messing around!
We then see the Mathesons share a sweet family moment by Gene's bedside. Gene is slowly deteriorating and wants to quit but Rachel refuses to let him give up.
Tom arrives at the home where Julia, Doyle and the Henderson's are meeting for lunch. Tom sneaks in the back door and storms into the dining room, gun in hand. There he finds a room full of armed Patriots, Doyle and Julia, who has a gun to her head. Doyle tells Tom that he knows everything. "Come on Tom, you don't want to share a nice meal with your wife." Although Tom denies the accusations the jig is up. Julia insists that Doyle return Jason but he neither confirms nor denies that Jason is still alive. Doyle tells Julia and Tom that they will never see each other again before separating them.
The plan to retrieve the anecdote is in place. Conner, disguised as a Patriot, forces Truman at gunpoint to lead the way.
As the plan begins, we see Gene worsening, Charlie and Rachel to rush to his aid but time is the essence.
As the episode makes its way to an end we see Truman and Conner make their way to the Patriot camp and Truman's office. Truman unlocks his safe where the anecdote is being kept. Conner retrieves that anecdote and demands that Truman take him out of town. But before the two can escape, armed Patriots storm into the room and surround Conner who now holds a gun to Truman's head.
Woo! Such an intense episode!
What did you think of the Mathesons and Monroes teaming up to save Willoughby? Will Gene get the anecdote in time? What will happen to Conner? What will Aaron and Priscilla find in Texas? What is the fate of the Neville family?
Share your thoughts and tune in to Revolution Wednesday's 8/7c on NBC to see what happens.