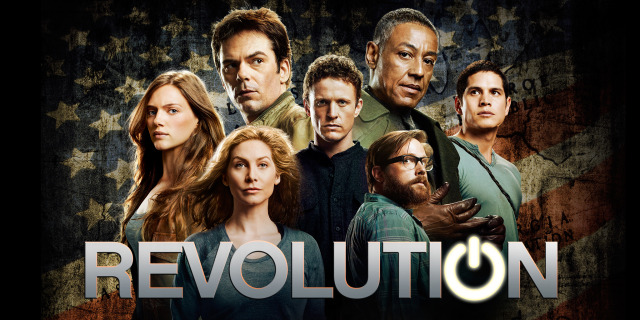 Lexie Gerson —January 8, 2013
 Last night the up and coming series Revolution premiered after its mid-season break.
In the November finale, there were many surprises. For one, Monroe (David Lyons) redeemed himself and proved he is one badass fighter! On the other hand a life was lost, a wife returned from the dead and an undying love was proclaimed.
During the finale, Aaron (Zach Orth) and Cynthia (Jessica Collins) managed to escape Horn's dungeon through a hidden tunnel. After a manic episode Aaron woke up to find himself in a school library with a young boy, a boy who Cynthia was not able to see. The boy was soon revealed as the image of Aaron's best friend from childhood, Kevin. It was then that we learned that when Aaron activated the Tower commands in the season finale he created a so-called 'life' with spontaneous artificial intelligence.
Soon after, Horn (Zeljko Ivanek) and the Patriots arrived at the school in search of Aaron. As they stood across from each other, Horn begged Aaron to help him. When Aaron refused and demanded that Kevin leave him alone once and for all, Horn retaliated by killing Cynthia. Furious, Aaron demanded that Kevin kill Horn and the Patriots. Unfortunately, Aaron's harsh words towards Kevin prevented him from being able to bring Cynthia back to life.
Meanwhile, Neville's (Giancarlo Esposito) plot continued to develop and father and son headed for Washington D.C. with the intention of killing the President. On the journey Neville spotted his thought-to-be-dead wife, Julia (Kim Raver) on a train with her new husband, the Mayor. She claimed that she had to do whatever it took in order to survive. Reunited, the family conspired in hopes of reclaiming everything they ever wanted.
In the ever so intense finale, Miles (Billy Burke) proclaimed his love for Rachel Matheson (Elizabeth Mitchell). The moment, which could've been more romantic, came as Miles began to die from a rapid spreading nanotech infection. Could he be saved? Would Gene (Stephen Collins) be forgiven for his portrayal? We would soon find out.
The premiere of season 2, episode 10, entitled "The Three Amigos," picked up immediately following the events of the previous episode. Monroe and Charlie (Tracy Spiridakos) manage to release Gene from prison in order for him to heal Miles' arm. Miles is quick to move on to his next plan but Monroe refuses to help him unless Miles tells him where he hid his son. Reluctantly, Miles agrees and decides to take Monroe and Rachel on a journey to Mexico to find the boy.
With 'The Three Amigos' in route to Mexico, Aaron takes the opportunity to slip away from Charlie and Gene and follow Kevin's mentions of Spring City, Oklahoma. When Charlie and Gene realize that Aaron has taken off they soon split up to find him. During the search, Gene comes across a Patriot caravan transporting goods, which he believes to be filled with weapons and firearms.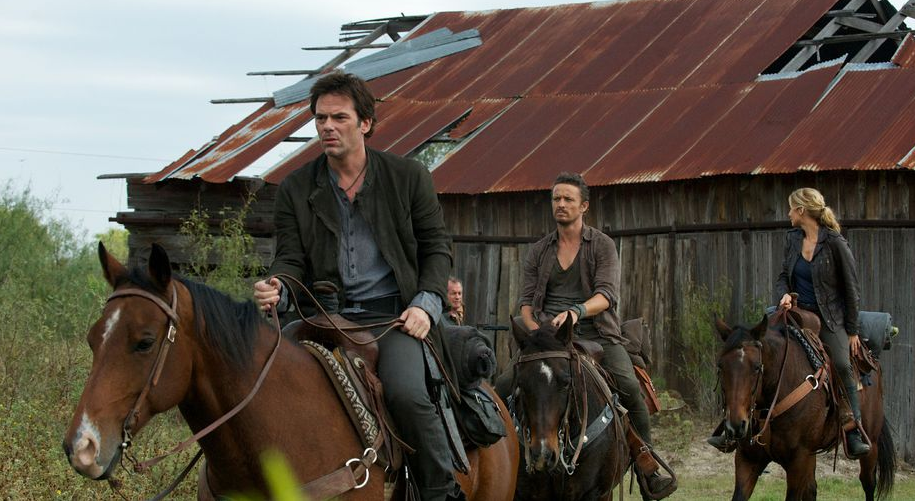 Miles, Monroe and Rachel make their way to the republic in Mexico, one of the richest republics. Miles decided to leave Monroe's son in Mexico in order to ensure that he was as far away from Monroe as possible.
During their journey we see quite a bit of tension between Rachel and Monroe. In fact, the two make quite a few verbal stabs at one other. Moreover, Rachel struggles with accepting the fact that she must help Monroe find his son even though he killed hers.
When the three manage to con their way into Mexico they begin the search. It doesn't take long for Monroe's son, Connor (Mat Vairo), to make an appearance. As expected Connor expresses immediate anger and doubt in Monroe's sincerity. In time, it is revealed that Connor is a captain for the cartel. This information hits a spark within Monroe who goes on to propose that the two retake the republic and reclaim the family's former glory. Unfortunately, this proposal is quickly refuted and Monroe is taken as a prisoner, escorted to a man named Mr. Nunez. Once again, this leaves Miles and Rachel as his only saviors.
Back in Willoughby, Charlie and Gene decide to intercept one of the Patriot caravans and soon find crates of oranges in the back. Really, just oranges? We then see Truman (Steven Culp) attempting to win over the residents by promising luxuries that they have since forgotten. Like always, the Patriots have an ulterior motive and we see them injecting the oranges with an unknown serum.
At the White House conspiracy and poison appear as the Neville's scheme is underway. An early plot to poison the chief of staff is fulfilled by Neville who wishes to move in on his wife's new husband quicker than expected. After the poisoning, Julia and Neville soon realize that they may be in over their heads.
The episode concludes with Aaron wandering the streets of Spring City. In frustration, he shouts to the sky "What the hell is going on? What does any of this mean?" At that moment we hear a familiar voice call his name from behind. He turns to find Grace (Maria Howell), the one person who may be able to answer his questions.
With the rest of the season to look forward too we are anxious to see where the story will go from here. Will Aaron finally get the answers he's been looking for? Will anything develop in the relationship between Monroe and Connor—father and son? And what is Truman really up to? Only time will tell.
Be sure to tune in to Revolution Wednesday's 8/7c on NBC to see what happens.
Twitter: @TheVRO
Facebook: Variety Radio Online
Tumblr: Variety Radio Online