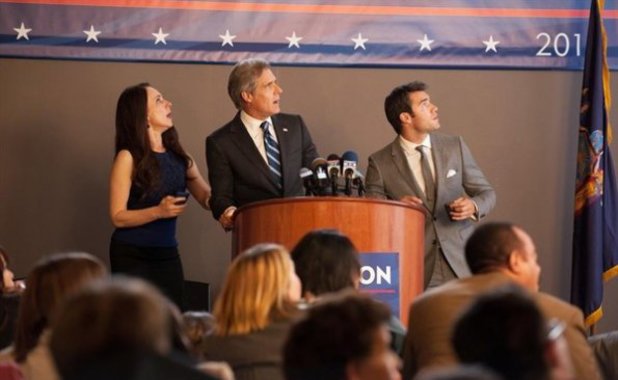 By:Dan
I've just enjoyed the two-part season finale of Revenge, 'Truth'.
The blackout of Manhattan is in full effect – Charlotte has just told Daniel that she is pregnant, Conrad is getting his campaign ready for victory, and Victoria is at the Stowaway with Jack (Carl is said to be out of town with his grandmother). Jack tells Victoria his whole plan on getting revenge. Victoria in turn goes and tells Conrad that Jack and Ashley have been working against him.
Emily and Nolan find Takeda's body, and Emily realizes that is was Aiden that killed him. Aiden tells Emily that Takeda was been using her all along – Takeda's fiancee was on Flight 197. Regina and Declan are trapped in a bank, while the power is out, and Declan realizes that Regina is actually in love with Charlotte. Regina plants money in Declan's coat and bruises herself to show Charlotte later on, that Declan is all wrong for her. Victoria finds out that Charlotte is pregnant with Declan's baby.
As Daniel workes feverishly to lay turn Aiden into the authorities, Emily and Nolan become aware of an assassin; Gregor Hoffman, who has been hired by Conrad to bomb Grayson Global: this is a major campaign ploy and a way to show his voters how he reacts in a disaster. Conrad sent Jack a message, from Ashley's phone, telling him that he found Emily's computer that contains incriminating information on the Graysons, and where it is – Grayson Global.
Emily, who disposed of the laptop herself, realizes it's a trap and rushes to Grayson Global to save Jack, because she knows the bomb will go off when he arrives. As Emily tries to intercept Jack, Conrad is speaking to his supporters, surrounded by Daniel and Victoria. Everyone in Manhattan suddenly receives a text message declaring "Long Live David Clarke". Then the bomb goes off.
After the blast, Emily rushes into the Grayson Global building to save Jack; she sees a man lying on the ground, but is rushed out by firefighters before she can see who it is. It is confirmed to not be Jack as, across town, he shows up at NolCorp and asks Nolan how he knew about the bomb. It is revealed Declan was the one injured in the blast, and is now in hospital. Emily helps Jack, who agrees to pretend to be dead for the time being, sneak into hospital in a stolen uniform without being noticed, so he can speak with his brother – Declan insists he is fine, although he will need heart surgery, so he cannot leave. Declan also tells Jack that Charlotte is pregnant with his baby, having tol dhe rhe is fine and looking forward to being a father.
Nolan visits Declan also, and Declan tells him how serious his condition is, and remains while he has surgery. Jack comes back to find Nolan sitting in Declan's room with an empty bed. He shows Jack a video Declan made of Declan saying goodbye – Declan, Jack's brother and a true ally of Emily, died. Jack gets understandably very angry, and leaves to seek revenge.
Aiden, knowing he will be held responsible for the Manhattan blackout, flees New York, but the media reports Aiden, now a terrorist suspect, was captured by the FBI attempting to cross the border to Canada. Later, all charges are dropped and Aiden is released, with federal authorities going after Nolan instead. Nolan suffers the exact same fate as David Clarke – he is arrested by the FBI, who storm his office on charges of treason against the United States. The feds aren't believing his claims of innocence because of his recorded friendship with Clarke, he learns the Falcon has denied everything and claimed he was behind the blackout, and finally a video is shown of deceased Padma Lahari; Padma, clearly forced to speak by the Initiative, declares Nolan is the "blind disciple" of David Clarke, and her lover was and is an anarchist and genius believing his judgment should affect the world. She finished by revealing "Nolan is the Initiative".
Nolan realizes he has been blamed for the Initiative's actions, and that was their plan from the start. Daniel and Victoria both individually turn on Conrad; the former when he finds out the bomb was all Conrad's doing, and the latter when she learns there is no "Initiative", and in fact he was the mastermind behind everything (from Flight 197, to David Clarke's downfall and assassination, the threats to Daniel and finally the bombing of his own company). The heartbreaking death of his brother leaves Jack frantic and testing his own sanity; deciding he has nothing left to lose now, he goes to Grayson Manor and steals a gun. Running into Victoria, he threatens her with it, knowing she betrayed him. He decides, instead, that it is a worse punishment to make her live with all the guilt she has.
Charlotte returns to recover from the bombing, and Victoria comforts her – deciding against telling her about Declan's death for the time being. Jack goes to Conrad's speech, with it now official he won the election and is Governor-Elect of New York State. Emily rushes to find Jack before he is about to kill Conrad. Daniel shows up at Emily's house looking for her, where he finds Aiden. The two men fight and Aiden defeats his former boss; finishing by crashing him into Emily's desk. Aiden says he's giving Daniel a pass to live, and is going to take Emily away from him. Daniel, lying on the floor but overcome with rage, notices he has landed within a foot of her gun. Daniel comes to the Conrad's speech and he has blood on his shirt sleeve.
Victoria, alone with her guilt, is sitting at home watching Conrad's victory speech, when her door bell rings. She goes to answer it, and shcokingly exclaims 'Patrick!' Emily locates Jack, and she rushes up the stairs to where he has the gun pointed at Conrad, who is claiming Jack died in the blast as well as his brother – thus revealing he planned their deaths in the event as capital for his popularity. Emily says that he can't do this, Jack counters that this has nothing to do with her. She proclaims that it has everything to do with her. Emily, forced to evaluate her quest for revenge after so many heartbreaking deaths, steps in front of the gun and says that she should have left him out of "all this" (meaning her revenge). She then begs Jack to really look at her. He does and he flashes back to memories of Amanda when she was little, and realization dawns on him. Emily looks at Jack and says the words she has longed to say: "I am Amanda Clarke".
It was an outstanding season finale, with the entire cast performing superbly. The storyline has gotten even more interesting, and I can't wait to see where they take it next, and how they're going to resole the outstanding plots.
Thanks for reading.
Twitter: @TheVRO
Facebook: Variety Radio Online
Tumblr: Variety Radio Online