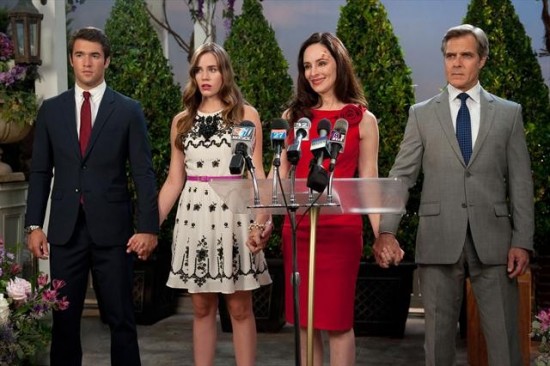 By: Dan
I've just enjoyed the latest episode of Revenge, 'Confidence'.
We pick up immediately following the end of the previous episode, with Aiden saving Emily from the white-haired man. They sort through his stuff, and Emily sends his phone off to Nolan to try to recover some information. Meanwhile, Victoria has a master plan to gain sympathy and lure out the white-haired man (she doesn't know that he's dead). Emily has her own plan for how this will work, and sets up an elaborate scheme, involving Amanda, to force her into telling some truth. It doesn't quite go to plan, as Victoria gets all of the graysons together, despite some earlier challenges from Daniel, and even pulls Amanda into the fold.
She still managed to capitalise in the end, telling Daniel the best way to deal with his mother, and also causing a rift in the relationship between Jack and Amanda. Aiden finds the white-haired man's hotel room, and discovers the flight recorder from the crashed plane. After a brief exchange with a woman he assumes is a cleaner (but is actually Kara (Emily's mother), he offers to trade it for all of the white-haired man's things from Emily. She agrees, but not before switching the SIM cards from the phone. At the end of the episode she checks the messages to find one from Kara, revealing that she is in love with the white-haired man.
On side notes, we're introdced to JR Bourne's character, Kenny, who appears to be very rich, and a little strange. His house was robbed by Trey and Declan (which couldn't help but elicit the reaction of 'you wonderful fool'; also there's a bit of a leap from last week, where Declan was just holding onto something, to now stealing), but Declan dropped his ID so he found them, and offered not to press charges if he gets his stuff back. We also learn a little more about Emily's training with Takeda and Aiden, and we learn that they are after The Initiative, an organisation that the white-haired man works for.
It was another very strong episode, with plenty new questions and only a handful of answers. I can't wait for the next episode to see what will happen next, and what else can possibly happen to these wonderfully complex characters.
Twitter: @TheVRO
Facebook: Variety Radio Online
Tumblr: Variety Radio Online