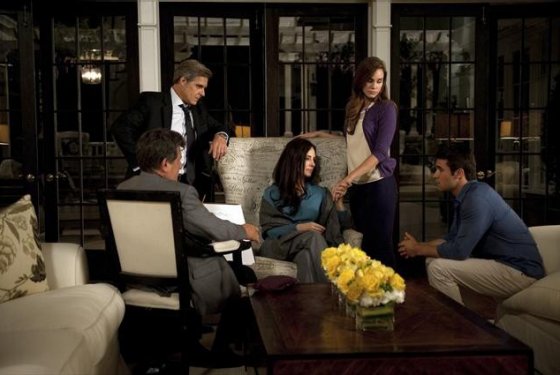 By:Dan
I've just finished watching the latest episode of season 2 of Revenge, titled 'Resurrection'.
As is hinted in the title, this episode marks the return of Victoria Grayson to the land of the living (in public anyway). It also sees a LOT of scheming on behalf of Victoria, Conrad, Emily and even Daniel. Twists and turns are everywhere in this episode, involving the money in Charlotte and Daniel's trust accounts, Victoria's deal with the white-haired man (which obviously goes south), and even (fake) Amanda's baby drama (it is actually jack's, and the paternity test confirmed it, but Emily told her she'd fixed it). On top of all of the drama, Nolan is looking for a partner (the business kind, for now), and chooses his woman, and Declan agrees to hold onto a valuable bracelet for a 'friend' from college (because that won't end badly).
Emily VanCamp is as terrific as ever, and Madeleine Stowe is her usual magnetic self. Henry Czerny, Ashley Madekwe, Nick Wechsler and Josh Bowman also kept up their impressive performances. Gabriel Mann was once again one of the highlights of the episode, with his sharp wit and charisma oozing on screen. Connor Paolo was strong again, though I hope the scene with the exploding water pipe didn't take too many takes. The outstanding performance of the episode, hfor me, came from Christa B Allen, who was absolutely terrific as Charlotte. It seems that Charlotte has an interesting path to walk in season 2, and Christa is really stepping up and running with it.
A great episode, and as ever I can't wait for more.
Twitter: @TheVRO
Facebook: Variety Radio Online
Tumblr: Variety Radio Online