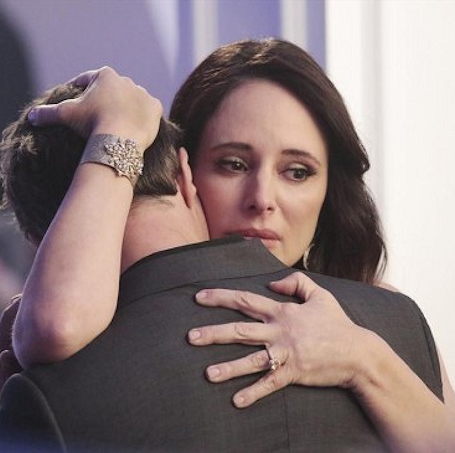 Revenge has finally gotten good again. The show opens with Conrad & Aiden discussing Pascal. Conrad wants Aiden to get "rid" of Pascal. Pascal proposes to Victoria. Yes he popped the question and says yes. Emily and Aiden kidnap Pascal to get information about flight 197. Someone sends Charlotte a letter that appears to have been written by David Clarke. When Conrad learns of Victoria's engagement he pays a visit to convince her to not marry Pascal.
Since Pascal won't say much, Emily suggests she will kidnap Margo if he doesn't comply. He agreed to give Emily Conrad, but not Victoria. She gives him a number to call when it's done. Back at home Victoris is looking through Pascal' coat and finds the number. She calls, but it's a fake voice-mail Emily has set up. Daniel is getting more sneaky and more manipulative. Victoria tells Daniel she thinks Pascal tipped off the feds. He tells Victoria he hired someone to threaten Pascal. Playing both sides Daniel then visits Conrad to tell him about the convo he just had with Victoria. He tells Pascal there are many upsides to getting rid of Pascal. Charlotte & Jack break into the home of the guy who sent Charlotte the letter. Before leaving Jack takes a ring he sees on a table. Victoria agrees to go to Paris with Pascal. Nolan and Emily crash Javier's party. At the party Javier reveals his new app. To no one's surprise Nolan has hacked it embarrassing Javier. Daniel is upset and tells Javier he owns the program now and doesn't need his help anymore.
When Pascal is not going according to plan Emily and Nolan start to get scared. Emily then follows him to see what he is up to. Victoria is not long behind. Pascal goes to the roof to meet Conrad. Pascal wants to move on and be cordial with Conrad. Conrad then pushes Pascal into the blades of an airplane killing him. Emily sees the whole thing. A distraught Victoria knows Conrad killed Pascal and asks the police why aren't they arresting him. When Margeaux learns about her fathers death, she also learns she is the new CEO of the company.
Victoria calls the number she found in Pascal's coat once again, but it has been disconnected. In the final scene Charlotte is walking along the beach, then gets kidnapped by a man dressed in all black.
Twitter: @TheVRO
Facebook: Variety Radio Online
Tumblr: Variety Radio Online