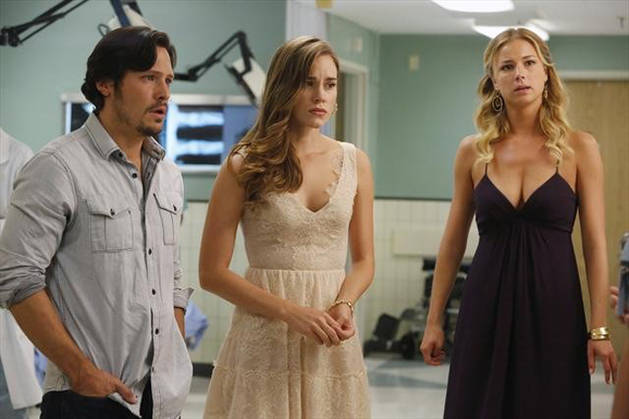 By: Dan
I've just enjoyed watching the latest episode of Revenge, 'Intuition'.
This week continued Emily's quest to discover what happened to her Mother. Aidenw arns her that something was wrong, and goes to investigate alone, managing to discover some supposed evidence before Kara ambushes him and ties him to a chair before running. Daniel grows suspicious of Ashley, and later discovers that she is keeping an eye on him for his father, though he decides to go along with it (probably a case of keep your friends close, your enemies closer). Nolan discovers, with some help from Padma, that his father is dead, and that he left all of his stuff to him. She eventually convinces Nolan to go and claim it, and we get to see the more emotional side to Nolan that is usually lurking behind a mask of sarcasm. Padma does, however, find a framed cheque from David Clarke that started the company. Elsewhere, the bar cannot reopen because of mould, and this means that Jack and Declan cannot pay off the debt to Kenny. They agree to sort it out later, and it is then revealed that Kenny is in league with Trey (possibly his father).
The main story this week was Emily using Amanda (the fake one, obviously) to blackmail Victoria to try to discover information about her mother. After presenting more and more evidence, Victoria finally snaps and reveals that Kara tried to kill Amanda (though Emily cannot hear because of interference in the comms), and Amanda falls over the balcony of the stairs, hitting the bck of her head on the floor. She's taken to hospital, where Emily, Charlotte and Jack wait (and Declan shows up later too, comforting his brother, and then Charlotte). The baby is delivered via c-section, and Amanda is put into a coma. Jack eventually sees his baby, at the same time as Emily finds Kara looking over Amanda, and she remembers the incident where her mother tried to drown her. The episode ends with Emily at home, and Aiden comes in to comfort her.
It was a massive week for revelations, and a LOT of interesting plots are now in play. I'm looking forward to seeing how it all develops, and what more surprises they have up their sleeves.
Twitter: @TheVRO
Facebook: Variety Radio Online
Tumblr: Variety Radio Online