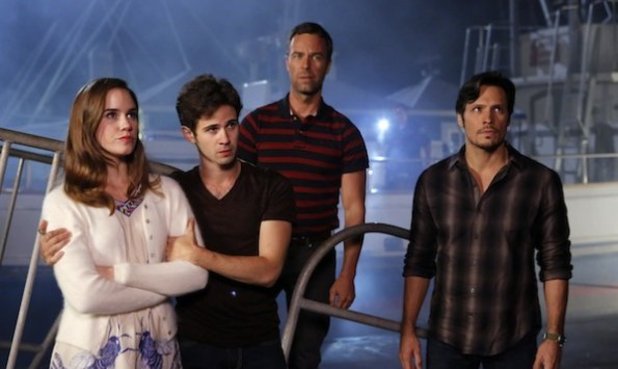 By: Dan
I've just had the pleasure of watching the latest episode of Revenge, 'Power'.
We start off with Victoria desperately trying to prevent Daniel from falling into the clutches of The Initiative, and willing to do anything to reach that goal. Victoria wants Emily to get back together with Daniel so he can rediscover his innocent, poetic ways, and Emily is all over it. In fact, she and Aiden take a break from their hoodie-clad karate sessions to devise a cunning plan: They stage a public breakup at the same restaurant where Daniel and Conrad are having lunch, which means Daniel knows his ex-fiancée is single again.
Speaking of Daniel, he's an unwitting pawn of The Initiative. Helen's wormed her way into Daniel's confidence by revealing that Conrad has even more secret investments hidden at Grayson Global, so Daniel turns to Nolan for help. Of course, little does Daniel know that he's handing Nolan direct access to the Grayson Global mainframe.
Emily's plan is simple: She'll worm her way back into Daniel's heart by feeding him caviar, while simultaneously revenging all over the place. This week, Emily has her red Sharpie aimed at Robert Barnes — the judge who was instrumental in convicting David Clarke. Nowadays, Judge Barnes is trying to earn a spot on the Supreme Court, while his wife, Patricia, heads up The Liberty Project, an organization that supports falsely convicted criminals.
As you might expect, Emily comes out guns blazing. First, she accidentally-on-purpose insults Judge Barnes by bringing up James Palmer, the clerk who supposedly had David's back and was subsequently killed. Then, Em hits up The Liberty Project's gala at Grayson Mansion after realizing that it was actually Patricia who was David's biggest supporter. An emotional Emily convinces Patty to expose Judge Barnes, so she immediately takes the podium and reveals that the judge knew David was convicted by a tainted jury. Then girlfriend unveils her bruised arms and accuses her hubby of abusing her!
All in all, Emily has a great day of revenging, and to top it off Daniel stops by for a brief makeout session. But let's talk about Aiden – now that Nolan's hacked into Grayson Global, Aiden has a major in with The Initiative. In fact, he's able to get ahold of Helen herself, and they arrange a meet 'n' greet at a warehouse. So, what do we learn – Aiden's sister is actually alive, and if he cooperates, he might get to see her!
As for the Porter brothers are in big-time trouble now that they've sold The Stowaway to a pair of grifter murderers, but the real problem? Kenny and Nate are using the bar as a drug front.
Here's what goes down: Declan finds a mysterious packet of drugs in Nate's belongings, while simultaneously spilling coffee beans all over the floor. Obviously, something needs to be done, so Jack calls up his policeman friend, Eddie. Unfortunately, Eddie and his drug-sniffing puppy end up finding Nate's stash in The Amanda — not to be confused with Jack's fiancée, Amanda — and they promptly try to arrest Declan. As you might expect, Jack takes the fall for his little brother and gets hauled to jail. In other news, Marco is still in nerd-love with Nolan, and gifts him some geeky programming chip as a token of his affection. Which will apparently solve all of Nolan's legal problems and help him take control of Nolcorp.
It was a brilliant episode with plenty of twists, a whole bunch of surprises and a LOT of revenge. I can't wait to see how the story continues to develop over the coming episodes.
Thanks for reading.
Twitter: @TheVRO
Facebook: Variety Radio Online
Tumblr: Variety Radio Online